Brian Laundrie 'Well Versed' In Wilderness Survival; Lived On Crackers For 6 Weeks
KEY POINTS
Laundrie bragged about his wilderness survival skills to a co-worker
Several Instagram posts showed him installing solar panels on Petito's van
Authorities have issued an arrest warrant for Laundrie
Brian Laundrie, who is currently being hunted by authorities in connection with the death of his fiancée Gabby Petito, is reportedly an expert in surviving in the wild.
Laundrie, 23, is said to be "well versed" in wilderness survival and living off the grid. At one point, he bragged about living on just crackers for six weeks while camping, a former co-worker was cited as saying by New York Post.
"In conversation about hiking … Brian talked about the longest time that he spent in the woods was 6 weeks and bragged about only having a large pack of either cheese or peanut butter crackers to sustain him for that time," the former co-worker said. "He is well versed in spending a long time in the woods and living off nearly nothing."
In several posts on Laundrie's Instagram page, photos showed him installing solar panels on Petito's 2012 Ford Transit van.
Authorities are currently searching for Laundrie who is the prime suspect in the death of 22-year-old Petito. The couple was on a months-long van trip across the U.S. Petito, a YouTuber, was last seen alive on Aug. 27, the day when Laundrie was seen being "aggressive" with a Tex-Mex restaurant staff member over the bill, forcing Petito to apologize on his behalf, according to Fox News.
The incident was later confirmed by the restaurant on their social media page, noting that they have already notified the FBI of the incident.
"Yes, we can confirm Gabby and Brian were in Merry Piglets…We have already notified the FBI and they are aware. We are letting them do their jobs and we are respecting Gabby's family and have nothing further to comment," the restaurant said.
Laundrie returned to his parents' home alone in North Port, Florida, on Sept. 1. Neighbors said they saw the 23-year-old and his parents leave their home in a truck with a camper on Sept. 11 for a weekend trip. It was the same day Petito's mother reported her missing. Her body was found in a forest in Wyoming on Sunday.
Laundrie's parents reported him missing on Sept. 17 and told the police that they last saw him on Sept. 14.
"The North Port Police Department, FBI, and agency partners are currently conducting a search of the vast Carlton Reserve for Brian Laundrie. His family says they believe he entered the area earlier this week. More details when available," the police said on Twitter.
As of Thursday, the police are still searching for Laundrie. The U.S. District Court of Wyoming has since issued a federal arrest warrant for him after he used a debit card and PIN number for several accounts between Aug. 30 and Sept. 1, according to CNN.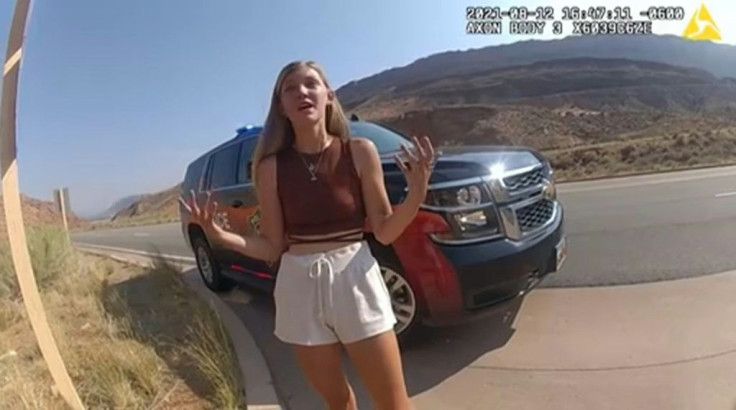 © Copyright IBTimes 2022. All rights reserved.
FOLLOW MORE IBT NEWS ON THE BELOW CHANNELS