Broadway's 'Hamilton' Lottery Canceled Due To Snow; New Block Of Tickets Will Go On Sale Soon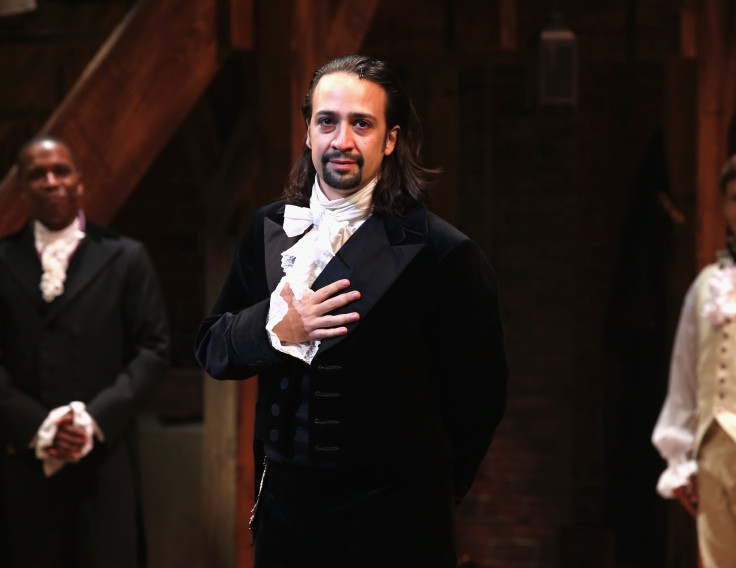 The Richard Rodgers Theater will have an empty front row again tonight. The seats are reserved for those who win a lottery drawing for the hit show "Hamilton," but the lottery has been canceled due to the weather.
The Ham4Ham lottery allows participants to enter their name to win front-row seats for just $10 (you know, the bill that has Alexander Hamilton's face on it). Tickets for "Hamilton," the groundbreaking hip-hop musical about the "ten dollar founding father," have been notoriously difficult to get since the show opened on Broadway last August. However, those who participated in the Ham4Ham lottery not only got a chance to see the musical but also were treated to a small performance outside the theater until recently.
The show's writer and star, Lin-Manuel Miranda, gives the fans waiting outside their very own show. He brings out stars from "Hamilton," other Broadway veterans or nearby celebrities to entertain theatergoers for a few minutes before the lottery drawing. The crowds have become so large that the #Ham4Ham show started being held online earlier this month due to safety concerns. Watch Jimmy Fallon's recent appearance on the digital #Ham4Ham show below:
The weekend snowstorm canceled "Hamilton" entirely Saturday. Sunday, the show returned, but the lottery did not, and it seems the snow will need to melt more before fans can get $10 tickets again.
Luckily, audience members discovered they have other ways to get tickets to the popular musical— if they're willing to spend the cash. There are a few tickets left for the performances running from now until October. However, "Hamilton" tickets for Nov. 1, 2016, through Jan. 22, 2017, just went on sale to American Express members Tuesday. The general public will have to wait a week, until Feb. 2, to get their shot.
A national tour was also announced. The New York Times reports that it will kick off in San Francisco in March 2017 and a run in Los Angeles will follow.
© Copyright IBTimes 2023. All rights reserved.