Brooklyn Family Looted To The Tune Of $100k By Fake FedEx Worker
A man posed as a FedEx worker and stole more than $100k worth of cash and jewelry from a Brooklyn family after tying them up. He was helped by an accomplice.
Home security footage showed a man who dressed up as a FedEx delivery man in a purple dress, entering the house and tying up the family with the help of an accomplice, the New York Police Department (NYPD) told NBC News.
The identity of the family has not been revealed.
The man in purple uniform knocked on the door with a package in his arm. When the door opened, the man entered the house followed by his accomplice who wore a blue shirt.
Upon entering the man posing as the FedEx worker pulled out a badge around his neck, telling the victims he was from the police, NYPD said. While he was tying up the family, the accomplice proceeded to ransack the home and found a safe in their bedroom closet.
The video footage shows the man in the blue shirt pushing the safe towards the couch where the family was tied up. A younger woman helps them open the case before the accomplice wheeled it away from the camera.
The fake FedEx worker was also seen aggressively taping the hands and mouths of the victims.
The men then left with the valuables from the backdoor of the house, in a 2008 Jeep Grand Cherokee that was blue in color.
FedEx told NBC News that it was working with law enforcement authorities. They described the incident as deeply disturbing.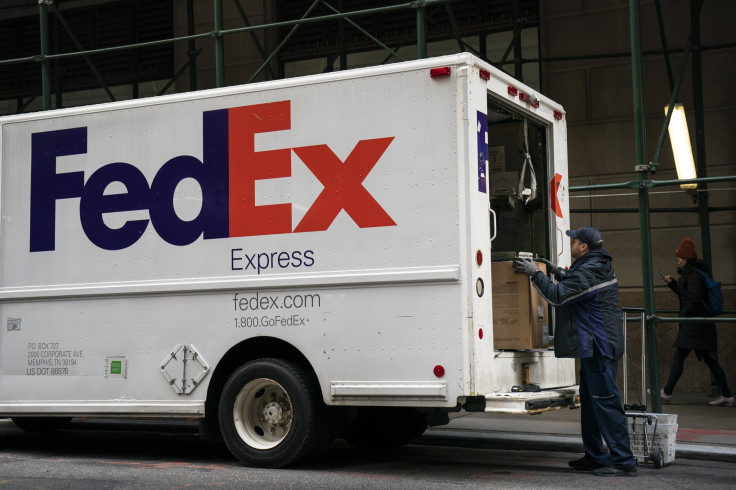 © Copyright IBTimes 2022. All rights reserved.
FOLLOW MORE IBT NEWS ON THE BELOW CHANNELS