Bryan Cranston's Hottest On-Screen Kisses: Watch 'Breaking Bad' Actor's 5 Sexiest Moments On Television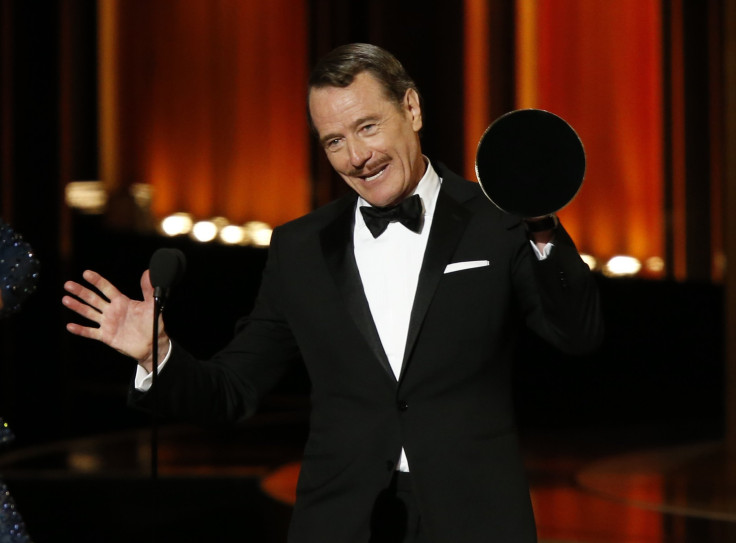 Bryan Cranston made out like a bandit at the 2014 Emmy Awards – literally! Not only did the actor win big at the 66th primetime award ceremony, taking home the title of Outstanding Lead Actor in a Drama Series for portraying the role of Walter White on the hit AMC drama "Breaking Bad," but Cranston also showed off how much of a hunk his character Heisenberg really is when he laid a big fat kiss on Julia Louis-Dreyfus during the live event.
As the "Veep" actress was walking to the main stage to accept her award for Outstanding Lead Actress in a Comedy Cranston managed to waste a few moments of her speech time by locking lips with the funny woman he once dated on-screen.
"He went for it and I appreciate it," Louis-Dreyfus said backstage regarding the steamy moment with her former "Seinfeld" co-star. During the show's long-running stint Cranston made an appearance on the comedy series as a dentist with the hots for Elaine.
However, Cranston's character must not have made a lasting impression on Louis-Dreyfus because as the duo presented an award together at the 2014 Emmy Awards she couldn't seem to recall them ever having an on-screen relationship. That's when Cranston decided to jog her memory by giving her a little smooch.
The kiss went viral becoming one of the most memorable moments from the award ceremony, which doesn't totally surprise us considering Cranston has a knack for making knees buckle. Throughout Cranston's eclectic acting career he's managed to give the world some seriously steamy on-screen scenes. Below are his top 5 hottest on-screen moments:
1. 2014 Emmys – Considering the Cranston/Louis-Dreyfus lip-collision was the only thing people were able to talk about after the 2014 Emmy Awards it's safe to say this kiss comes in at number one:
2. "Seinfeld" – Cranston appeared on the long-running series as Elaine's dentist boyfriend Tim Whatley with a serious sex-drive. Just watch what Jerry witnessed after waking up from his oral procedure:
3. "Breaking Bad" - Cranston decided to take a break from cleaning teeth on cable to create the world's most coveted meth on the critically acclaimed AMC series. But despite Walter White's hectic, meth-making schedule he still found some time to cuddle up to his wife:
4. "Malcom in the Middle" – Cranston and Jane Kaczmarek's characters (Hal and Lois) were ranked as one of the most sexual sitcom couples, according to Complex -- and for good reason! Check out Hal's fierce sex-drive during the 5:48 mark:
5. "Matlock" – Cranston might have only appeared on the legal drama starring Andy Griffith twice but he certainly made a lasting impression on fans. Cranston portrayed the role of Dr. Fletcher, a marriage counselor, who ironically was sleeping around with one of his married clients:
What did you think of Cranston's Emmy kiss? Sound off in the comments section below.
© Copyright IBTimes 2023. All rights reserved.