Who Is Lauren Parsekian? Aaron Paul's Wife Gains Attention For Kind Campaign At 2014 Emmys; Watch Acceptance Speech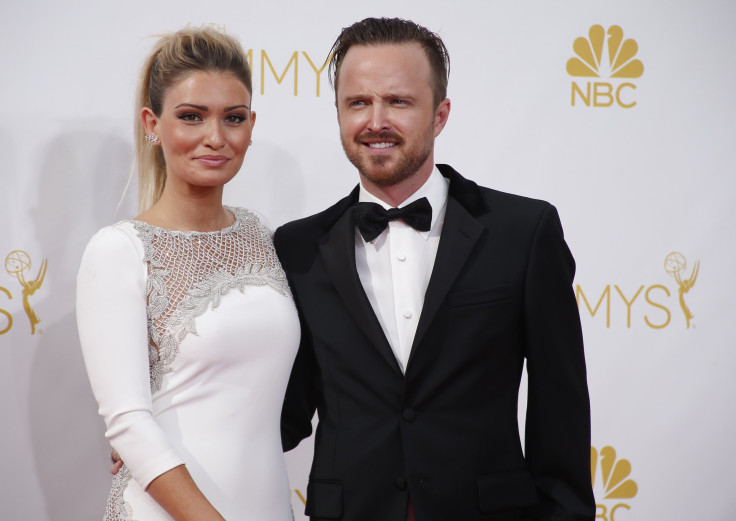 Aaron Paul won his third Emmy Award at the 2014 Emmys Monday night for his role as Jesse Pinkman on the now-concluded "Breaking Bad," but he may have been outshined on awards night by his wife, Lauren Parsekian Paul. After creating buzz together on the red carpet, Aaron Paul gave a genuine and heartfelt shout out to his wife and her charity, the Kind Campaign. The website for Parsekian's charity promptly went down after being overloaded by traffic after the primetime endorsement, remaining offline until Tuesday morning. But who is Lauren Parsekian and what is Kind Campaign?
Parsekian is an Orange County, California native who studied filmmaking at Pepperdine University. After working on a documentary in 2009 about physical and emotional abuse between girls she started the Kind Campaign with friend Molly Thompson to combat bullying. The Kind Campaign works mostly online to educate and spread awareness about bullying amongst young girls, encouraging people to share their stories on the site for a chance to win scholarships.
The Kind Campaign mission statement is listed on their website:
Over the years, the vicious ways in which females treat each other have become societal norms, with various media outlets that mock and even glamorize the issue. What we often choose to ignore is the fact that these experiences very often lead to depression, anxiety, loss of self-worth, eating disorders, drug abuse, alcoholism, attempted suicide and actual suicide in millions of girls' lives… We are suggesting something very simple: to STOP the competition, STOP the cattiness, STOP the hate, and to BE KIND.
Parsekian was influenced by her own traumatic experience with bullying in her childhood while starting the campaign. She told People Magazine, "These girls did whatever they could do to make me feel alone and ugly and worthless. It crushed me. As a result of what I went through, I ended up dealing with severe depression and an eating disorder. I just completely lost myself." Parsekian said she knows other girls have gone through much worse than her and that they are the inspiration for the campaign.
Aaron Paul has been extremely supportive of his wife's charitable efforts since the two got together. Paul and Parsekian met at the Coachella Music Festival in California in 2010. According to Paul, they fell in love after reuniting at Coachella the next year, kissing on the festival's signature Ferris wheel. The couple got engaged in Paris soon after and married in Malibu in 2013. They are very public about their affection for each other on social media and Paul has been quoted as saying, "She's the greatest woman that has ever existed."
Paul has been just as vocal in front of the cameras about his support for his new spouse. Watch his acceptance video from the 2014 Emmy Awards Monday night that crashed Parsekian's Kind Campaign website:
This is not the first time Paul has given an awards shout out to Parsekian. He thanked his then-fiance for "saving him" during his 2012 Emmy Speech.
His support goes beyond words as well. For the 2013 Breaking Bad Finale Paul organized a charity competition giving away passes to accompany him to the finale party with the proceeds going to the Kind Campaign. Paul helped raise $1.8 for Parsekian's cause. It seems this young couple has a bright future ahead of them.
What did you think of Aaron Paul's acceptance speech? Tweet your thoughts to @Ja9GarofaloTV.
© Copyright IBTimes 2023. All rights reserved.