BTS Fans React To New Album Announcement With Multiple Trending Twitter Hashtags
Massively popular Korean pop group BTS, of Bangtan Boys, are shaking up the Twitter-verse with news of a brand new album set to release Feb. 21. The album titled "Map of the Soul: 7" will be the K-pop group's seventh studio album.
BTS fans have been trying to guess the title of the new album for the past 10 months and, while they've gotten close with guesses like "Map of the Soul: Ego" and "Map of the Soul: Shadow," the conversation has shifted to breaking down the possible meaning of the single-digit "7."
Conversations first took off when the band released the music video for their track "Intro: Persona," which featured one of the band members Kim Nam-joon, or RM, stands in front of a chalkboard that has "Map of the Soul" written several times, alongside three words: "Persona," "Shadow," and "Ego."
Since BTS typically releases two albums per year (usually a Korean album and a Japanese one), fans speculated that "Map of the Soul: Ego" and "Map of the Soul: Shadow" would be two tracks released next year. Instead, they got "7."
The most recent conversations following the album info dump led to multiple trending hashtags on Twitter, all pertaining to BTS and their new album "Map of the Soul: 7." As was enthusiastically documented by BTS Twitter fans, "#7isComing" at press time is the number one trending topic at 718k tweets; "#BTSIsComing" coming in second with 347K tweets; "#MAP_OF_THE_SOUL_7" with 264K tweets; the topic "MOTS" with 110k tweets and "#BTSCOMEBACK" at 123K.
Twitter houses a massive BTS fanbase -- one that seems to push, with ease, hashtags up into the trending lists, as reported by All K-pop. Mashable also discussed how BTS "fancams" constantly fill reply sections in tweets, spamming users with pictures, videos, and gifs of the BTS singers.
Currently, those fans are excitedly blowing up Twitter in the hundreds of thousands.
BTS' record-breaking stride, as documented by iHeartRadio, involves the Guinness Book of World Records recognizing BTS as having the most Twitter engagement of any artist or band ever. It appears K-pop fans are looking to help them break their own record.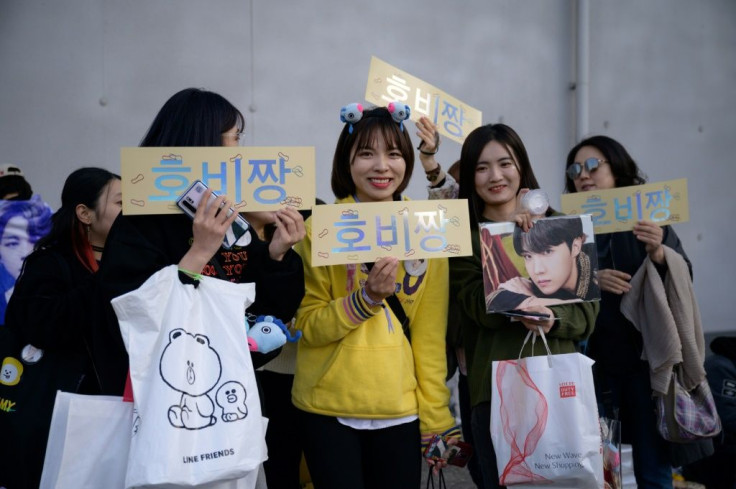 © Copyright IBTimes 2023. All rights reserved.