BTS' V Surprises A Fan, Spends Day Doing Fun Activities: Here's What They Did
KEY POINTS
Dingo Story premiered the new episode of "You've Worked Hard Today As Well" on Thursday
It featured BTS' V and one lucky ARMY, Kim Ha-young, who dreams of becoming a military officer
Kim's wish to spend a day with her idol and V's wish to meet and play with ARMY were fulfilled
BTS' V, who is slated to release his solo debut album "Layover" on Sept. 8, surprised a lucky ARMY – BTS fan – and they spent a fun day together on the newest episode of Dingo Story's "You've Worked Hard Today As Well."
On Thursday, the 27-year-old BTS member melted the hearts of netizens and fans when he surprised one lucky ARMY, spent the day with her and even posted about her on his personal Instagram account after the "You've Worked Hard Today As Well" episode was released on YouTube.
The lucky ARMY, Kim Ha-young, who dreams of becoming a female military officer, fulfilled her wish of spending a day with her idol, V, to get more encouragement in passing the officer's exam she'll be taking, according to the English translation by Allkpop.
Her unforgettable day started with V, whose real name is Kim Tae-hyung, calling her name while she was talking to the Dingo Story staff in what she believed was a preliminary interview for her wish.
After introducing themselves to each other, they enjoyed eating a meal together. When they finished, V, who's older than Ha-young, offered to clear out their table as her "oppa."
The two spent a fun day together, chatting at a cafe, playing a variety of arcade games, or just chilling out and enjoying each other's company.
They even took a photo together at a classic photo booth. When their adorable photos came out, V told Ha-young that he would keep their picture at home.
Ha-young's photo booth template photo with V from before became a reality.
Before they parted ways, on the way to the subway station, V encouraged Ha-young and told her, "Don't be too hard on yourself, live health[ily] and don't get sick. I just hope you always have a good day."
Though their hang-out officially ended, V came back to Ha-young to make her smile and gave her another hug when he heard she was crying.
After the unforgettable day of V and Ha-young was released on YouTube, the South Korean artist took to Instagram to share their photo booth picture and a screenshot of a forwarded message from Ha-young, saying she's now a successful candidate for the Army School Corps.
V congratulated her and wrote, "I got this [message] from the writer [of the show]. Congratulations!"
It wasn't only Ha-young's wish that was fulfilled that day. V's wish was fulfilled, too. According to the English translation of the description on Dingo Story's video, V told the staff on the day of the shoot that it was on his bucket list to meet ARMY and play with them.
It was a happy and unforgettable day for both V and Ha-young.
Watch the full episode here: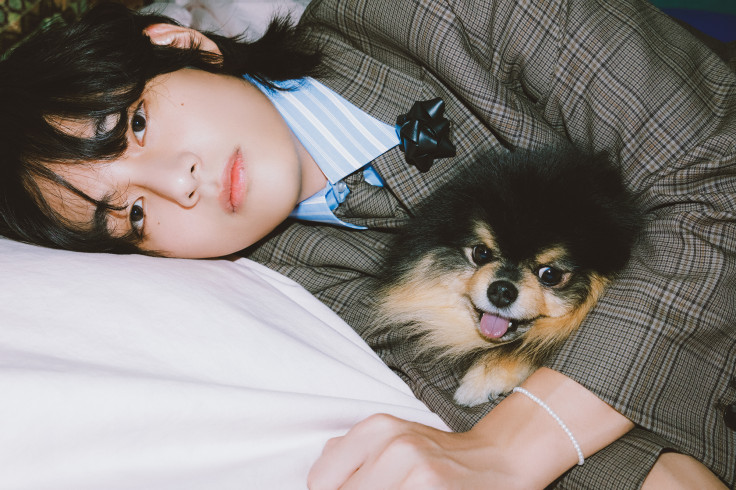 © Copyright IBTimes 2023. All rights reserved.