BuzzFeed Copyright Lawsuit May Test Legal Limits Of Fair Use In Listicles: Photographer Seeking $3.6 Million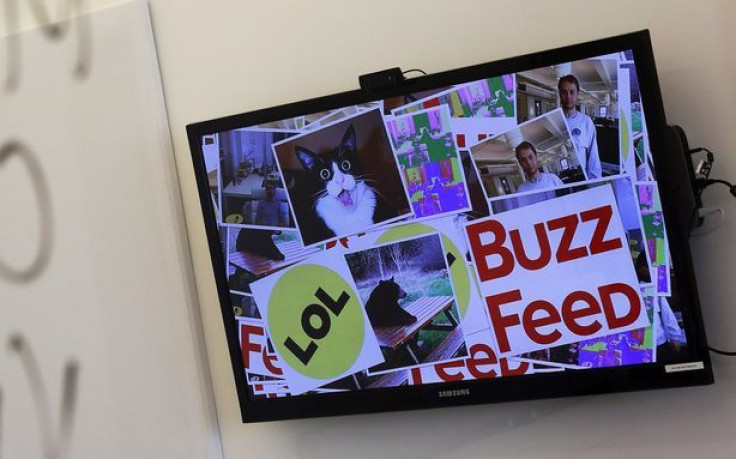 Ever wonder how BuzzFeed secures the rights for all those seductively sharable photo montages? The answer is, it often doesn't, and that can be a messy business.
Earlier this month, the viral news site was slapped with a $3.6 million copyright lawsuit by an Idaho-based photographer who says BuzzFeed lifted an image from his Flickr page and used it in one of its signature listicles.
In a complaint filed on June 7 in the Southern District of New York, Kai Eiselein claims that BuzzFeed, Inc. "knowingly and willfully" infringed on his copyright when it reposted his photo titled "Contact," which features a female soccer player getting bonked in the head by a soccer ball. According to the complaint, the image appeared in a post called "The 30 Funniest Header Faces," which is basically a photo montage of people getting bonked in the head by soccer balls.
The montage, posted by BuzzFeed staffer Matt Stopera, has since been conspiciously renamed ("The 29 Funniest Header Faces"), and Eiselein's photo is no longer among the images. Eiselein, who is representing himself in the case, said he first uploaded the image to Flickr in 2009 and registered it with the copyright office in 2011, according to the complaint posted here on PaidContent.
Stopera's photo montage was posted on June 14, 2010, and Eiselein claims he sent BuzzFeed a Digital Millennium Copyright Act (DMCA) takedown notice on May 26, 2011. According to the lawsuit, the photo remained on the site for more than two years after Eiselein sent the notice. In addition to remaining on buzzfeed.com, the lawsuit claims the photo was shared to 63 other sites, most of which appear to be personal blogs.
Eiselein, according to his Facebook page, has been a photographer for 30 years and has worked as a photojournalist, in an industry that is finding itself increasingly at odds with online culture. BuzzFeed, which derives much of its traffic from social media, has emerged in recent years as a leader in shareable online content. Many of its viral listicles rely on unlicensed photos, in addition to licensed material from Reuters and Getty Images. In an interview with the Atlantic's Alexis Madrigal last year, BuzzFeed founder Jonah Peretti argued that such usage is "transformative," and therefore protected under the Fair Use doctrine of copyright law (the idea being that BuzzFeed listicles create something entirely new from the photos used within them). There are no hard-and-fast rules for what constitutes transformative versus derivative usage, but generally the more transformative the work, the stronger the legal argument.
But Eiselein, for one, doesn't buy that argument. "BuzzFeed is relying on just one point of the four-factor Fair Use test, and their argument is weak, at best," he said in an email. "Mr. Peretti conveniently fails to point out that the nature of the use, which, in BuzzFeed's case, is commercial, and the potential effect on the market for the work also must be weighed. I highly doubt that any reasonable person would agree that a 'listicle' of photographs is transformative."
Eiselein added, however, that he doesn't have a problem with sharing photos if it's done "properly," with a hotlinked photos. None of the photos in Stopera's soccer piece were clickable or included links.
"Hotlinking provides tangible benefits by helping to drive traffic and getting works in front of people," Eiselein added. "I do have a problem with companies like BuzzFeed making a buck off the backs of creative people while the creatives get nothing."
In general, Fair Use remains a notoriously murky area of copyright law, the limits of which are constantly being tested in the digital age. In a landmark copyright judgment in January, a Manhattan district judge ruled that two news organizations infringed on the copyright of a photographer whose images of the 2010 Haiti earthquake were disseminated to various news organizations without his permission. The French newswire Agence France-Presse (AFP), which first obtained the photos from Twitter and shared them with the stock-photo service Getty Images, was cited in the judgment, along with the Washington Post.
Eiselein is seeking actual and statutory damages from BuzzFeed, as well as additional damages under the DMCA. A spokesperson for BuzzFeed declined to comment on the lawsuit.
Got a news tip? Send me an email. Follow me on Twitter: @christopherzara
© Copyright IBTimes 2023. All rights reserved.