'Call of Duty: Ghosts': World's First Look At Multiplayer Reveals 'CoD: Ghosts' Features, Gameplay, Weapons, Game Modes, Season Pass DLC, More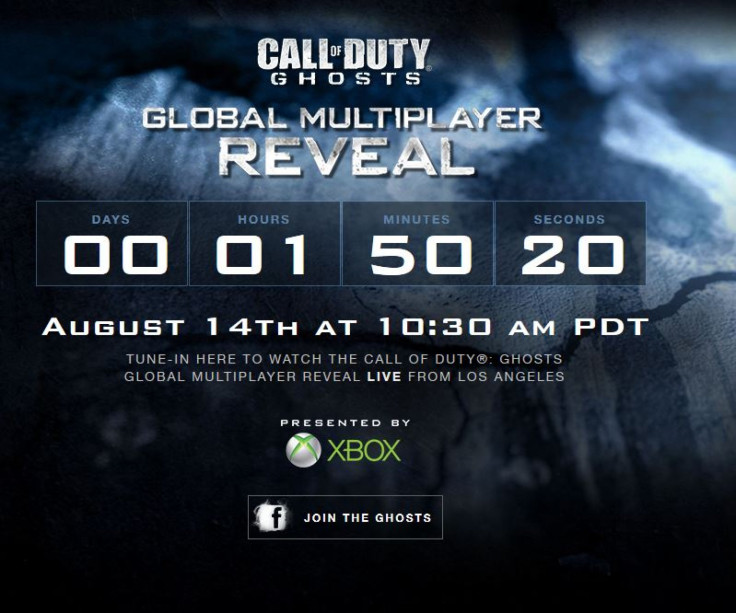 The multiplayer aspect of "Call of Duty: Ghosts" was fully revealed Wednesday on the game's official homepage.
Making characters customizable is a big part of "Call of Duty: Ghosts," with more than 20,000 combinations at your disposal. There will be seven new game modes, more than 30 new weapons, a new co-op mode and much more. There's also a new weapon class called the Marksman Rifle, which is a rifle that you can use as a scoped or non-scoped gun.
There will be new streaks, new perks and Strike Packages will be brought back. The number of air-based kill streaks will be reduced, while ground-based kill streaks are increased. The UAV will also be a ground-based gizmo called Satcom, as opposed to an aerial drone. Death streaks have been removed from the game, which emitted a cheer from the crowd.
Squads can include up to 10 soldiers each with their own experience gains, one level of prestige per solider, up to 10 levels of prestige per squad, unique unlcoks and more.
One new mode is Cranked, which is a new take on Team Deathmatch. In Cranked, if you score a kill, you'll get ability boosts, but a 30-second countdown timer will start. If you don't score another kill before the countdown expires, you explode. As Rick James might say, that sounds "Coooold Blooooded...."
In Search and Rescue, when a player dies they drop a tag. If an ally picks up the tag, the dead player is respawned. If an enemy player picks up the tag, the dead player is out for the entire round. Other modes include Squad vs. Squad, Wargame, and Safeguard. The latter is a four-player wave-based mode which combines killstreaks, perks and more.
With the a "Call of Duty" account, you can take your progress from the current-gen version of the game to next-gen versions. You'll also be able to take "Call of Duty" with you on the go via the game's mobile app. With the app, you can track your own profile and progress as well as the profiles of friends and foes alike. Using the app, you can edit your squad, loadout and more. "Call of Duty: Ghosts" will run at 60fps on all platforms, current and next-gen alike.
With your "Call of Duty" account, you can use the game or app to manage and communicate with your clan. Rally Up lets you choose the people you want to play with. With the Emblem Editor, you can create custom "Call of Duty: Ghosts" clan emblems. Clans level up with experience, which you gain by playing matches with your clan. All of these features are available on current and next-gen versions of "Call of Duty: Ghosts."
With "Clan Wars," you can invade and take control of the territories of other clans in order to gain points and win wars, which last two weeks. New "Clan Wars" begin every two weeks. Player-triggered events can also shape a match. In the map Octane, you can reshape the map by blowing up a gas station.
You'll be able to move in new ways too, including Contextual Leaning, Kneeslide and Mantling. Mantling allows you to hurdle over objects without losing momentum.
"Call of Duty: Ghosts" will also offer a Season Pass, which comes with four DLC packs. The DLC packs will transfer over from a current-gen console to a next-gen console as long as you stay within the same console family, such as by switching from Xbox 360 to Xbox One.
There will be two "Call of Duty: Ghosts" special editions, one of which includes the "Call of Duty: Ghosts Prestige Edition." This edition ships with a 1080p waterproof, shock-resistant camera. In an Oprah-like move, the "Call of Duty: Ghosts Prestige Edition" was given away to everyone in attendance during the event. However, it was also announced that the "Call of Duty: Ghosts Prestige Edition" will be given away for free to the first 500 people to show up at every stop during the "Call of Duty: Ghosts Prestige Edition" world tour, where anyone can show up and play the game. The world tour has multiple stops and will continue up until the game's release this fall.
A recorded video message from rapper Eminem was also part of the show. Eminem briefly talked about how his new song "Survival," which is in the "Call of Duty: Ghosts" soundtrack, aptly describes the average "Call of Duty" experience and player.
What do you think of the "Call of Duty: Ghosts" multiplayer reveal? Sound off in the comments below.
© Copyright IBTimes 2023. All rights reserved.