Campaign 2016: Fact-Checking The Fourth Democratic Debate: What Clinton, Sanders, O'Malley Got Right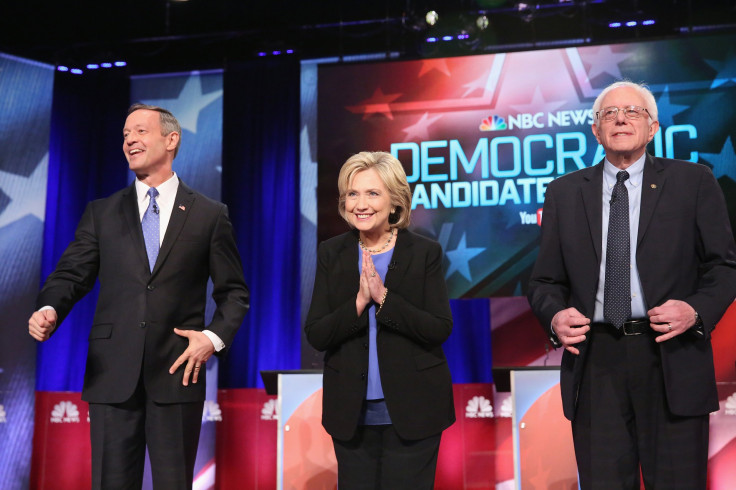 Do 29 million people in the U.S. really not have health insurance, as Vermont Sen. and Democratic presidential candidate Bernie Sanders said during Sunday's debate? Yes, the New York Times debate fact check found. But how true is it that Hillary Clinton helped get Iran to the negotiating table for the Iran deal? That's only "mostly true," according to PolitiFact, the fact-checking journalism website. Here's how accurate are some of the claims made by Sanders and the former secretary of state throughout the debate.
Sanders on healthcare: "Why is it that we spend almost three times per capita as to what they spend in the U.K. -- 50 percent more than what they pay in France?"
PolitiFact grabbed the numbers from the Organization for Economic Cooperation and Development and found that in the United States, the U.S. spends more than $8,700 per person on healthcare. In the U.K., it's $3,200 and in France, $4,123.
Clinton on the Affordable Care Act and healthcare: "We now have driven costs down to the lowest they've been in 50 years," she said. Given that healthcare expenditures in the U.S. are at their highest -- and still rising -- it's not accurate for her to say that healthcare costs in the U.S. are at their lowest in a half century, the New York Times found in its fact check. Althought the growth rate of health spending was at its lowest in 50 years in 2013, that's not the same as actual spending, and in any case, it's difficult to determine precisely how much of that can be attributed to the Affordable Care Act.
Clinton on Sanders' stance on immunity for gun makers and sellers: Sanders "has reversed his position on immunity." In 2005, Sanders voted for a bill that gave gun makers and others involved in the business of firearms some major protections against lawsuits.
But in January, Sanders said that he was pleased that legislation to rescind parts of the very law for which he had voted had been introduced. PolitiFact found that it was only recently, in October 2015, that Sanders stance on his 2005 vote had begun to change, that he had indeed reversed his view on the issue.
Clinton calling for regulations on Wall Street, during the early days of the Great Recession: Clinton said she had called for "addressing risks of derivatives, cracking down on subprime mortgages and improving financial oversight." According to PolitiFact, in March 2007, it turns out, Clinton gave a speech on the subprime mortgage crisis, saying that it was "creating massive issues on Wall Street," and called for, among other things, safeguards against predatory lending practices.
She later sponsored a bill for several policies that would have introduced stricter regulations, and produced a six-point plan released in March 2008, towards the end of her first campaign for the Democratic presidency nomination, for greater financial regulation. So the secretary was right -- she did call for more oversight of financial institutions, and she has the proposals to prove it.
Sanders criticism of President Obama as a "disappointment": Clinton repeatedly aligned herself with Obama's economic achievements and Obamacare, portraying Sanders as disloyal to the president. She said Sanders wanted someone to challenge Obama from the left in 2011. The New York Times said that was "more or less true," quoting Sanders as saying it would be good for Obama to have a progressive primary challenger.
Clinton on the Iran nuclear deal: She might not have said it Sunday night, but Clinton has claimed enough times to have helped bring Iran to the negotiating table that PolitiFact decided to check it anyway, and found it to be "mostly true."
The reason it was only mostly, and not entirely true, is because a number of other leaders were vital in getting Iran to the negotiating table, not just Clinton, and so PolitiFact determined her claim to be "a little exaggerated."
© Copyright IBTimes 2023. All rights reserved.
FOLLOW MORE IBT NEWS ON THE BELOW CHANNELS