Can Bernie Sanders Beat Hillary Clinton In Battle For California? Vermont Senator Vows Contested Democratic Convention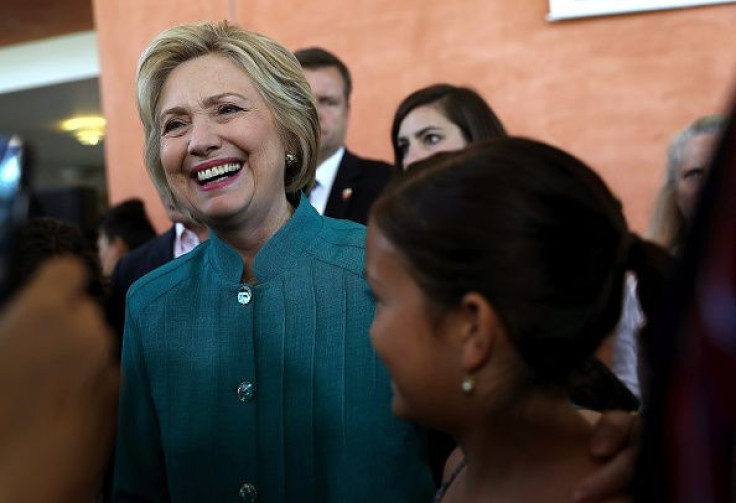 With only two full campaign days left before major presidential primaries in California and New Jersey, Democrats Hillary Clinton and Bernie Sanders hit the trail in the Golden State on Saturday.
On the Democratic side, California has 548 delegates up for grabs while New Jersey has 142. Clinton leads the delegate count with 2,316 while Sanders trails with 1,547, according to an Associated Press count. To clinch the Democratic nomination, a candidate needs 2,383 delegates.
Other states voting Tuesday are Montana, New Mexico, North Dakota and South Dakota.
Polls of California voters show a tight race between Clinton, a former U.S. secretary of state, and Sanders, a U.S. senator from Vermont. An average of polls conducted by Real Clear Politics shows Clinton in the lead with support from 47.7 percent of voters, compared to 43 percent for Sanders. An average of polls in New Jersey gives Clinton the lead with 55 percent support compared with Sanders at 38 percent.
Sanders promised to continue campaigning after Tuesday's primary races. He vowed that the Democratic National Convention, July 25-28 in Philadelphia, would be a contested one.
"The media is in error when they lump superdelegates with pledged delegates. Pledged delegates are real," Sanders said at a news conference in Los Angeles, CNN reported. "Hillary Clinton will not have the requisite number of pledged delegates to win the Democratic nomination at the end of the nominating process on June 14. Won't happen. She will be dependent on superdelegates."
A win in California would help Clinton heading into the convention as she looks to take on presumptive Republican nominee Donald Trump in November. Clinton used campaign stops in California to criticize Trump's statements about immigrants, describing the remarks as "hateful, very prejudicial," Reuters reported.
Meanwhile, U.S. Sen. Elizabeth Warren, D-Mass., continued her attacks against Trump on Saturday during the state's Democratic Party convention. She called him a "fraudster-in-chief" who is interested only in making his own profits, local CBS station WBZ-TV reported.
"This election isn't just about Trump's ugly racism, his disgusting sexism, and his small-minded vision for America," Warren said. "It's about the American people."
Trump has called Warren "goofy" and referred to her as "Pocahontas" in a nod to her Native American heritage.
Warren has yet to endorse either Clinton or Sanders but said she was "proud" of the debate the two candidates have had.
© Copyright IBTimes 2023. All rights reserved.
FOLLOW MORE IBT NEWS ON THE BELOW CHANNELS