Can Bernie Sanders Win? A History Of Contested Democratic Conventions As Hillary Clinton Looks To Become Nominee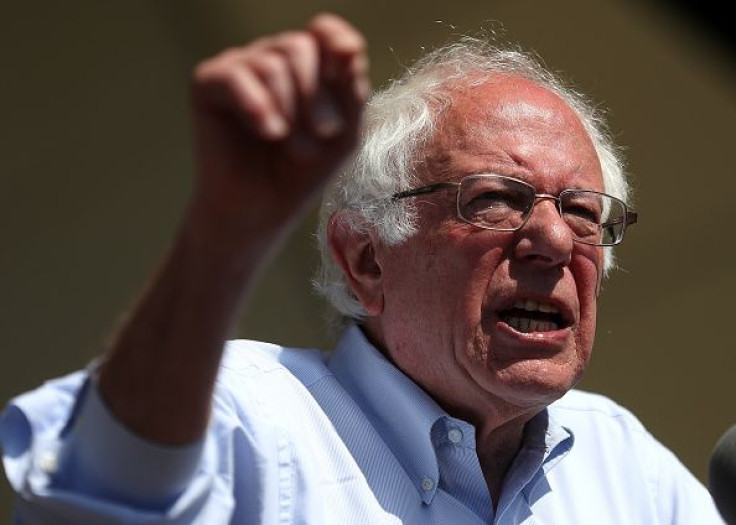 As voters take to the polls to vote in primaries in New Jersey, California and Montana on Tuesday, U.S. Sen. Bernie Sanders of Vermont has refused to suspend his campaign — despite being so far behind former Secretary of State Hillary Clinton that pundits have called a Sanders nomination "mathematically impossible." With the Associated Press declaring Clinton the presumptive Democratic nominee after triumphant results in Puerto Rico Monday, Sanders urged his followers on social media Tuesday to "vote for the revolution" and "vote for REAL CHANGE."
Whether branded a "sore loser" or a "movement candidate," Sanders isn't the first Democratic hopeful to refuse to withdraw from the race before the party's national convention. Throughout the past three decades, many candidates on the Democratic side have continued to campaign until the bitter end, putting the final spread down to a few hundred delegates.
Leaders within the Democratic Party have called for Democrats to come together and rally against likely Republican nominee and businessman Donald Trump. Some Democratic insiders, including longtime Democratic strategist Peter Fenn, have gone so far as to call Sanders a "sore loser."
Sanders has repeatedly vowed to campaign for the White House until the Democratic National Convention, July 25-28, even as he trails the former secretary of state by several hundred delegates. At this point, Sanders might be staying in the race simply to advance his favorite causes, including free college tuition and Wall Street reform, more than any hope for personal gain, according to one expert.
"Most people believe that he's a movement candidate, that he's got a message he wants to continue to push through the convention," said Timothy Hagle, an associate professor of political science at the University of Iowa. "He's older and probably doesn't have any ambitions or expectations that he could run again," said Hagle, calling the 2016 race "Sanders' last go-around."
If Sanders competes until the very end, here's how his campaign will compare to previous competitive Democratic primaries decided by delegate votes, which are bound by state results and — in more recent elections — superdelegates, party insiders who tend to back the front-runner.
Editor's note: Delegate counts are taken from the date the second candidate withdrew or from the total of pledged delegates leading into the convention.
1980 Incumbent Jimmy Carter v. Ted Kennedy
Kennedy withdrew during the convention,
Delegate Count: 1,989 (Carter) v. 1,242 (Kennedy)
Despite President Jimmy Carter being the incumbent, he faced a challenge from Massachusetts Sen. Ted Kennedy, who refused to drop out until the convention in August. Kennedy was the last candidate from any party in the 20th century who tried (and failed) to get delegates released from their voting commitments.
"I'll whip his a**," Carter told a group of Congressman in 1979 when asked what he would do if Kennedy challenged his nomination.
1984 Walter Mondale v. Gary Hart
Hart said he would not challenge Mondale after the latter scored enough delegates to clinch the nomination in June
Delegate Count: 1,959.05 (Mondale) v. 1,226.75 (Hart)
Similar to the 2016 Democratic race in both spirit and mathematics, the race to choose the Democratic nominee in 1984 may inspire déjà vu in today's voters. In the first year the Democratic Party began using superdelegates, Colorado Sen. Gary Hart grew a voter base by positioning himself in opposition to establishment candidate and former Vice President Walter Mondale.
"Gary Hart became the unofficial candidate of the "not-Mondale" Democrats — voters who were younger, more educated, more affluent, whiter, and disenchanted with the orthodoxies of the Democratic Party," read an excerpt from a 2007 article in Slate analyzing the Mondale/Hart race. Mondale soon won the 1,967 delegates needed to clinch the nomination
1988 Michael Dukakis v. Jesse Jackson
Jackson withdrew during the convention in July.
Delegate Count: 1,790 (Dukakis) v. 1,075 (Jackson)
The 1988 primary played heavily on cultural and ethnic identities, with Massachusetts Gov. Michael Dukakis securing votes among Roman Catholic and Jewish communities by playing up his immigrant roots as a Greek-American, according to a 1988 New York Times report. While activist Jesse Jackson was popular among black communities, he failed to secure broader appeal throughout the electorate.
1992 Bill Clinton v. Jerry Brown
Brown withdrew June 9, during the convention.
Delegate Count: 2,430​ (Clinton) v. 618​ (Brown)
Then-Arkansas Gov. Bill Clinton situated himself as a centrist Democrat in the runup to the debate, winning votes with his Southern charm and promises of economic rejuvenation. Despite a set-back when Gennifer Flowers publicly alleged an affair during the runup to the campaign, with a likable attitude and the self-proclaimed nickname "the Comeback Kid," Clinton cleanly beat then-California Gov. Jerry Brown. Brown, who was recently re-elected governor in California and has endorsed Hillary Clinton, ran a grassroots campaign and refused to drop out until the convention, which took place in June.
1996 Incumbent Bill Clinton
Clinton did not face any formidable threat to the 1996 nomination and won all 50 states in the Democratic primaries, defeating political activist Lyndon LaRouche.
2000 Al Gore v. Bill Bradley
Bradley withdrew March 9.
Delegate Count: 1,424 (Gore) v. 412 (Bradley)
The 2000 race was something of a blowout for former Vice President Al Gore. New Jersey Sen. Bill Bradley campaigned as a more liberal alternative to Gore, but after losing every single primary, Bradley dropped out March 9. Gore officially became the candidate following the June convention.
2004 John Kerry v. John Edwards
Edwards withdrew March 2.
Delegate Count: 2162 (Kerry) v. 534 (Edwards)
In a race nearly as crowded as the 2016 Republican field, Massachusetts Sen. John Kerry faced off against nine other candidates. Former Vermont Gov. Howard Dean had been hailed as a strong candidate throughout 2003, but Kerry went on to clinch the nomination after winning both the Iowa caucuses and the New Hampshire primary, prompting North Carolina Sen. John Edwards to drop out.
2008 Barack Obama v. Hillary Clinton
Clinton withdrew June 3.
Delegate Count: 2,158.5 v. 1,920
Clinton dropped out in June 2008, just days after the California primary, despite being much closer in the delegate count to Barack Obama than Sanders is to Clinton now. Obama supporters also accused diehard Hillary fans of being "sore losers," saying they needed to "get over it."
2012 Incumbent Barack Obama
Obama saw an uneventful 2012 primary season, running mostly unopposed and going on to win a second term in office.

© Copyright IBTimes 2023. All rights reserved.