How Is Bernie Sanders Doing? Democratic Delegate Count Ahead Of California, New Jersey Primaries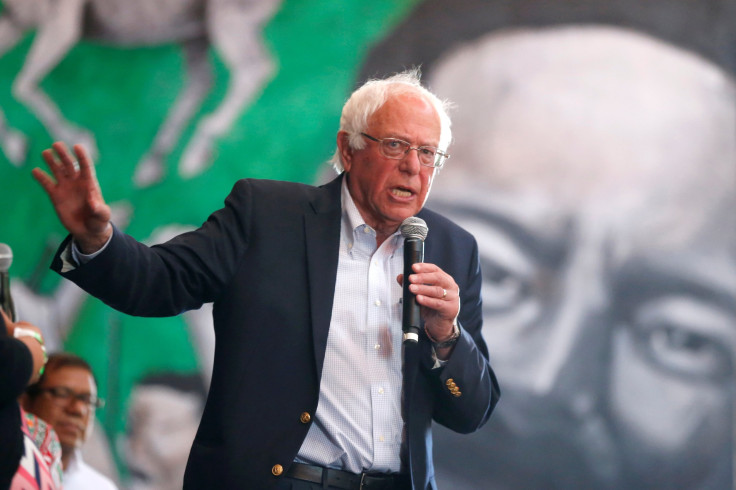 Hillary Clinton drew one step closer to clinching the Democratic Party's presidential nomination with her win in Puerto Rico's primary Sunday. She took home 40 delegates there, while her rival Vermont Sen. Bernie Sanders took 19, according to the Associated Press delegate tracker.
The Puerto Rico contest came just ahead of the crucial California presidential primary, which is expected to be very competitive Tuesday. New Jersey, Montana, New Mexico, North Dakota and South Dakota will also hold nominating contests Tuesday, putting a total of 806 delegates up for grabs.
California is the biggest prize, with 546 delegates at stake, and both Clinton and Sanders have spent significant time and resources campaigning in the state. While its outcome will be important symbolically, the results are unlikely to significantly alter Clinton's wide lead over Sanders.
Following Puerto Rico's primary, the former secretary of state has 1,809 pledged delegates and 548 superdelegates, putting her at 2,357 delegates overall. That is just 26 delegates short of the 2,383 needed to become the Democratic presidential nominee. Sanders has 1,520 pledged delegates, putting him 300 behind Clinton. And when he adds his 46 superdelegates, his total of 1,566 is still far from the magic number.
Delegates Awarded to Democratic Candidates | InsideGov
It is widely expected that Clinton will reach 2,383 delegates Tuesday, making her the presumptive Democratic nominee. That has not deterred Sanders, who has continued to say he will do well in California and that the Democratic National Convention this summer will be contested regardless of how many delegates Clinton has. He argues that because Clinton will reach the 2,383 number using superdelegates — party officials who can support whomever they choose — there is still time for him to try to convince those people to switch their allegiance to him.
"The media is in error when they lump superdelegates with pledged delegates. Pledged delegates are real," Sanders said at a news conference Saturday. "Hillary Clinton will not have the requisite number of pledged delegates to win the Democratic nomination at the end of the nominating process on June 14. Won't happen. She will be dependent on superdelegates."
So far, an overwhelming majority of the superdelegates have backed Clinton, and with her strong lead in pledged delegates and the popular vote, as well as her connections in the Democratic Party, it is very unlikely Sanders will be able to switch many superdelegates to his side. Still, the results in California could provide a boost to his enthusiastic supporters, some of whom have been hesitant to say they will line up behind Clinton should she win the nomination over Sanders.
RCP Poll Average for California Democratic Primary | InsideGov
Polls in California have shown Sanders and Clinton in very close competition, with Clinton holding an average of 47.7 percent support and Sanders holding an average of 45.7 percent support, according to RealClearPolitics. This is within the margin of error of most polls, so the two are in a virtual tie going into the Golden State primary this week.
Clinton has typically done well with minority voters, and California has large Latino and Asian populations, but many voters there are also young, which bodes well for Sanders.
© Copyright IBTimes 2023. All rights reserved.