Can Cruz Beat Clinton? Texas Senator Says Donald Trump Will Lose To Hillary, But His Own Path Not Certain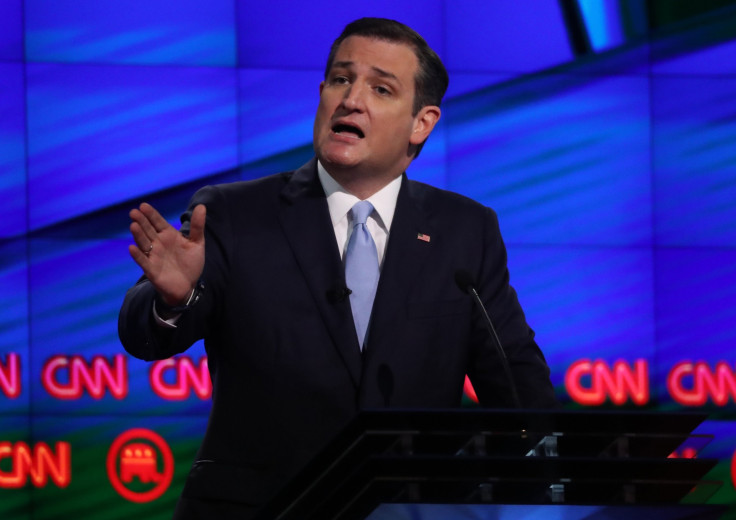 In Thursday night's Republican presidential debate, the four remaining candidates each made their case that they were their party's best option to defeat the Democrats in a general election. As they approach the next round of voting Tuesday when Florida Sen. Marco Rubio and Ohio Gov. John Kasich may make what may be their last stands, Texas Sen. Ted Cruz and businessman Donald Trump have focused in on making the GOP nomination a two-man race.
Cruz, who has beaten Trump in seven states so far, still sits about 100 delegates behind the front-runner but told viewers Thursday night that he expected to be the GOP's standard-bearer against former Secretary of State Hillary Clinton, who leads the race for the Democratic nomination.
"In just a few months, one of us is going to stand on the debate stage with Hillary Clinton. And the choice we are making today is who will best defend our values, who will best defend your values and fight for you," Cruz said in his closing statement during Thursday night's debate. "I have to tell you, I cannot wait to stand on that stage with Hillary Clinton."
However, the question remains: Could Cruz beat Clinton in November? General election matchup polls are not always reliable, but at this point in the game, they are one of the ways we have to tell how potential general election candidates might do against each other. In most recent matchup polls, Cruz comes out slightly ahead of Clinton, but typically within the survey's margin of error.
For example, a CNN/ORC poll released last week found Cruz at 49 percent and Clinton at 48 percent when presented head-to-head, but the poll had a margin of error of plus or minus 3 percentage points, meaning Clinton could have also easily been ahead. For comparison, a NBC News/Wall Street Journal poll released Wednesday had Clinton leading Cruz 47-45, but again, the margin of error was plus or minus 2.8 percentage points.
This means that a Cruz vs. Clinton race would be very competitive. However, a Trump vs. Clinton race typically finds Clinton winning by larger margins, so Cruz is right that he has done better than Trump in polls against the Democrat. Still, all the Republicans actually lose to the other Democratic contender Vermont Sen. Bernie Sanders by more than they do to Clinton.
Trump did not seem bothered by these numbers, though, during Thursday's debate.
"The Republican Party has a great chance to embrace millions of people that it's never known before," Trump said during his own closing statement. "These are people that will win us the election and win it easily."
In looking at another metric, some political scientists created a model to predict how various candidates would do against each other in winning electoral delegates in the general election. When Cruz was pitted against Clinton there, they found less than a 50 percent chance that he would win.
As for Clinton's view on all this? Her social media team tweeted its signature reaction GIFs during the Republican debate Thursday night, and did not seem concerned at all about the prospect of competing against whoever becomes the GOP nominee.
© Copyright IBTimes 2023. All rights reserved.
FOLLOW MORE IBT NEWS ON THE BELOW CHANNELS