Who Won The Republican Debate In Miami? Donald Trump Calls For United GOP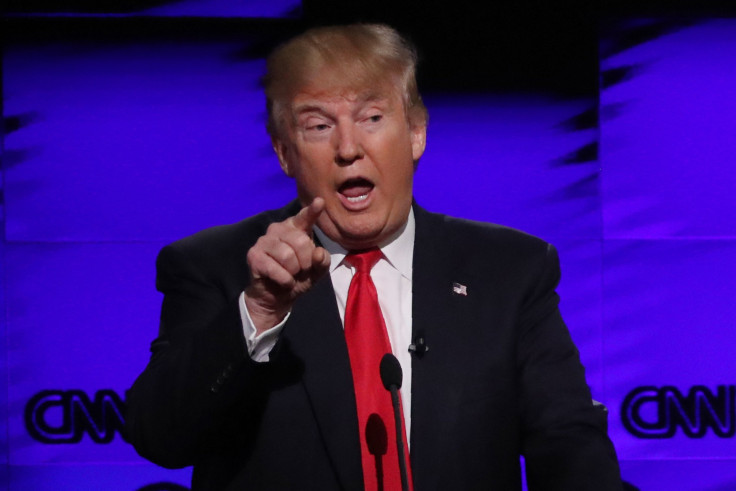 Donald Trump urged Republican Party leaders to accept his divisive campaign for the White House on Thursday night as the business mogul calmly knocked down his struggling rivals during a GOP debate in Miami that once again played to the former reality TV star's masterful command of an audience.
"We're taking people from the Democrat Party, taking people as independents, and they're all coming out and the whole world is talking about it. I think, frankly, the Republican establishment, or whatever you want to call it, should embrace what's happening. Millions of extra people joined and we'll beat the Democrats, Hillary or whoever it may be, and we're going to beat them soundly," he told a cheering crowd. In his closing statements, he went there again: "Be smart and unify."
The debate was described by pundits as Florida Sen. Marco Rubio and Ohio Gov. John Kasich's last stand ahead of crucial elections in Ohio, Florida, Illinois and North Carolina next week, where both must win big in their home states to remain viable. In all, 367 Republican delegates will be at stake Tuesday. Rubio and Kasich delivered a few blows to Trump during the debate, but neither managed to knock him down.
After months of focusing on policy, Rubio borrowed from Trump's insult-everyone-playbook in recent weeks, making fun of the Republican front-runner's business ventures, short fingers and excessive perspiration. But Rubio said this week he regretted the personal attacks because they had embarrassed his children.
He adopted a more reserved approach Thursday in Miami, critiquing Trump's statements without sniping. Asked whether Trump had gone too far this week by saying "Islam hates us," Rubio said many Republicans wished they could be as blunt as Trump, but demagoguery is not an effective foreign policy tool.
"I know that a lot of people find appeal in the things Donald says, 'cause he says what people wish they could say," he said. "The problem is, presidents can't just say anything they want."
To defeat the Islamic State group, the U.S. needs Muslim allies such as Saudi Arabia and Turkey, Kasich seconded. Trump, as has become his style, refused to be scolded.
"I mean a lot of them. I mean a lot of them," Trump said. "There's something going on, that maybe you don't know about...and I will stick with exactly what I said."
The debate unfolded in Florida, where Hispanics make up 23 percent of the population and immigration reform remains a personal issue for many residents, regardless of their ethnicity. The top candidate in the Florida Republican primary wins 99 delegates.
Trump has angered officials in Mexico by vowing to build a tall wall along the U.S. southern border. He has also pledged to temporarily ban Muslims from entering the country and renegotiate trade deals with countries like China and Mexico to protect U.S. workers. Those positions have gone over well with Republican voters in recent primaries and caucus contests and Trump's trade war is expected to play well next week in Ohio and Illinois, which have lost thousands of manufacturing jobs in recent years to foreign competition. Hours before the debate, Trump called for raising tariffs on foreign-made goods and criticized European Union nations for lowering interest rates.
With many blue-collar workers concerned about losing jobs to foreigners, Texas Sen. Ted Cruz and Trump insisted during the debate that trade deals were pushing business overseas. But Rubio and Kasich said ending such international partnerships wouldn't improve the U.S. economy.
"I support free-trade deals that are good for" the country, Rubio said, pointing out the the U.S. population is too small to only sell goods domestically.
Kasich said 1 out of 5 Americans work in a job connected to trade. "We have to have an expedited process... when countries cheat and they take advantage of us, we need to blow the whistle," he said.
Trump acknowledged that his personal views on foreign workers haven't always matched his business practices, particularly when it comes to hiring highly skilled workers with H1-B visas. "That's something that I frankly use, and we shouldn't be allowed to use, it's very bad for workers," Trump said, adding, "I'm a businessman, and we have to do what we have to do."
When no one called him out for the apparent dissonance in his politics, Trump noted that the debate had adopted a more civil tone compared to earlier candidate events, when the New York billionaire made headlines for calling his rivals ugly and talking about his large manhood. "We're all in this together," he said. "So far I cannot believe how civil it's been up here."
Pundits were divided over who had won the debate, with some political reporters giving points to Rubio for highlighting issues with Trump's limited foreign policy experience and to Cruz for linking Trump to Democratic front-runner Hillary Clinton.
"Rubio looks pretty good tonight? But they all are keeping pace. Pros this bunch," The Guardian wrote. The Hill praised Rubio for drawing "a more measured, substantive contrast with Trump on the issue of reforming entitlement programs, a matter of critical importance in Florida," while the New York Times noted that "Cruz is trying very, very hard to make the argument that Trump is fighting for himself, not for the voters." The Texas senator summed up Trump's foreign policy at one point: "The answer is not to simply yell, 'China bad; Muslim bad.'"
But the crowd at the University of Miami in Coral Gables applauded Trump again and again as he blasted China, President Barack Obama and political correctness. "I don't want anyone to control me but the people out there," he said about his self-funded campaign as the crowd yelled its approval.
Even if Rubio wins Florida and scores half the delegates in other proportional states — an unlikely scenario according to the latest polls — he would still need to win more than 80 percent of all remaining delegates to get the nomination, Politico reported. Ahead of the debate, pundits argued he must make a strong case to voters that they should continue to support his campaign, even as calls from some GOP leaders for him to drop out have grown louder.
Kasich also faces a seemingly impossible path forward. He placed in third place in Michigan this week after campaigning heavily on the state in the hopes of a late surge. If he manages to win Ohio Tuesday and a sizable number of votes in other states, he still can't recover from his delegate deficient to win the party's nomination outright. Ohio's GOP primary winner receives all 66 delegates.
Delegates Awarded to Republican Candidates | InsideGov
For both Rubio and Kasich, the best hope is blocking Trump from the 1,237 delegates he needs to nab the nomination. But Trump isn't waiting for the Republican convention to designate him the GOP presidential nominee. After winning the majority of election contests so far, he has begun to tone down his bravado and make calls for a united GOP while shifting his focus to take down Democratic front-runner, former Secretary of State Hillary Clinton. Trump already has 458 delegates and is more than one-third of the way to the nomination.
Trump noted during the debate that Rubio and Kasich couldn't mathematically secure enough delegates to become the GOP nominee, while Kasich said the race was far from over. "What's true today is not necessarily true tomorrow," Kasich said. "So let's not get ahead of ourselves."
Cruz is Trump's strongest rival, with 359 delegates. But he is also unpopular among GOP elite for once calling Majority Leader Mitch McConnell, R-Ky., a liar, backing a 16-day government shutdown in 2013 and generally supporting far-right policies that are unlikely to do well in a general election, when independent voters tend to embrace more mainstream views. He has had the most success with evangelical voters, picking up wins in Iowa and Idaho while failing to gain traction with more moderate Republicans. He has increasingly urged Kasich and Rubio to drop out and leave it to him to stop Trump.
FOR FREE to continue reading
✔️ Unlock the full content of International Business Times UK for free
offer available for a limited time only
✔️ Easily manage your Newsletters subscriptions and save your favourite articles
✔️ No payment method required
Already have an account?
Log in
© Copyright IBTimes 2023. All rights reserved.