Can Marco Rubio Win The White House After New Hampshire Primary? Watch Florida Senator's Speech Here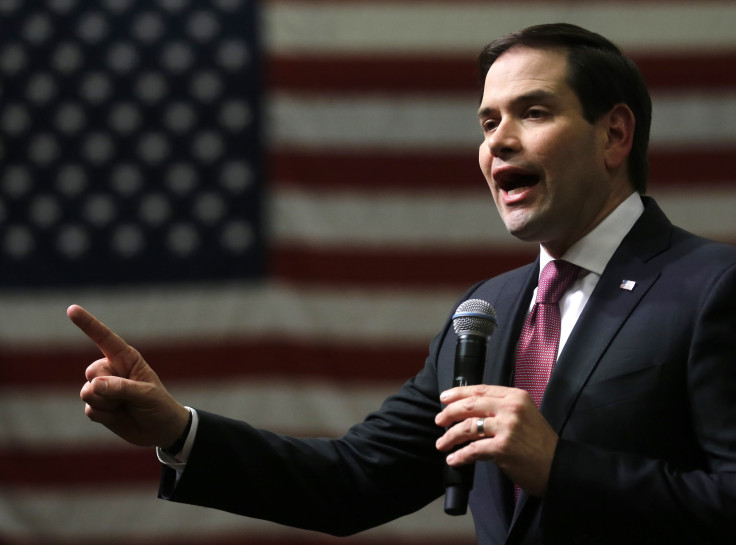 Marco Rubio had a disappointing night. As results came in from New Hampshire voters Tuesday, it appeared the Florida senator was going to severely underperform expectations in the primary election.
New Hampshire presented a difficult situation for Rubio, who had been on a roll after a close third-place finish in the Iowa caucuses, but faced tough criticism this week from rival candidates who are pinning their hopes on the Granite State. The race there was expected to be a tight contest for second place, as Donald Trump has maintained a wide lead for months, but Ohio Gov. John Kasich looked poised to take second Tuesday with Rubio trailing behind other candidates early in the evening.
Rubio gave a short speech Tuesday night at his election night party in Manchester, New Hampshire, where he admitted that his recent debate performance may have hurt him in the primary. His speech was live streamed on major news networks and C-SPAN, and you can watch it below.
"Our disappointment tonight is not on you, it is on me," Rubio said Tuesday. "I did not do well on Saturday night. That will never happen again!"
The Florida senator has sought to appeal to New Hampshire voters with his hopeful economic message, strong stances on foreign policy and idea that he can unite the party. But after he delivered a weak performance in Saturday night's ABC News debate, other candidates have capitalized on his stumble, seeing an opening in a state that was expected to winnow the wide field. New Jersey Gov. Chris Christie tore into Rubio during the debate for repeating himself and seeming scripted, a criticism that a protester picked up when he showed up in New Hampshire on Tuesday wearing a robot costume.
The group of mainstream Republicans made up of Christie, Ohio Gov. John Kasich and former Florida Gov. Jeb Bush were all hoping to overcome Rubio, and had poured resources into the state. They have been stuck near the bottom of the GOP pack except for in New Hampshire, where polls showed them in closer contention. With Kasich likely taking second place there, he will try to use that success to move on to the Southern states later this month and then on March 1.
"We will win this election and we must win this election," Rubio said Tuesday, not letting his lackluster performance dampen his forward-looking mentality. "If we don't win this election, my children and yours will not inherit the greatest country in the world."
Polling in New Hampshire has historically been difficult to predict because voters in the state are late deciders, but ahead of Tuesday's primary, Trump kept his significant lead in the polls. As of Tuesday, Trump held 31.2 percent support, according to averages compiled by Real Clear Politics. Rubio held an average of 14 percent in the state, Kasich sat at 13.5 percent, Texas Sen. Ted Cruz was at 11.8 percent, Bush was at 11.5 percent and Christie held an average of 5.8 percent.
After doing well in Iowa, Rubio was likely hoping a strong showing in New Hampshire could help him consolidate support from the establishment wing of the Republican Party. New Hampshire is known for having lots of moderate voters and fewer religious people, which is something that was expected to play to Rubio's strengths and keep Cruz from doing as well as he did in the Hawkeye State.
Rubio has received a number of high profile endorsements in recent weeks, including from South Carolina Sen. Tim Scott, and is scheduled to go to South Carolina on Wednesday to continue his campaigning in what will be the third nominating state. Some Republicans have expressed concerns that if the pack of moderate candidates continue on after New Hampshire, their harsh criticisms will drown Rubio's campaign. But Tuesday night, Rubio told his supporters he believed they would still win the nomination and win the general election in November.
"I am confident because for over two centuries Americans in the end have always gotten it right. In each generation before us, Americans have always done what needed to be done," Rubio said. "That is what we will do in this election."
© Copyright IBTimes 2023. All rights reserved.