Election 2016: How Marco Rubio Could Consolidate GOP Establishment Support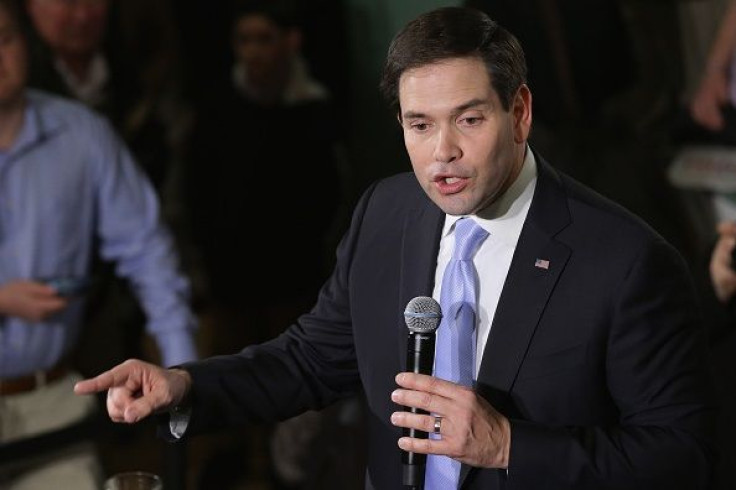 While Florida Sen. Marco Rubio seemed ready to claim the mainstream lane of the Republican presidential race Monday night, the GOP establishment vote likely won't be locked down until at least one more state holds its nominating contest.
The Florida senator has seen an increase in support from mainstream donors and elected officials in recent weeks, but GOP strategists and early state party members said they expect the establishment wing of the Republican Party to hold off on choosing a candidate until the New Hampshire primary, which is likely to force several moderate candidates to drop out naturally. If the Granite State contest does not winnow the field as expected, then the Republican establishment will likely resort to behind-the-scenes discussions and financial pressure to help unite around a candidate soon after.
For months, establishment Republicans have fruitlessly sought a presidential candidate to rise above the pack and consolidate support against business mogul Donald Trump and Texas Sen. Ted Cruz, whose extreme views and combative personalities are seen as liabilities for a party that wants to build coalitions and win the general election. Rubio was supposed to be the "Republican savior" all along, but he has been largely lagging in the polls both nationally and in early states.
Then, in Iowa, his supporters turned out in force, helping him outperform his polling to land 23 percent of the Hawkeye State vote, just one point behind Trump and only a few more behind Cruz. "This is the moment they said would never happen," Rubio told supporters Monday evening in a triumphant speech that came before either Cruz or Trump addressed their followers. "For months, they told us we had no chance."
RCP Poll Average for New Hampshire Republican Primary | InsideGov
After a slow start to the campaign, Rubio has received a number of high profile endorsements in recent months, including from South Carolina Sen. Tim Scott , who lent the Florida senator his support Tuesday morning. He is now backed by 27 members of Congress, just four fewer than the 31 who support former Florida Gov. Jeb Bush, according to FiveThirtyEight.
The Florida senator has also increased his fundraising. He brought in $14 million in the final three months of 2015, twice as much as Bush and much more than other mainstream GOP candidates like New Jersey Gov. Chris Christie and Ohio Gov. John Kasich, reports filed Sunday with the Federal Election Commission show. Rubio has also outraised Bush in bundled contributions from federal lobbyists and in cash from donors in Washington, D.C., the Wall Street Journal reported.
But Rubio likely needs the continued momentum of another top primary finish for party elites to anoint him as their choice. After all, the establishment has been hoping he will do well for months, and it needs something to build on.
"A lot of this is going to fall on the shoulders on Marco Rubio," said Ford O'Connell, a Republican strategist who worked for Sen. John McCain's 2008 presidential bid. "What will happen is if Rubio does well in New Hampshire, in terms of folks like Bush, Kasich, they will feel a pressure to drop out."
Jeb Bush Presidential Candidate Profile | InsideGov
New Hampshire remains a tough fight for Rubio. The state is known for having more moderate voters than Iowa, and the pack of mainstream Republican candidates — Bush, Kasich and Christie — have all pinned their campaigns on the hope of pulling out a win there.
This concentration of mainstream governors has led many to wonder why party members have not yet encouraged those candidates, who have consistently polled near the bottom of the pack, to drop out. The Republican National Committee and its officers remain neutral throughout the primary election, but that does not mean party insiders or other elected officials can't weigh in.
Despite the many endorsements Rubio and Bush have seen from members of Congress, some of the biggest names have stayed out of the fray. Any candidate who receives an endorsement from Senate Majority Leader Mitch McConnell or House Speaker Paul Ryan, for example, would likely be seen as an establishment pick. But so far the prominent congressmen seem stuck in a catch 22: the lack of consensus around any candidate has made endorsing a risky move, and without a definitive endorsement from an establishment leader, no candidate has emerged to break through the group.
The clout held by individuals like McConnell and Ryan might also allow them to suggest that some candidates step back and focus on their current roles if they don't start doing well soon. Kentucky Sen. Rand Paul has faced this pressure since last fall, when Republicans in his state called for him to focus on his reelection to the Senate.
"There will be whispers in the party, in the media," O'Connell said, referring to pressure for candidates to suspend their campaigns. "That may well occur after New Hampshire, particularly if some candidates don't do as well."
That kind of pressure must be handled delicately, though. "Trying to tell the candidate straight up is not the best option. It has to come from someone who you respect or a group of people who you respect," O'Connell added.
Many Republicans suggested presidential candidates who have already dropped out of the 2016 race could provide that guidance to those still in the running. One prominent example is South Carolina Sen. Lindsey Graham, who suspended his campaign in December and now supports Bush. Neither Graham nor the Bush campaign responded to requests for comment on this story.
Graham is known for his genial personality and has good relationships with a number of the Republican presidential candidates, so he could be seen as a good person to make a call for party unity if a number of candidates remain by the end of this month.
John Kasich Campaign Snapshot | InsideGov
The area where establishment pressure could have an even more significant effect is fundraising. Cruz and Rubio have both raised enormous sums of money so far, and while Bush has an outsized haul of cash due largely to his family connections, other candidates like Christie, Kasich and Paul will probably run out of resources if they do not pick up momentum soon.
If Rubio, or another mainstream candidate, can show true viability in New Hampshire, donors to rival candidates may reconsider their funding, said Steve Duprey, New Hampshire's RNC committeeman.
"Nobody likes to waste money for money's sake," Duprey said. "These folks are all realistic. If they don't finish well in New Hampshire or South Carolina they're not going to have the resources to go on."
Even for someone like Bush with cash to burn, donors will not stick around forever. O'Connell, the Republican strategist, said big donors are often the ones pushing their candidate to suspend the campaign. These pushes can come from the donor's own self-interest, or as pressure from friends who are donors to succeeding candidates.
Still, not everyone thinks the Republican Party will need to resort to controlling the nominating process. Juliana Bergeron, New Hampshire's RNC committeewoman, said that every election cycle the state party holds a unity dinner after the primary contest to emphasize their desire for the party to choose someone who can win in the general election.
"People are nudging candidates, but it's going to take its course and people will unite around a candidate in natural time," said Bergeron, who will be one of the Granite State's delegates to the GOP national convention.
And as for what the Republican Party will do with The Donald? Bergeron was confident the party and the voters would sort out their nominee before the Republican National Convention this summer. She said he is likely to see similar treatment to other candidates at this point. If Trump does not bounce back from Iowa, he may wither away once an establishment candidate emerges, but if he genuinely ends up with the most delegates, Bergeron said the party won't stop him.
"We know we can only win if we come together," she said. "People are feeling that after eight years of Democrats, we want to win."
FOR FREE to continue reading
✔️ Unlock the full content of International Business Times UK for free
offer available for a limited time only
✔️ Easily manage your Newsletters subscriptions and save your favourite articles
✔️ No payment method required
Already have an account?
Log in
© Copyright IBTimes 2023. All rights reserved.