New Hampshire Primary 2016 Live Updates: Trump, Cruz, Rubio, Bush Face Off; Clinton Looks To Hold Off Sanders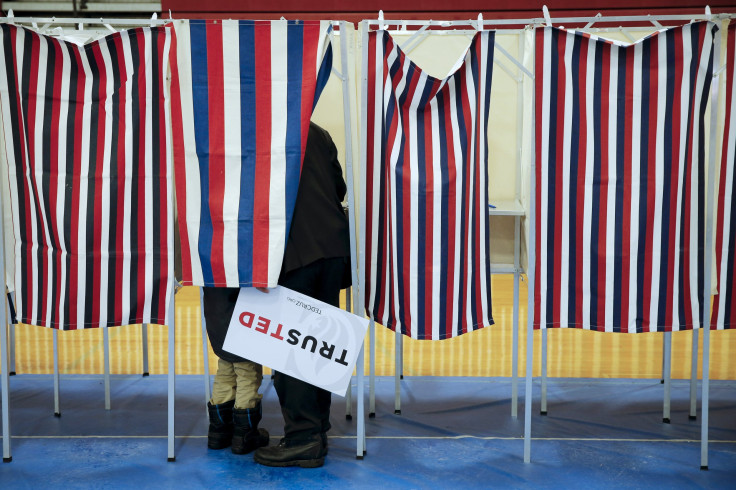 UPDATE: 6:02 p.m. EST — We've started a new live updates blog as we wait for the election results. Join us over here Tuesday night.
UPDATE: 5:10 p.m. EST — While voters in New Hampshire Tuesday embarked on the busy task of picking the potential next president, casual Google searchers (or deliberate and serious ones, it's impossible to tell) were asking one very important question: Why does Ted Cruz wear two watches?
It's the fourth most popular question asked on Google about the Texas senator and it has a pretty simple answer: he doesn't. Cruz instead wears a watch and a Fitbit fitness tracker, as GQ Magazine recently pointed out. It may not be the best look if Cruz wants people to think he's more of a single watch kind of guy, but then again he also hasn't weighed in on his preference on the issue.
There's one more question with a simple answer that is trending for Cruz.
"Is Ted Cruz a Democrat?" ranks fifth among Google searches. The short — and long — answer to that question is no.
UPDATE: 4:33 p.m. EST — Hours after a reported skirmish between Florida Sen. Marco Rubio's supporters and a protester (or prankster, or Chris Christie supporter or whoever) dressed in a robot costume to draw attention to the senator's seeming penchant for pre-rehearsed lines Tuesday, Twitter users are were still engaged in a good humored debate over what exactly to call the phenomenon in the afternoon afternoon.
Whether or not it is called a Rubiobot or a Marcobot, the silver activist has done a good job of drawing attention to a potential vulnerability for the senator that Christie exploited repeatedly during Saturday's Republican debate.
UPDATE: 4:00 p.m. EST — Unless New Hampshire surprises the nation (which is entirely possible), New Jersey Gov. Chris Christie and businesswoman Carly Fiorina could be snubbed from the next Republican debate Saturday night, CNN reported Tuesday during the primary in the Granite State.
The criteria released for the debate, which will be hosted by CBS, ensure that Texas Sen. Ted Cruz, businessman Donald Trump and Florida Sen. Marco Rubio are all extended an invitation because they placed in the top three in the Iowa caucuses. The rest of the candidates must place in the top five in New Hampshire to be considered, or in the top five of an average of national and South Carolina polls. Christie and Fiorina don't currently qualify in the first or third criteria mentioned above.
UPDATE: 3:30 p.m. EST — Arizona Sen. John McCain, who staged an impressive comeback in 2008 to win the New Hampshire primary, took a stroll down memory lane Tuesday and tweeted out John Dickerson's Whistlestop podcast, produced by Slate, that detailed unlikely resurgence.
In that campaign, McCain came from behind in a race that had once seemed as though it was his for the losing, then became an impossible task for him to win when he had issues with money and organizing. As mentioned above, he overcame those handicaps and won in New Hampshire. For those who aren't aware: He ended up winning his party's nomination, too.
UPDATE: 3:03 p.m. EST — At least one New Hampshire voter felt her primary vote was so important that it was worth putting up with a crying child over. A video posted on YouTube (and subsequently tweeted at Hillary Clinton's Twitter handle) shows a young boy in a car seat crying after his mother voted for someone other than Clinton. The voting preference of the child wasn't immediately known.
UPDATE: 2:35 p.m. — Former Secretary of State Hillary Clinton may have made the pantsuit famous as one of the most prominent and successful female politicians in the United States, but former Hewlett-Packard CEO Carly Fiorina took things to a new level with a three-piece suit Tuesday during the New Hampshire primary.
Fiorina was in seventh place in averages of New Hampshire polls but was kept off the most recent GOP debate stage. Since then, the presidential candidate has claimed the political process is rigged and that she was kept off in spite of polling in the Granite State and a performance in the Iowa caucuses one week ago when she beat some of the men who qualified for the most recent debate.
Press releases from the Fiorina campaign indicate that they plan to campaign in South Carolina soon after Tuesday's primary.
UPDATE: 2:05 p.m. EST — In order to accommodate what is expected to be record turnout in the New Hampshire primary Tuesday, the University of New Hampshire in Durham reportedly set up plenty of same-day voter registration tables. A tweet from a Washington, D.C., journalism student shows at least five rows of tables of students in a basketball gym registering to vote.
That preparation is likely a boon for Vermont Sen. Bernie Sanders, who receives a fair amount of support from voters in the college-age range.
UPDATE: 1:30 p.m. EST — Who are all the other candidates on the ballot? A picture of the primary ballot in New Hampshire serves up way more options than national media outlets generally cover in their presidential primary coverage. The candidates include some also-rans, like Kentucky Sen. Rand Paul, former Pennsylvania Sen. Rick Santorum and South Carolina Sen. Lindsey Graham. The ballots also include about a dozen relatively unknown names of candidates from across the country.
Just to be clear for the Ted Cruz campaign: Dr. Ben Carson is on the ballot, and he's still in the race (and still actively tweeting and doing media interviews).
UPDATE: 1:15 p.m. EST — Not all New Hampshire primary news has to take place in the Northeast. A photo posted on Twitter shows what are said to be supporters of Vermont Sen. Bernie Sanders from Florida delivering bottled water to his Flint, Michigan, campaign headquarters. A handful of supporters are seen unloading the packages from a bright-yellow moving truck.
The Sanders campaign sent out just a handful of tweets Tuesday morning. They included photos of volunteers in New Hampshire and a video of the founders of Vermont-based ice cream company Ben & Jerry's, showing their support for their home-state presidential candidate.
UPDATE: 12:50 p.m. EST — Votes continued to be tallied Tuesday in New Hampshire Tuesday, and the families of several presidential candidates looked to help their loved ones get out the vote by stumping and canvassing across the state. Those family members included Ivanka Trump, daughter of businessman Donald Trump, and Chelsea Clinton, daughter of former Secretary of State Hillary Clinton.
The Clinton campaign also sent an email to supporters Monday with Chelsea's name attached, urging voters to donate cash to the campaign because of poor polling. Former President Bill Clinton sent an email Tuesday titled "What are we going to do?" that praised his wife's drive (and, of course, asked for money).
The two daughters of the presidential front-runners are more than surrogates for their powerful parents; they're also said to be pretty good friends. Reports have indicated that the friendship was being strained by the campaign attacks between their parents, but the New York Daily News reported in January that they had called a "truce."
UPDATE: 11:45 a.m. EST — While New Hampshire voters take to the polls Tuesday, media outlets have noted that there has been only one election cycle going back to 1980 when there wasn't a Bush or Clinton running for president. That was in 2012.
This year features one of each, and New Hampshire could be an important state for former Florida Gov. Jeb Bush, who has trailed in the polls recently but has shown strength in the Granite State over the past few days in his bid for the Republican nomination.
On an unrelated note, New Jersey Gov. Chris Christie, who is also running for the GOP nod, has been called out by a home-state paper's editorial board for some"Bridgegate"-related issues. His campaign has accepted donations from 28 lawyers working for the firm Gibson Dunn & Crutcher, which was hired to independently investigate his connection to the scandal. He was exonerated for his connection lane closures on a busy bridge that connects New York City and New Jersey in September 2013 that appeared to be politically motivated. The scandal has dogged his 2016 presidential aspirations since.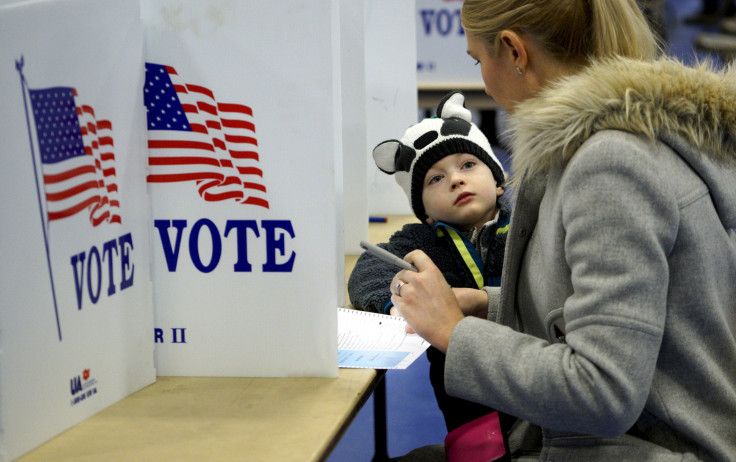 UPDATE: 10:40 a.m. EST — The reporter who posted a photo of a long line of cars waiting to get into a New Hampshire primary polling site may also be witnessing the tangible result of the state's new voter ID law, which was expected to tie up polling sites and lead to extended waiting times.
The law requires voters to bring IDs to the ballot box for the first time in history. Voters who don't bring their identification can ask poll workers to vouch for them. If the poll workers don't know them they have to sign so-called "challenged voter" affidavits and let poll workers take Polaroid photos of them.
Elsewhere, Donald Trump's son, Eric Trump, said that "waterboarding" is like "what happens on college campuses in frat houses."
UPDATE: 10:20 a.m. EST — A New Hampshire Union Leader reporter posted a picture of a line of cars ostensibly waiting to enter the local high school to cast votes in Tuesday's primary. The primary was expecting record turnout this year.
UPDATE: 9:57 a.m. EST — Donald Trump made a last-minute primary appeal to New Hampshire voters Tuesday with a video added to Facebook that referenced perhaps one of the most popular figures in New Hampshire: New England Patriots quarterback Tom Brady. He "is a great friend of mine, and he's said so many nice things about me and my ability to win," Trump said, with triumphant-sounding music playing on repeat in the background as he entreated voters to head to the polls and vote for him in the primary.
Vote New Hampshire

A message to the great people of New Hampshire on this important day: Thank you for all of your hospitality and support. I need you to go out and vote today! Together we will #MakeAmericaGreatAgain!

Posted by Donald J. Trump on Tuesday, February 9, 2016
UPDATE: 9:23 a.m. EST — NextGen Climate Action, a super PAC dedicated to combating climate change that is bankrolled by billionaire Tom Steyer, released a statement Tuesday morning praising both former Secretary of State Hillary Clinton and Vermont Sen. Bernie Sanders — who appear to be locked in a close race for the Democratic nomination — for their positions in favor of expanding the use of clean energy sources in the nation.
"After months of calling on presidential candidates to detail plans to combat climate change, tonight more than 27,000 Granite Staters from every region and every political persuasion will be casting their votes on the issue of climate change," Mike Padmore, the stated director for the advocacy group, wrote. "New Hampshire voters — including more than 12,000 college students — have committed to casting their ballot for candidates who have a plan to achieve more than 50 percent clean energy by 2030, and the candidates are paying attention."
The group has already spent $15.1 million in the 2016 election cycle, according to data from the Center for Responsive Politics. Steyer has declined to endorse either of the Democratic candidates thus far.
UPDATE: 9:08 a.m. EST — New Jersey Gov. Chris Christie started off Tuesday morning the way plenty of presidential candidates do the day of the New Hampshire primary: attacking an opponent on live TV from a Manchester diner. Christie took Sen. Marco Rubio to task, saying that the Floridian smiles on the campaign trail while his affiliated super PAC does the dirty work of attacking his opponents.
"No experience, but a lot of talking points that he just got from his op-research guys," Christie said on "Fox and Friends," mirroring a harsh attack seen Saturday night during the most recent Republican debate. "Is there anything Marco says that he doesn't get from his staff?"
He was followed by businessman Donald Trump, who said his repeating a profanity yelled by a supporter Monday to describe rival Texas Sen. Ted Cruz was "like a retweet."
"[Rubio] puts that little smile on his face and then sends his Super PAC out to cut peoples' throats" @ChrisChristiehttps://t.co/F9JFVdO55t

— FOX & Friends (@foxandfriends) February 9, 2016
"It was like a retweet." @realDonaldTrump on repeating a supporter's colorful comment about Ted Cruzhttps://t.co/jvGyit3Bau

— FOX & Friends (@foxandfriends) February 9, 2016
Original Story — The stakes are high on both sides of the political divide as New Hampshire voters take to the polls to choose their preferred presidential candidates. Democratic and Republican White House hopefuls have been engaged in increasingly bitter attacks among themselves in recent weeks ahead of the first-in-the-nation primary, highlighting policy differences and making personal attacks on the character of their opponents.
For Republicans, Tuesday is the chance to winnow the still-large field of contestants and poses the potential for a so-called "establishment" candidate to emerge to consolidate traditional support to take on the likes of Texas Sen. Ted Cruz and businessman Donald Trump. Trump has much at stake, too, as he has long led in polling in the state (and nationally) but was relegated to second place behind the Texas firebrand in the Feb. 1. Iowa caucuses.
On the Democratic side, Vermont Sen. Bernie Sanders leads former Secretary of State Hillary Clinton in New Hampshire polls by double digits after a surprising near-tie in Iowa just over a week ago. The two have attacked each other for their positions on issues ranging from gun control to Wall Street reform and how to expand healthcare coverage in the country to all Americans. Recently the Clinton campaign has accused Sanders' of sexist campaigning against Clinton, who became the first woman ever to win the Iowa caucuses this year.
RCP Poll Average for New Hampshire Republican Primary | InsideGov
RCP Poll Average for New Hampshire Democratic Primary | InsideGov
Of course, allegations of sexism aren't the only personal and emotional attacks that have taken place in New Hampshire recently. New Jersey Gov. Chris Christie has elevated his jabs at Florida Sen. Marco Rubio, accusing him of following a script on the campaign trail (during Saturday night's GOP debate Christie forcefully interrupted the Floridian during an exchange between the two when Rubio seemed to repeat the same response several times in a back-and-forth).
Trump has mocked Former Florida Gov. Jeb Bush for having his mother campaign for him, which prompted Bush to reply that the businessman is a loser. Trump also repeated a supporter Monday night on stage in New Hampshire when she used an expletive to describe the Texan.
Some polls in the state opened at 12:01 a.m. EST Tuesday, and most polls will close in the state at 7 p.m. Turnout, which is expected to break records, will be key in determining the victor, and weather could play an important role. A winter storm expected to touch down in the state could suppress voter turnout, possibly damaging the results for contenders like Sanders or Trump. Those candidates may rely on young or nontraditional voters, who may not be as likely to take a trip through the snow to vote.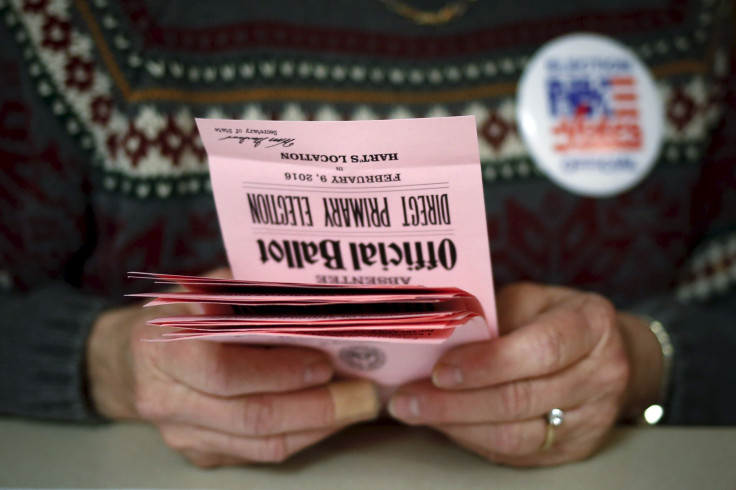 © Copyright IBTimes 2023. All rights reserved.