Cannes 2012: 5 Films Destined For Post-Festival Popularity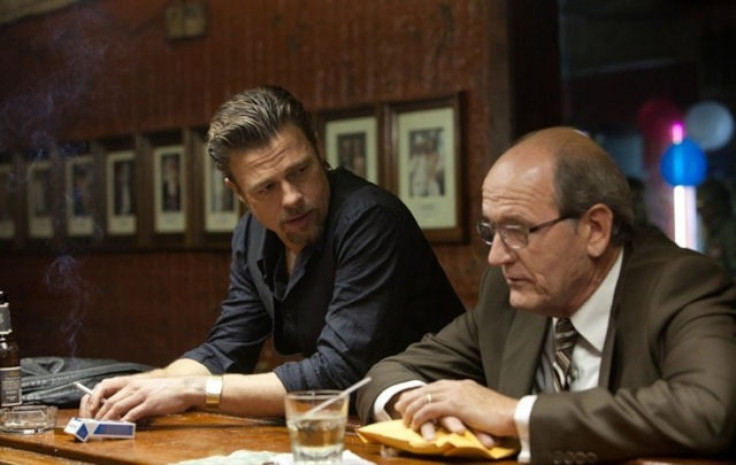 While a select few films dominated the headlines of this year's Cannes Film Festival, Amour was not the only one to make a big impact. From high profile projects to understated surprises, here are five of this year's most notable Cannes debuts.
Killing Them Softly: Andrew Dominick's boldly crafted gangster film is high on style and inventiveness, offering an alluring critique of the breakdown of American society.
A major poker game heist is the story catalyst -- Jackie Cogan (Pitt) is called in to find the suspected thieves. Set in 2008, a year marred by the economic catastrophe, much of the film plays over a backdrop of speeches by President George W. Bush and the newly inaugurated Barrack Obama. Even hit men are forced to charge recession prices which prompts Cogan's revelation that America isn't a country. It's a business. The sharp screenplay is based on the 1973 novel by George V. Higgins. Much of the film's soundtrack and overall look is 70's inspired. This does wonders for the characteristic production. For instance, buoyant folk music accompanies scenes of violence and murder creating a compelling juxtaposition.
The real payoff is Killing Them Softy's talented ensemble. Ray Liotta, James Gandolfini, Richard Jenkins, Scoot McNairy, and Ben Mendelsohn all have thoughtfully constructed roles in the film. Pitt is indisputably the drama's main selling point. His character is briskly mannered and an idiot savant when it comes to social philosophies. It's difficult to anticipate his next move and much of his actions, especially during the film's conclusion, prompt gasps..
Post-Cannes Appeal: Pitt's performance has already sparked Oscar talk while McNairy and Mendelson shine in breakout roles. The film's genre assures that it has a built in audience while fans of Higgins's well known work will likely head to the theater in droves.
Rust and Bone: Rust and Bone follows Ali (Matthias Schoenaerts), a single father who moves with his young son Sam (Armand Verdure) from Belgium to the South of France. They begin sharing a cramped house with his sister whose standard of living borders on the poverty line (she has to steal food from the grocery store where she works). Ali quickly learns how to survive any way he can by taking on a series of unspectacular gigs. This includes nightclub bouncer and street fighter. During one of his shifts he meets Stephanie (Marion Cotillard), an alluring whale trainer. Though there is clearly a spark between them, Ali is far from relationship material. Their level of compatibility is altered when Stephanie suffers a horrifying accident. In a powerfully dramatic scene she wakes up to find that she has lost both of her legs. The psychological effects of physical deformity become too much to bear and she plunges into a grave depression.
Cotillard's performance is arguably her best yet. Her expressive eyes beautifully reflect the pain and anguish of her post-accident existence. She takes Stephanie on an extraordinary journey of self-acceptance that is both heartbreaking and uplifting to watch. Audiard brilliantly captures the horrors of disability. Stephanie's anguish is conveyed through music and bold imagery.
Post-Cannes Appeal: Cotillard's haunting performance has Oscar bait written all over it. Foreign film fans will no doubt find the film's storyline enticing. The highly original project serves a refreshing alternative to typical releases.
Cosmopolis: Touted as The first film about the new millennium, David Cronenberg's adaptation of Don DeLillo's satirical novel of the same name is an artful critique of modern day power and corruption. Protest scenes may be likened to the Occupy Wall Street movement while the treat of economic collapse clearly parallel's reality. The plot centers on Eric Packer (Robert Pattinson), a 28-year-old billionaire, who insists on taking his extravagant limo across Manhattan to have his hair cut. As the high-tech vehicle slowly cruises through the city, a gaggle of characters (clearly archetypes) enter his resilient cocoon.
Though Cronenberg is known for boundary-pushing films, such as The Fly and Naked Lunch and Crash, his catalog also includes the thoughtful adaptation of M. Butterfly as well as last year's A Dangerous Method. Cosmopolis is seldom violent. The lyrical dialogue gives the film a theatrical feel and the words cut deeper than representations of physical brutality.
Pattinson exudes confidence and a suave demeanor while exhibiting desolation and paranoia. His shockingly rich performance was one of the biggest surprises at the festival. His visceral delivery of DeLillo's astute language is jarring and even sexy.
Post-Cannes Appeal: Both Cronenberg and Pattinson have a legion of supporters that have been anticipating Cosmopolis for a year. Pattinson's work in the film has stunned critics who doubted his capabilities as an actor. The film is bound for cult status and the love it or hate in reception at Cannes assure that it's difficult to ignore.
The Angel's Share: The first few days of the festival had audiences worried that his year's Cannes crop wasn' a strong one. But Ken Loach's poetic dramedy The Angel's Share turned expectations around. . Audiences were delighted with the brassy Scottish production: Te lighthearted film breathed fresh life into the festival, and gave weary audiences a respite from hard-to-watch films like Antiviral.
There's a reason why Loach holds the record for most films featured in Cannes. His vivid portraits of social peril, such as the Palm d'Or winning The Wind that Shakes the Barely Tree, seldom disappoint. In The Angel's Share, he captures a young man's last chance to turn his life around. After Robbie (talented newcomer Paul Brannigan) barely escapes a prison his girlfriend gives birth to their son. Fatherhood forces Robbie to break away from his troubled past by maintaining hope and ambition. He discovers a passion for the whisky industry and embarks on a humorous yet touching journey.=
Post-Cannes Appeal: The audience favorite was awarded the coveted Jury Prize at the festival. The film is a breath of fresh air for those that seek a powerful story with comic relief. The film's themes of self-discovery and reclamation are relatable and engaging.
Amour: From the very first frame of Michael Haneke's Amour it's clear that the film is heartbreaking and profound. Each scene thereafter is bathed in cinematographic beauty. Set almost entirely inside an apartment, the film focuses on the relationship Anne and George, an elderly couple. After their apartment is almost broken into, Anne suffers from a stroke.
Haneke's dark tale is a harrowing depiction of illness and deterioration. As the film progresses Anne's condition worsens and George's despair grows. When the tearjerker debuted at the festival it quickly emerged as an early favorite to take home the coveted Palm d'Or.
Haneke takes his time with each scene, letting the camera linger on small details. This allows viewers to better grasp the nightmare (literally and figuratively) that George faces. The film's images are so poignant that non-French speakers could ignore the subtitles and still understand it.
Post-Cannes Appeal: Its universal themes will appeal to a wide range of audiences and its rich content will be talked about for years to come. The film's rousing reaction at the festival is a testament to it's charm. As expected, Amour was awarded the Palm d'Or and will no doubt be a strong Oscar contender for Best Foreign Language Film. The film's win marks the second time Haneke has won the coveted honor in three years meaning he has the most Palm d'Or awards in the shortest amount of time.
© Copyright IBTimes 2023. All rights reserved.