Cannes Film Festival 2015 'Shoegate': Women Without High Heels Sent Packing By Fashion Police Security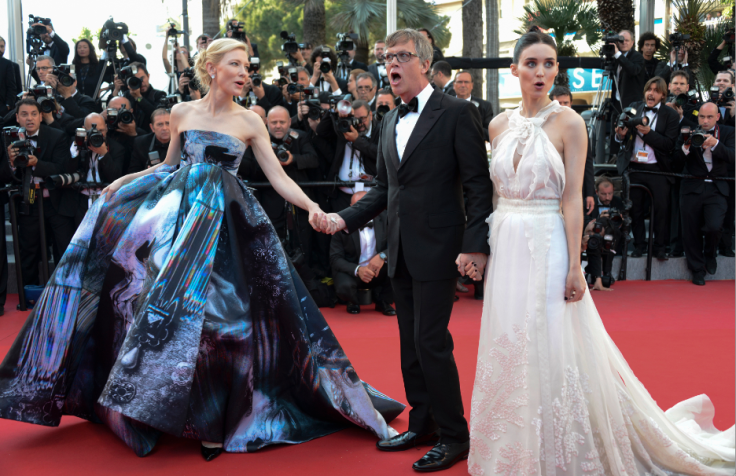 At the Cannes Film Festival premiere Sunday of director Todd Haynes' lesbian romance "Carol," starring Cate Blanchett and Rooney Mara, security turned away women who weren't wearing high heels, reports the Associated Press. And this after reports that Mara herself tripped on the red carpet in hers.
"There is no specific mention about the height of the women's heels as well as for men's," said festival spokewoman Christine Aime of Cannes' dress code, which requires that men wear tuxedos with bow ties and black shoes, and women are supposed to wear dresses with heels. "Thus, in order to make sure that this rule is respected, the festival's hosts and hostesses were reminded of it."
Men reported experiencing scrutiny of their footwear by Cannes "hosts" as well. A journalist told the Hollywood Reporter that he attended the screening of "La Tete Haute," a French drama directed by Emmanuelle Bercot, wearing glitter tuxedo loafers and was stopped by a host who told him the shoes were an inappropriate color and needed laces. This, in spite of other attendees being seen in boat shoes and brown heels, according to the trade paper.
On Tuesday, actress Emily Blunt called the news "very disappointing, obviously."
"Everyone should wear flats, to be honest, at the best of times," Blunt told the AP. "You kind of think that there's these new waves of equality."
"Sicario" director Denis Villeneuve joked that he and the film's stars, Benicio del Toro and Josh Brolin, would protest the anachronistic dress code by attending the screening in high heels.
The PR black eye for Cannes could deepen if it turns out that some of the women turned away from the "Carol" screening were lesbians who don't wear conventionally "feminine" clothes. And in a year with all eyes on the film industry for its entrenched sexism and dearth of directors who are women, its stated "year of la femme" -- the French word for "woman" -- reads more like "femme," i.e. extremely feminine in the conventional sense.
The director of the highly lauded Amy Winehouse documentary "Amy," for one, tweeted that his wife was temporarily banned from the festival for not wearing high heels:
© Copyright IBTimes 2023. All rights reserved.
FOLLOW MORE IBT NEWS ON THE BELOW CHANNELS