Capitol Rioter Arrested Wearing 'I Was There' T-Shirt
A man was wearing a T-shirt commemorating his involvement in the Jan. 6 riots during his arrest for his participation in the attack on the Capitol.
Garret Miller's clothing at the time of his Jan. 20 arrest was emblazoned with a photo of former President Donald Trump and the words "I Was There, Washington D.C., January 6, 2021," ABC News reported.
Like many of his fellow rioters, Miller documented his involvement in the mob extensively on social media. He posted a selfie inside the Capitol building. When a friend asked "Bro you got in?! Nice!" Miller responded, "Just wanted to incriminate myself a little lol."
Miller expressed less enthusiasm following his arrest, but in the weeks after the riot continued to express his support for violence against political opponents. After Rep. Alexandria Ocasio-Cortez, D-N.Y., tweeted the word "impeach" Miller replied, "Assassinate AOC."
Miller also targeted the officer who fatally shot Ashli Babbitt, a woman breaching a barricade during the riot. Prosecutors say Miller thought the officer was a Black man, labeling him a "prize to be taken."
"He will swing," he allegedly wrote. "I had a rope in my bag on that day."
Prosecutors are using Miller's violent rhetoric to argue that he should be denied bail. He faces 12 counts, including civil disorder, obstruction of an official proceeding, and assaulting, resisting or impeding officers.
"By bringing tactical gear, ropes, and potentially, by his own admission, a gun to the Capitol on January 6, 2021, Miller showed that he was not just caught up in the frenzy of the crowd but instead came to D.C. with the intention of disrupting the democratic process of counting and certifying Electoral College votes," prosecutors said.
Over 400 suspects have been arrested in the weeks following the attack and more are expected as investigators continue to followup on video footage and social media posts.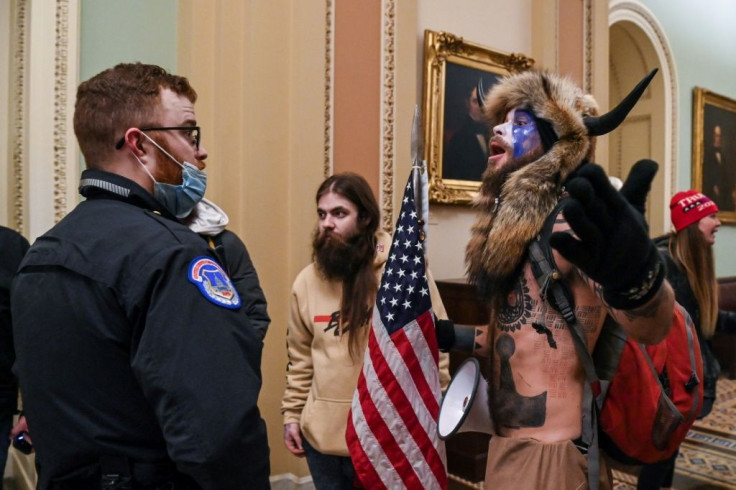 Miller's lawyer has requested his release, noting others who took more violent actions during the riot have been granted freedom.
"He has no history of violence, and he did not engage in any acts of violence in connection with the charged offenses, unlike many others who have previously been released," attorney F. Clinton Broden wrote.
Miller's transfer to Washington has been delayed after he broke his collarbone while playing soccer in the jail yard. In a recorded call to his mother following his arrest, he denied wrongdoing.
"I don't feel that I've done anything wrong and now I'm being locked up," he said.
© Copyright IBTimes 2023. All rights reserved.