Carlsbad Caverns Flash Floods: About 200 Stranded Visitors Rescued in New Mexico
KEY POINTS
Carlsbad Caverns received 0.6 inches rainfall following flood warning Saturday
The visitors were stranded for about nine hours
The evacuations reportedly began at midnight
About 200 people, including children, were stranded at the Carlsbad Caverns National Park in New Mexico after a severe storm brought heavy rains to the site Saturday.
They were eventually evacuated around midnight, the authorities said.
The park, which lies in Eddy County, was gushing with water after it received 0.6 inches of rain Saturday afternoon, following a flash flood warning, CNN reported, citing data from the National Weather Service.
Distraught visitors and park officials were stranded for over nine hours -- some without food -- inside the world heritage site.
Albuquerque residents Robert and Stephanie Saavedra and their children were among the people stuck inside the park. Halfway through their tour, they were informed about the evacuation order after which they walked 20 minutes to reach the visitor center, but found the exit road was closed, the couple told KOAT.
"We've been asking about food and water, since we have three small kids," Stephanie said. "They don't even know about food and water for us. We're just walking around and waiting."
Later, the Saavedras were able to secure food from the staff, but had to pay for it. Additionally, the tourist site soon ran out of food, and some people didn't have access to it, while waiting out the calamity.
The Cardoza family from El Paso, Texas, who made a day trip to the caves, shared their evacuation story with CNN. Richard Cardoza described the perilous drive out of the park, following their evacuation around midnight.
"There were three or four places that, if they had not been escorting us, I wouldn't have gone through," he said.
"It was scary and we thought, 'Oh my God, are we ever going to get out of here?" Monica told CNN. "But thank God, we are safe."
Following the evacuation, Eddy County Office of Emergency Management sent out an update.
"According to Chief Steele, as of 11:53pm shelter in place has been lifted. All visitors and staff; about 200 people have been evacuated. Thank you Chief Steele and staff for a job well done! NMSP, Eddy County Fire and Eddy County Sheriff's office assisted with traffic and evacuation."
Chief Ranger Laura Steele said evacuation activities were initiated Saturday afternoon after thunderstorms at the park. However, they decided against it an hour later, and decided to shelter at the park's visitors center.
"Video from Chief Laura Steele at NPS. Visitors at Carlsbad Caverns National Park are currently sheltered in place due to road conditions being impassable. Rain continues and several areas are flooding!" the update from the emergency management's office read.
"Queen area is out of electricity. Responders are running calls for people stuck in vehicles that have attempted to cross. PLEASE think before attempting to go through low water crossings. TURN AROUND! DON'T DROWN!" they added.
Carlsbad Caverns remained closed Sunday. The park will notify patrons of when they can visit again.
"Due to flooding, the road to the visitor center and cavern will be closed tomorrow (Sunday). The visitor center and cavern will also be closed. Maintenance crews will begin to assess and clean debris from the roadway. Check this site for updates," the park wrote.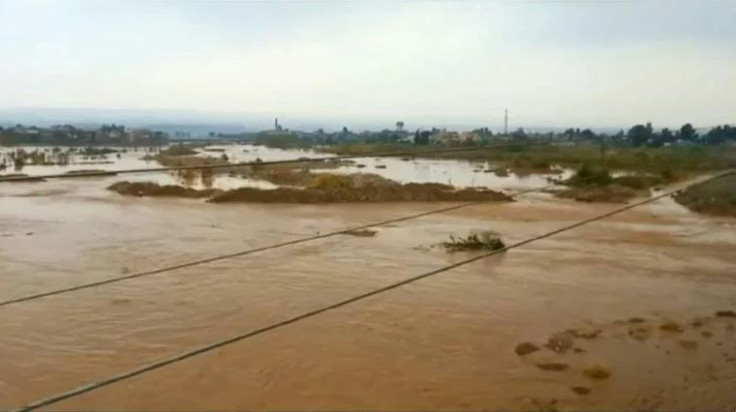 © Copyright IBTimes 2022. All rights reserved.
FOLLOW MORE IBT NEWS ON THE BELOW CHANNELS