Casey Anthony Update 2014: 'Serial Killers Ink' Site Selling Her Pants, Other 'Murderabilia'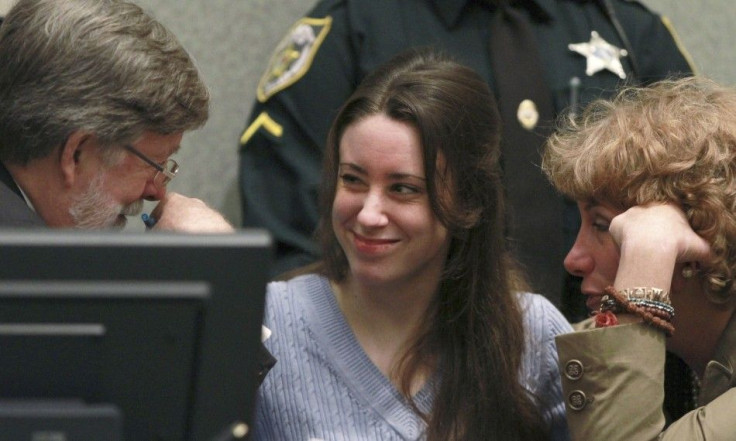 It's been more than two years since Casey Anthony was tried and acquitted in the murder and disappearance of her 2-year-old daughter Caylee, but the notorious Florida mother is still making headlines.
Anthony's personal items, obtained from a garage sale orchestrated by her parents, George and Cindy Anthony, in Florida last summer, are now being sold via the website Serial Killers Ink, multiple news outlets reported Tuesday. The site, which sells "Murderabilia" (such as merchandise related to infamous criminals like Ted Bundy and Charles Manson), is now offering crime enthusiasts the chance to own pairs of the 27-year-old's used pants and pocketbooks.
The items, pants ranging in sizes petite 4 to size 8 and various-sized purses, are being sold for a cool $800 each. According to the crime enthusiast site, Anthony's items were originally purchased by garage sale shopper Christina Werner on June 28, 2013, and all contain certificates of authenticity verifying that they were purchased from the Anthony family home.
The crime-related merchandise, which was banned from being sold on the auction site eBay in 2001, is now reportedly flying off the virtual shelves of Serial Killer Ink, a site which deems itself "the leading and most popular true crime collectibles company worldwide."
The used items first made headlines in July when Werner revealed that the family was selling the personal effects of their daughter and deceased granddaughter. "I drove by and noticed the house looked familiar to me," Werner told RadarOnline last year. "I had seen this house before. I got close and noticed that the people outside really looked like George and Cindy Anthony. It was the home of Casey [sic] Anthony's grandparents," she later added.
Anthony was last in the news in September for an alleged offer from Hustler magazine to pose nude. According to a report from the National Enquirer, Larry Flynt offered Anthony $500,000 to participate in the spread.
© Copyright IBTimes 2023. All rights reserved.