Casey Anthony's Parents About To Lose Family Home In Foreclosure: Report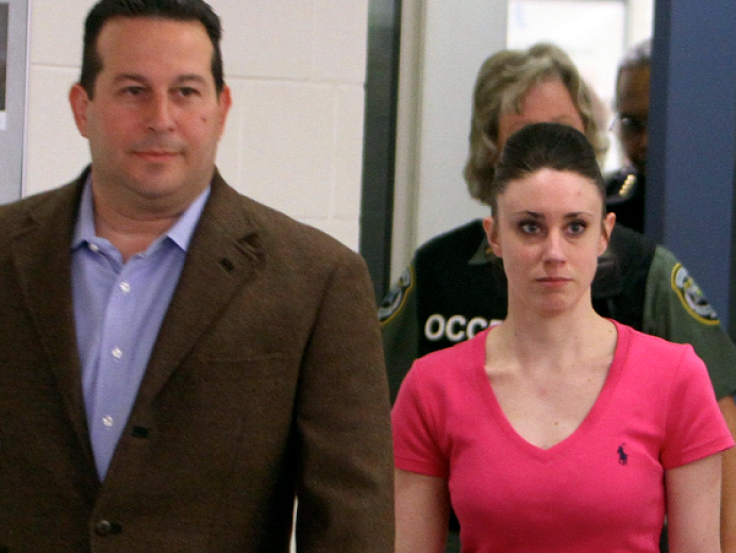 The parents of Casey Anthony, who was acquitted of the 2008 killing her 2-year-old daughter Caylee, could lose their home in foreclosure. Cynthia and George Anthony — with whom the 2-year-old and her mother lived at the time her death — have reportedly failed to make the mortgage payments on their Florida home in years and owe more than $128,000 in back payments.
U.S. Bank reportedly already started the process of reclaiming the Orlando, Florida home, which is listed in Cynthia's name, TMZ reported Friday. Legal documents obtained by the gossip site said that the couple hadn't made a mortgage payment in more than 6 years, and they reportedly owe more than $128,000 in addition to interest. The report would appear to indicate that the couple stopped making payments on their home around 2011, during which year Anthony was acquitted of murdering her child.
Read: Murder Trial Timeline Of Casey Anthony
Anthony, 31, was accused in 2008 of murdering her daughter Caylee Marie Anthony with chloroform and disposing of the body in the woods near the family's home. She was found not guilty of first-degree murder, aggravated child abuse and aggravated manslaughter of a child on July 5, 2011 following a six-week, highly publicized trial. Anthony was represented by Jose Baez, an attorney who has worked for a number of other high-profile clients, including former New England Patriots tight end Aaron Hernandez.
Most recently, Anthony made headlines in May after TMZ obtained photos of her allegedly holding the grandson of an NBC producer "who has gotten close to Anthony," for whom NBC has "made a serious play for several years to get a sit-down with her." Nancy Grace, who famously dubbed Anthony "Tot Mom" during her widely publicized murder trial, slammed the photos in a separate interview with TMZ.
"I was having a perfectly good morning this morning. I was waiting to go wake up the twins and get them ready for school, and I have to look at TMZ and see 'Tot Mom,' of all things, holding a baby," said Grace, who is the mother of 9-year-old twins.
Grace went on to tell TMZ that she didn't know "what the producer was thinking, putting a baby in her arms." She added, "When you don't know a horse, look at its track record. It would be a cold day in H-E-L-L before I would have a child around a woman [who] has been tried for child murder."
Read: Nancy Grace Speaks Out Following Casey Anthony Baby Drama
Grace also noted what appeared to pitcher in front of Anthony in the photos, which she said were mostly empty and alleged may have contained alcoholic beverages. "I mean booze and a baby?" said Grace. "Didn't she do that last time? Booze and a baby ends up in a murder charge?"
Anthony gave her first interview since her 2011 release in March with the Associated Press. "I don't give a s--- what anyone thinks about me, I never will," she said. "I'm okay with myself, I sleep pretty good at night."
© Copyright IBTimes 2022. All rights reserved.
FOLLOW MORE IBT NEWS ON THE BELOW CHANNELS