CDC 'Deeply Concerned' As COVID-19 Cases Begin To Rise Once Again
U.S. COVID-19 cases have begun to rise again as some residents ditch safety measures to travel and celebrate spring. The 7% rise has Centers for Disease Control and Prevention Director Dr. Rochelle Walensky worried the country is headed for another surge.
"I remain deeply concerned about this trajectory," she said, as reported by CNBC. "We have seen cases and hospital admissions move from historic declines to stagnations and increases. We know from prior surges that if we don't control things now, there is a real potential for the epidemic curve to soar again."
The nation's seven-day average has reached 57,000 daily cases. Hospitalizations have, as usual, lagged behind, rising only "slightly."
Walensky warned Americans earlier this month that not continuing to take the virus seriously could have dire consequences.
"Please hear me clearly: At this level of cases with variants spreading we stand to completely lose the hard-earned ground we have gained. These variants are a very real threat to our people and our progress," she said on March 1, as reported by The Hill.
Now, there are hints that Walensky's worst fears might come to pass. Miami Beach was so crowded with spring breakers last week that officials were forced to issue an emergency declaration and impose a curfew. Air travel is also noticeably on the rise.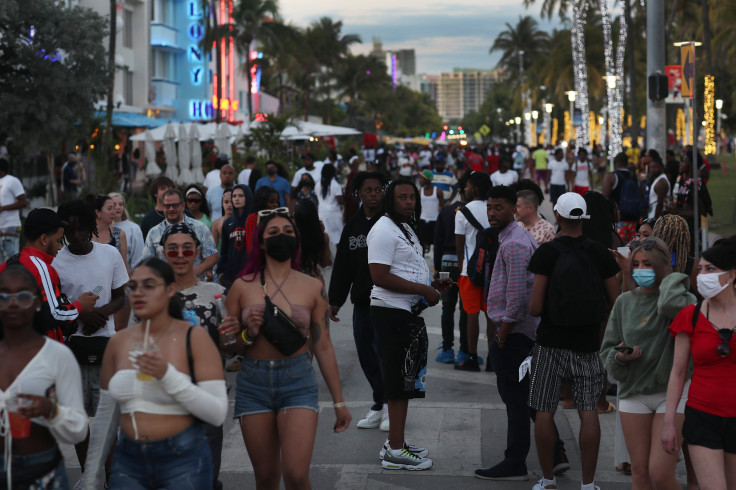 Compounding the danger is the spread of variants, which in addition to heightened infectiousness, could boast vaccine resistance. Dr. Anthony Fauci, the nation's top infectious disease expert, said last Friday that the variant B.1.1.7. likely already accounts for 30% of cases in the U.S.
Amid the rise in cases also comes an increase in vaccination efforts. President Biden doubled his campaign goal of 100 million doses in 100 days on Thursday. If lax safety measures allow COVID to spread, that progress could be for nothing. Walensky said the U.S. needs to "take this moment very seriously."
"We can turn this around but it will take all of us working together," she said.
© Copyright IBTimes 2023. All rights reserved.
FOLLOW MORE IBT NEWS ON THE BELOW CHANNELS