Celebrities React To Joe Biden, Kamala Harris Historic Inauguration
KEY POINTS
Celebrities and notable personalities shared their excitement over Joe Biden and Kamala Harris' inauguration on social media
These include Oprah Winfrey, Mark Ruffalo, Demi Lovato and Michelle Obama
Winfrey said she cried while watching Harris being sworn in as the 49th vice president
Joe Biden was sworn in as the 46th president Wednesday, while Kamala Harris took the oath of office as the first female vice president. Their historic inauguration was celebrated by a plethora of notable personalities on social media.
From Oprah Winfrey to Mark Ruffalo, celebrities shared their excitement about the inauguration on their respective social media accounts.
Actress Mindy Kaling posted a picture of her daughter on Instagram and noted that Inauguration Day meant a lot to many people, especially young women and men of color.
"I was at work, but she said, 'Is that mommy? It looks like mommy.' Best compliment I ever got! It matters. Happy Inauguration everyone," Kaling wrote.
Singer Demi Lovato congratulated the duo and said that it is time for America to "unite and heal."
Winfrey revealed that she cried while watching Harris being sworn in as the 49th vice president.
"In tears, watching this extraordinary moment for women in the U.S. and the world. Vice president @kamalaharris," Winfrey wrote.
Michelle Obama explained that America has now entered the next chapter after a "disturbing era of chaos and division." "Right now I'm feeling more than just relief at putting the past four years behind us. I'm feeling genuinely hopeful for what's to come," the former first lady added.
"Avengers: Endgame" star Ruffalo shared that he is so happy to know that Trump is gone and his "nightmare" presidency has come to an end.
To mark the special occasion, three of America's previous presidents — George W. Bush, Bill Clinton and Barack Obama — also delivered a special message and encouraged the country to stay united during such tumultuous times.
"I think if Americans would love their neighbor like they like to be loved themselves, a lot of the division in our society would end," Bush said.
Meanwhile, Harris also gave her first speech as vice president and said that people need to believe each other to achieve bigger goals.
"To do what is hard, to do what is good, to unite, to believe in ourselves, believe in our country, believe in what we can do together. Even in dark times, we not only dream, we do," Harris said.
Here are some more social media reactions: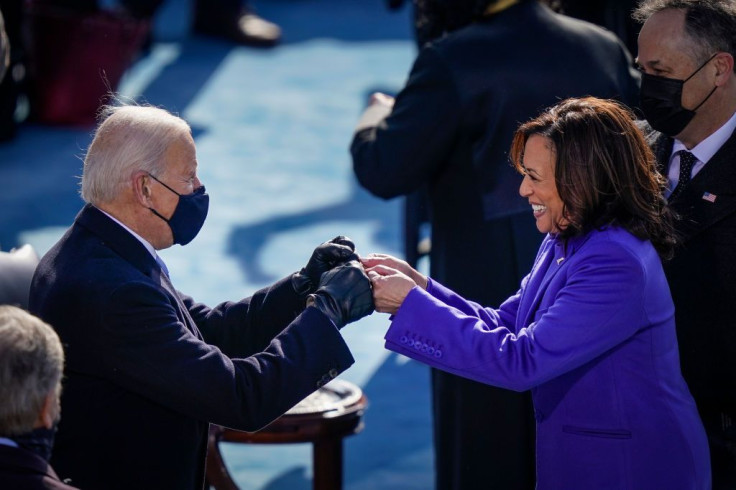 © Copyright IBTimes 2023. All rights reserved.