Twitter Praises Amanda Gorman's Powerful Performance At Joe Biden's Presidential Inauguration
KEY POINTS
The entire world praised Amanda Gorman for her inspiring poem at the inauguration ceremony
The 22-year-old is the youngest poet ever to recite a poem at a presidential inauguration
Oprah Winfrey, Michelle Obama and Lin-Manuel Miranda complimented Gorman's performance
The entire world is praising Amanda Gorman's history-making performance at Joe Biden and Kamala Harris' inauguration after she became the youngest poet ever to read a poem at a presidential inauguration.
The 22-year-old National Youth Poet Laureate recited her original composition, titled "The Hill We Climb," a poem completed following the violence that took place in Washington D.C. on Jan. 6 where the rioters tried to overthrow America's democracy by storming the U.S. Capitol during the swearing-in ceremony.
In her poem, she encouraged the people of America to let go of the past and stand together for a better, prosperous future.
"We will rise from the sun-baked South. We will rebuild, reconcile, and recover, in every known nook of our nation, in every corner called our country, our people diverse and beautiful, will emerge battered and beautiful. The new dawn blooms as we free it for there is always light if only we're brave enough to see it if only we're brave enough to be it," Gorman said.
The poet received a lot of praise from social media, as many labeled her performance magical. Many believe that the future of the country is in safe hands till the time youngsters like Gorman continue to lead the nation to a brighter path.
"I'm thinking about all the little Black girls who are going to start writing or will pick up their pencils and pens again because of what they saw Amanda Gorman do today. At that moment, a new generation of voices emerged and I'm so glad about it ," @CandiceBenbow wrote.
"#AmandaGorman was stunning. The best inauguration poet since Maya Angelou," another netizen wrote.
"I'm old enough to remember Robert Frost reading a poem at JFK's inauguration. He was good, but Amanda Gorman today was extraordinary," @RBReich wrote on Twitter.
Among those who praised Gorman were celebrities and politicians, including Oprah Winfrey, Barack Obama, Michelle Obama, Lin-Manuel Miranda and more.
The 44th President of the United States of America complimented Gorman for such inspiring words and noted that young people like her are proof that " there is always light if only we're brave enough to see it; if only we're brave enough to be it."
On the other hand, Michelle said that the young poet reminded everyone of the power they hold in "upholding" America's democracy.
Winfrey, who gave Gorman a ring and a pair of earrings for the event, noted that Maya Angelou would be so proud of the young woman.
Gorman joined the elite list of poets like Robert Frost (1961), Maya Angelou (1993), Miller Williams (1997), Richard Blanco (2009), and Elizabeth Alexander (2013) who have performed at the inauguration event.
Her charismatic performance also helped her social media presence to rise to a whole new level. The poet, who was nearing 1 million followers on Instagram, now has more than 1.6 million people following her on the image-sharing platform while on Twitter, she has over 877,000 followers.
Here are some more meaningful reactions to Gorman's performance: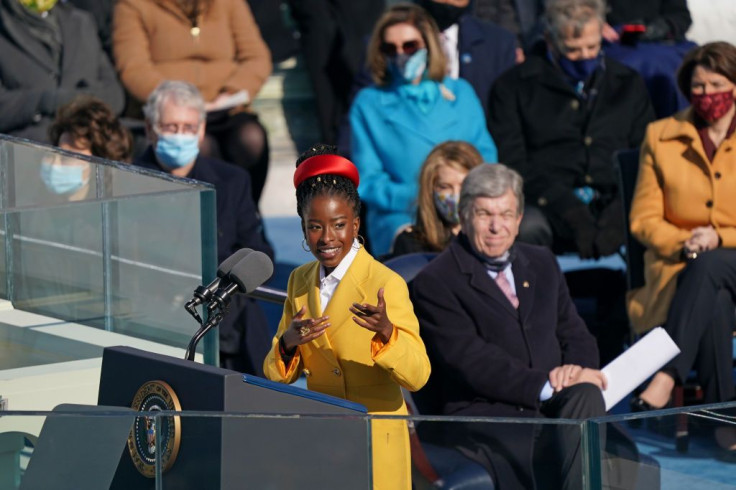 © Copyright IBTimes 2023. All rights reserved.