'Celebrity Apprentice' 2015 Spoilers: Meet The Cast; The 16 Contestants And Their Charities For Season 14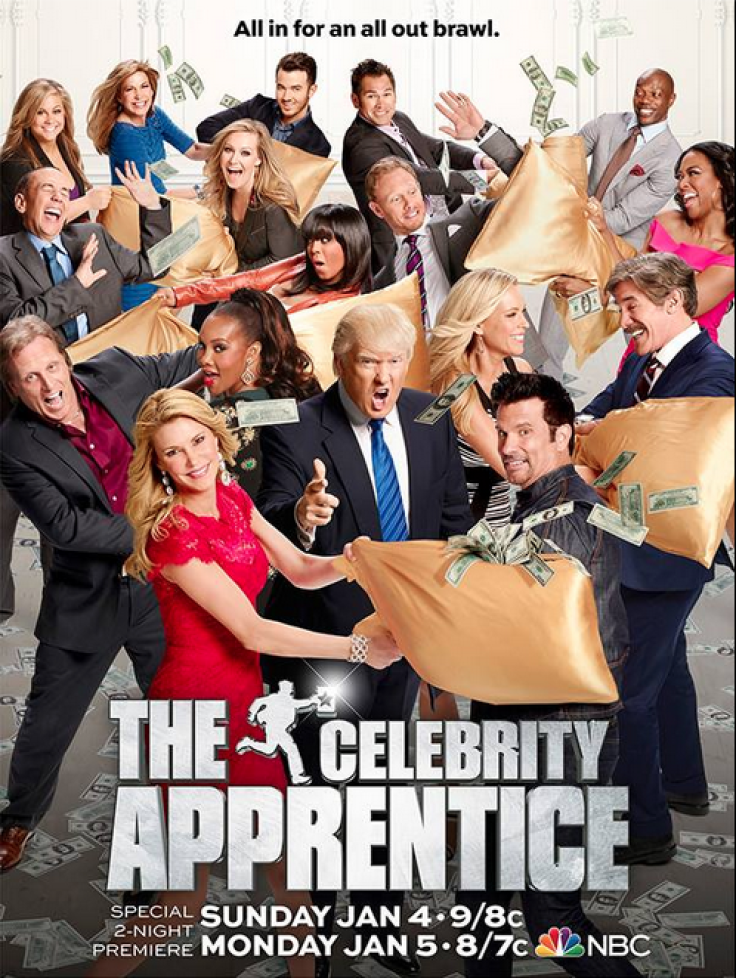 Donald Trump is back! "The Celebrity Apprentice" Sunday will return to NBC for its 14th season of firing people. The New Year will welcome 16 new celebrity contestants, all vying for a chance to win $250,000 for charity. But to get that money, they have to impress Donald Trump.
In usual "Apprentice" fashion, the cast will be split into two teams to successfully complete "business-driven tasks around New York City." All 16 contestants are "business-savvy," but that won't be enough to help them win their challenges. They'll have to use their fame -- and celebrity contacts -- to get their hands on Trump's check.
Meet the 2015 "Celebrity Apprentice" cast before the premiere:
Brandi Glanville
Fans of "The Real Housewives of Beverly Hills" will be happy to see cast member Brandi Glanville on "The Apprentice." But the 42-year-old is known for more than just being a reality-TV star – and feuding with LeaAnn Rimes, the current wife of ex-husband, Eddie Cibrian. Brandi, a mother of two, is also a successful author and a former model. She'll be competing for the Make-A-Wish Foundation. The Make-A-Wish Foundation works to "enrich the lives of children suffering from life-threatening medical conditions by granting them a wish."
Geraldo Rivera
Fox investigative reporter Geraldo Rivera is taking a swing at "The Celebrity Apprentice." A successful author, producer, talk show host and war correspondent, Geraldo, 71, will be working to raise money for Life's WORC, an organization creating a "productive life experience for individuals with developmental disabilities and autism."
Gilbert Gottfried
From "Aladdin" to "Saturday Night Live," Gilbert Gottfried has been entertaining audiences for years. The 59-year-old comedian, who was the voice of the Aflac Insurance duck, is a supporter of Autism Speaks, an organization that works to increase awareness of autism.
Ian Ziering
A sharknado must be near because Ian Ziering is one of the 2015 cast members of "The Celebrity Apprentice." The "90210" alum and 50-year-old Syfy star will be battling the other contestants o raise money for the Epidermolysis Bullosa Medical Research Foundation. Epidermolysis Bullosa is a disease that forms blisters on the skin after "minor trauma." The organization is not only working toward a cure, but also informs the public and teaches medical scientists about causes and treatments.
Jamie Anderson
Olympic snowboarder Jamie Anderson is a force with which to be reckoned on the slopes, and is hoping to be a tough competitor on Season 14 of "The Celebrity Apprentice." With the title of first female gold medalist in slopestyle snowboarding at the 2014 Sochi Olympics, the 24-year-old athlete is hoping to represent her charity, Protect Our Winters, successfully. The organization works to educate the public, and unite the winter sports community to fight climate change.
Johnny Damon
Baseball star Johnny Damon won two world series in his 18 season career, and he's looking to add another win to his achievements while on "The Celebrity Apprentice." If the 41-year-old athlete wins, he'll be donating the prize to the Johnny Damon Foundation, an organization that doesn't focus on just one cause, but raises money and donates funds to local and national programs "that provide leadership and growth opportunities for disadvantaged children at risk."
Kate Gosselin
"Kate Plus Eight" star Kate Gosselin is taking another swing at reality TV. The 39-year-old mom of eight will be competing for Camp Barnabas, "a Christian camp for kids with life-threatening illnesses and disabilities, and their siblings."
Kenya Moore
Kenya Moore is a former Miss USA who placed in the top six at the 1993 Miss Universe pageant. The 43-year-old is now a star on "The Real Housewives of Atlanta," and has her own production company and hair care line. She'll be working on "The Celebrity Apprentice" to raise money for the Detroit Public Schools Foundation, an organization that supplies resources and provides additional programs and activities for Detroit Public Schools.
Keyshia Knight Pulliam
Keyshia Knight Pulliam, 35, is best known for her role as Rudy Huxtable on "The Cosby Show." Although the youngest person to be nominated for an Emmy for Best Supporting Actress, Keyshia is no child star. She went on to star in Tyler Perry's TV show, "House of Payne," and most recently portrayed the role of Parker in the TV movie, "The Lover Letter." She'll be competing on the NBC reality show for Kamp Kizzy, a summer camp the actress started up in Atlanta in 2011. The camp works to bring "self-esteem and empowerment" to children ages 11-16.
Kevin Jonas
This Jonas doesn't need his brothers to be a success. Recording artist Kevin Jonas, 27, is participating on "Celebrity Apprentice" to aid Convoy of Hope. The organization works to help "the impoverished, hungry and hurting" through outreach efforts.
Leeza Gibbons
Leeza Gibbons, 57, is a success in all platforms -- print, radio and TV. She'll be competing on the reality show to aid her charity, Leeza's Care Connection. The charity works to help caregivers of "someone with a memory disorder, a chronic illness and/or a progressive illness."
Lorenzo Lamas
Lorenzo Lamas has had a successful career in TV and film -- being featured in "Grease," "The Bold and the Beautiful" and "Phineas and Ferb," among many others. He'll be working on "The Celebrity Apprentice" to raise money for the Boot Campaign, a foundation that provides assistance to active and retired members of the military.
Shawn Johnson
Shawn Johnson is the youngest competitor in Season 14 of "Celebrity Apprentice." The 22-year-old American gymnast and author is an Olympic athlete, bringing home the gold on the balance beam in the 2008 Summer Olympics in Beijing. She'll be working for her charity, Character Counts in Iowa. The charity works to "promote civility and helps Iowans practice and recognize good character."
Sig Hansen
Discovery Channel viewers will be happy to see Captain Sig Hansen on "Celebrity Apprentice." The 48-year-old, who is featured on reality show "Deadliest Catch," is a fourth-generation fisherman, as well as a best-selling author, speaker, philanthropist and fishing industry political activist. He'll be competing for the Coast Guard Foundation, an organization that helps support and educate the "brave men and women who enforce maritime law, protect our homeland and preserve the environment."
Terrell Owens
Former football star Terrell Owens will be using his 15 seasons playing pro to try and win the $250,000 grand prize for his organization, the Boys & Girls Clubs of America. The organization provides children with a "positive place to hang out after school."
Vivica A. Fox
Actress and producer Vivica A. Fox has had a successful career, and is hoping to have a similar achievement on "The Celebrity Apprentice." She'll be competing for Best Buddies International, an organization that creates "opportunities for people with intellectual and developmental disabilities."
"Celebrity Apprentice" Season 14 will air a special 2-night premiere on NBC on Sunday, Jan. 4, at 9 p.m. EST and Monday, Jan. 5, at 8 p.m. EST.
© Copyright IBTimes 2023. All rights reserved.
FOLLOW MORE IBT NEWS ON THE BELOW CHANNELS