'Celebrity Apprentice' 2015 Spoilers: Who Was Eliminated In Episode 3? Kenya Moore Squares Off With Brandi Glanville [RECAP]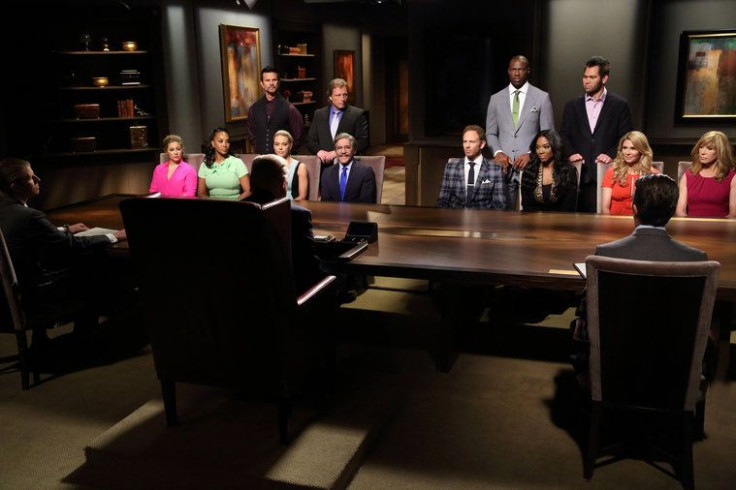 Episode 3 of NBC's "Celebrity Apprentice" aired Monday. After sending home Gilbert Gottfried and Kevin Jonas last week, the contestants built on the tension left in the wake of their individual attempts to fight for survival.
The episode kicked off with Shawn Johnson confronting Vivica A. Fox about being called Team Infinity's weakest link because she got her period during the last challenge. The two drew lines in the sand and left it at that. With the women's team in danger of actually getting along, Brandi Glanville and Kenya Moore stepped up to carry the bickering torch.
The first challenge saw the men's and women's teams tasked with creating a four-page editorial fitness spread for Cosmopolitan magazine. Team Vortex was led by Johnny Damon while Team Infinity gave Jamie Anderson her chance to step up to the plate. Both teams relied on their athletes to model and come up with the workout plans, but the real competition was in the presentation.
For the men, Geraldo Rivera came up with the idea of making the shoot all about taking a great selfie -- because, as he claims, he started the whole "selfie" trend when his nude photo went viral in 2013. With bodies like Damon, Terrell Owens and Ian Ziering's, it makes total sense Rivera would decide he needed to strip down to his underwear and get in on the modeling game. That's what 71 years of experience will do for you. Fortunately for Rivera, the men's team won the challenge.
The ladies, meanwhile, fell flat under the leadership of Anderson. Although she had two Olympians on her team, Moore and Glanville practically insisted on modeling and delivering some of the sex appeal for which Cosmo is known. This inconsistency in their approach is what ultimately gave Team Infinity an incoherent presentation, forcing Anderson to select two people for elimination.
Merit was not on the table when it came to selecting the women to be fired. None seemed directly responsible for the loss so it came down to whom it was the toughest to work. Since the beginning of the competition Kate Gosselin's value to her team has been in question, and this challenge was no different. Her biggest contribution was taking too long to shop for props for the shoot. However, it was Glanville and Moore's budding feud that took center stage as each tried to make a case against the other in the boardroom. Brandi Glanville even went so far as to call her new rival "evil," which may have been a bit strong, but there's no mercy in the boardroom!
When pressured for a final decision by Trump, Anderson brought back Gosselin and Moore, letting Glanville get away unscathed. Once the trio went into the boardroom for the final decision, the challenge wasn't discussed, just Anderson's decision not to bring Glanville into the boardroom. Ultimately Donald pointed the "you're fired" finger at the project manager because of her indecision. With Anderson taking the cab ride of shame home, the Kenya/Brandi feud was left to infect the next challenge of the evening.
The second task kicked off with a change in the teams. Gone is the gender divide in Season 14 as Trump moved Gosselin, Johnson and Fox to Team Vortex and replaced them in Team Infinity with Ziering, Owens and Damon. After spending most of last week developing a significant rivalry, Ian Zeiring and Geraldo Rivera went head-to-head as project managers. Each was tasked with opening a wedding dress boutique to raise money for their respective charities. The winner would steal the loser's donations.
With that, each team was off to the races putting in every phone call they could to the deepest pockets they knew. Rivera entered the task with his typical brazen confidence. Despite being among the most difficult with whom to work, he has proven effective in the past. This was no exception as his team raked in a whopping $294,000.
Meanwhile on the new Team Infinity, Ziering used the power of inspiration to get his team motivated. Fresh from her boardroom battle with Moore, Glanville decided to seek her donations on the phone. Realizing an inability to bring in major cash is what sent home the first contestant of the season, Keshia Knight Pulliam, she eventually left the boutique without warning to work alone in the hotel room. When Ziering got her on the phone, she confessed she'd had a panic attack and simply needed to get away. No one was faster to speculate that she was afraid to be around Moore than Moore. Still, Glanville managed to raise $40,000 for the task ($5,000 more than Moore). Ultimately the women of Team Infinity pulled through the most once Trump revealed the numbers. Unfortunately Team Infinity lost by a margin of only $2,500. Trump gave both project managers the chance to send their earnings to their own charities rather than go through with stealing the money. Rivera and Ziering agreed.
The fault of the loss came down to Owens and Damon, who raised the least. In the end the task came down to sheer numbers and Owens simply didn't make the cut. Ultimately, it was his refusal to really pressure his donors to come through to make up the $2,500 deficit, so he had to go.
With Ziering more determined than ever to bring Rivera down, and Glanville and Moore squaring off, the task ahead looks like it will be getting significantly more cutthroat. Even Ziering's diplomacy might not be enough to save the day.
Odds and Ends:
-- God bless America. The only country where a man like Rivera could strip down to his underwear and demand photos be taken of him on a job site and still not get fired.
-- The men's team looked through an issue of Cosmopolitan Magazine like apes learning to use tools.
-- I know I mentioned this already, but just a friendly reminder that Geraldo Rivera thinks he started selfies.
-- The Geraldo/Damon selfie pose was a real moment in time, huh?
-- Donald Trump evened each team's fundraising to $300,000, although he did it for the losing team upon a very hat-in-hand request from Ziering. Classy moves all around.
-- Ziering almost cried when Owens went home. I think I've got a new favorite to win the season.
FOR FREE to continue reading
✔️ Unlock the full content of International Business Times UK for free
offer available for a limited time only
✔️ Easily manage your Newsletters subscriptions and save your favourite articles
✔️ No payment method required
Already have an account? Log in
© Copyright IBTimes 2023. All rights reserved.