Celebs Slam Donald Trump For Attacking 'Morning Joe' Hosts, Call POTUS A 'National Embarrassment'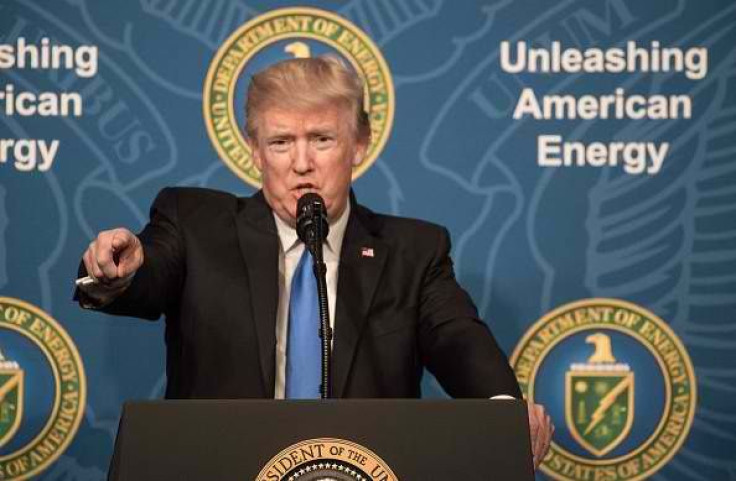 Donald Trump is facing another round of criticism on Twitter after a controversial post against "Morning Joe" hosts Joe Scarborough and Mika Brzezinski.
On Thursday morning, Trump lit up the social media site after criticizing Scarborough and Brzezinski. In a series of tweets posted following the latest broadcast of "Morning Joe," Trump described Brzezinski as "low I.Q." and "crazy," while he called Scarborough a "psycho."
"I heard poorly rated @Morning_Joe speaks badly of me (don't watch anymore). Then how come low I.Q. Crazy Mika, along with Psycho Joe, came," Trump posted on Twitter, before adding in another tweet, "...to Mar-a-Lago 3 nights in a row around New Year's Eve, and insisted on joining me. She was bleeding badly from a face-lift. I said no!"
READ: Donald Trump criticizes Amazon and CEO Jeff Bezos
It is not clear what exactly made Trump tweet the jabs against Scarborough and Brzezinski. According to a spokesperson, the show's harsh stance against the POTUS may have prompted him to lash out on the social media site, The New York Times reported.
Following his tweets, many celebrities took to Twitter to respond to his statements, including Sports Illustrated swimsuit model and "Lip Sync Battle" co-host Chrissy Teigen, who had some pretty harsh words to say about Trump. "You are a national embarrassment," Teigen wrote. "It's like you have no idea how to even fake being a normal human being. You are the proud type of insane."
Brzezinski immediately reacted by sharing a photo of a box of Cheerios with the words, "made for little hands." She didn't add any captions to her post, but the tweet was clearly meant to be a jab at the president.
Teigen's husband John Legend also took to Twitter to share his own thoughts about the issue. The "All of Me" singer said that he thinks Melania Trump's campaign against cyberbullying seems to be off to a slow start. And like Legend, other Twitter users also questioned the first lady's progress on preventing cyberbullying, considering that she can't even stop her husband from attacking people online. Some Twitter users even sarcastically thanked her for dedicating her time to cyberbullying.
Other celebs have also criticized the POTUS for his personal attacks against the hosts. "Modern Family" star Jesse Tyler Ferguson wrote that he thinks even the president's supporters do not like his tweets against Brzezinski and Scarborough. He continued by saying that Americans should be bigger than Trump's controversial post. "My faith in this country forces me to believe that even most of @realDonaldTrump's supporters think his tweets this morning are in bad taste," he tweeted. "He is distracted from doing his job as president but the citizens he works for must remain focus & activated. We have to be bigger than that."
What's your take on Trump's comments against the "Morning Joe" hosts Brzezinski and Scarborough? Drop a comment below.
© Copyright IBTimes 2022. All rights reserved.
FOLLOW MORE IBT NEWS ON THE BELOW CHANNELS