Center City Shooting: Philadephians Outraged As PD Arrests 5 Juveniles
KEY POINTS
Five juveniles were arrested following a shooting incident in the Center City area
Philadelphia Police Department's commissioner announced the arrests on Twitter
Philly residents believe DA Larry Krasner will put the alleged wrongdoers back on the streets
Philadelphia Police Department arrested five juveniles Sunday evening following a shooting at one of the busiest areas in the city. Police Commissioner Danielle Outlaw announced the same on her Twitter handle, and Philly residents are anything but thrilled.
The incident was reported around 5:45 pm ET as several shots were heard in the Center City area of 10th and Market Streets. On-duty law enforcement officers responded to the same, and apprehended a juvenile male at Ninth and Chestnut, reported Philadelphia Inquirer.
He dropped a bag carrying a gun. Police stopped and found another juvenile male in the area carrying a gun with an extended magazine.
At around 9:30 pm, Outlaw announced the arrests in a tweet. "Around 545 this afternoon,@PhillyPolice officers posted in the area of 10/Market heard several gunshots. Officers ran toward the shots, and eventually apprehend a juv. male at 9/Chestnut - who dropped a bag containing a gun."
"@PPD06Dist officers stopped another juv. male in the area, and a 2nd gun w/ extended magazine was recovered. In total, 5 juvenile males arrested. Those who take part in violent behavior will be apprehended; our residents and visitors will not be intimidated, and our officers will not be deterred. Great work, @PhillyPolice!"
Philly residents immediately flooded the comments with questions regarding the next steps. "Ok so @PhillyPolice did their part— will @DA_LarryKrasnerdo his? Doubtful," read a tweet.
The latest incident comes days after the city's mayor raised expressed concerns regarding the safety of residents amid a massive spike in gun-related crimes.
"We're not gonna get gun control in Pennsylvania. This is a backward state whose Legislature for the most part doesn't care about the health and welfare of its citizens," mayor Jim Kenney said.
However, House Majority Speaker Bryan Cutler put the spotlight back on Kenney saying the only "backward" thing was Kenney "ignoring" district attorney Larry Krasner's progressive reform policies and his "history of allowing violent criminals back onto the streets."
"Pennsylvania is already home to some of the strictest background checks for firearm purchases in the country, including further checks on private gun sales that are NOT required by the federal government," Cutler's spokesperson wrote in an email to NBC Philadelphia.
"Our laws work to protect all citizens and respect Constitutional rights. What the Mayor needs is a District Attorney willing to enforce those laws," the statement further read.
Krasner's policies have been widely criticized by Philly residents since his election in 2018. Last year, Sgt. James O' Connor's widow blamed multiple authorities for her husband's death in the line of duty in 2020 by armed robbers, including Krasner for his bail policies.
O'Connor's widow Terri believed her husband would've still been alive if these gunmen who had extensive rap sheets were kept locked up. "He had long criminal records for guns, shootings, murders. I could go on and on about it," she said on "America Reports."
"He was out of jail time and time again because of our district attorney and his liberal policies. If those men were locked up and kept where they should be, my husband would still be here today," Terri added.
The city of Philadelphia has seen more than 1,400 people being shot in 2022, out of which hundreds have lost their lives. The number of firearm licenses issued jumped to 52,000+ last year, a huge spike from the 7,400 issuances in 2020, reported New York Times.
The Labor Day weekend saw 19 people being shot, and six people being killed in Philadelphia, including a woman who was shot 10 times in Kingsessing less than 24 hours following a double shooting in the same location where two men died.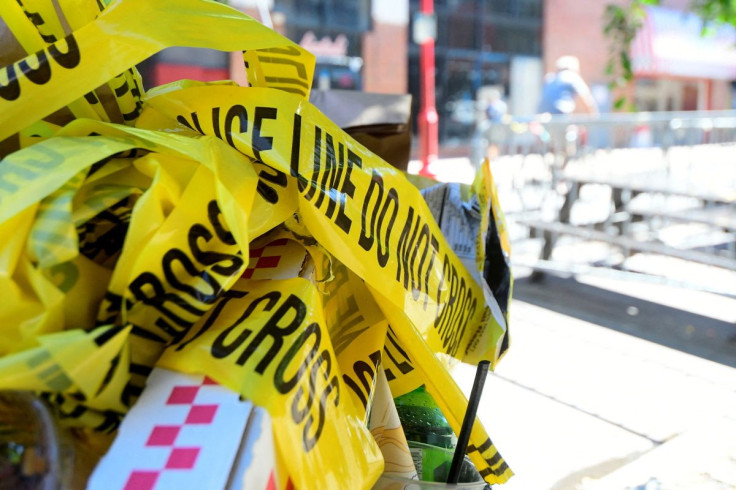 © Copyright IBTimes 2023. All rights reserved.