CEO Of Highest-Valued Indian Startup Byju's Sends Letter To Staff As Company Fights To Survive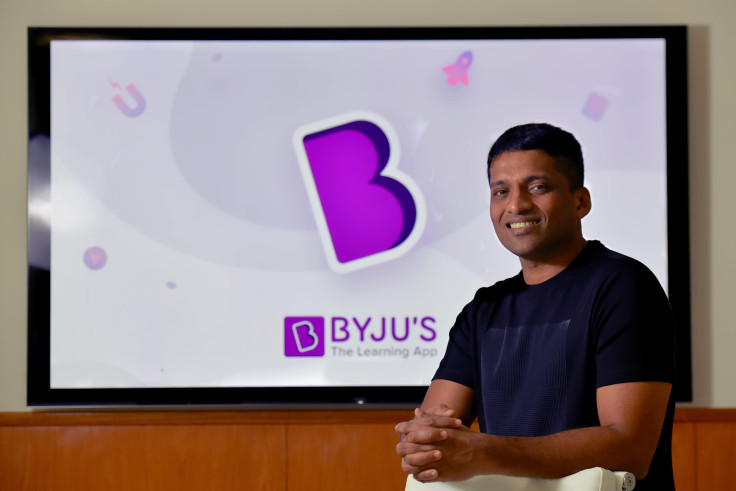 KEY POINTS
Byju Raveendran, founder and CEO of Indian edtech startup Byju's, sent an email to employees Thursday
The company's problems are being "magnified by the spotlight that comes with being the world's leading edtech company," he said
Byju's recently skipped an interest payment, and three of its board members stepped down last week
Byju Raveendran, the founder and CEO of the highest-valued Indian startup Byju's, has sent an email to his employees as the company faces turbulent times.
Thecompany, which saw explosive growth during the pandemic, has been facing "headwinds" that Raveendran believes are being "magnified by the spotlight that comes with being the world's leading edtech company."
"In light of recent happenings, there have been discussions surrounding our beloved company Byju's, which have given rise to misconceptions and speculations," Raveendran wrote in the email Thursday, as quoted by the Times of India. "While we acknowledge the challenges we are currently facing, we are actively addressing them. We have taken strategic measures to ensure sustainability and profitability by streamlining our business operations and optimizing our team size. With a strong foundation and an exceptional team, we are now poised for sustainable growth in the days ahead."
"This is not to suggest that we are not facing some tough headwinds, many of which are related to the prevailing adverse macroeconomic condition," added the 43-year-old.
Raveendran, a former math tutor, founded Byju's in 2011. The company has since been touted as one of India's biggest startup success stories in recent years. Its shiny list of investors included Facebook founder Mark Zuckerberg's Chan Zuckerberg Initiative and private equity giants such as Tiger Global and Sequoia.
The startup was valued at $22 billion in December 2022, making it India's most-valued startup and the 12th-most in the world, according to a Credit Suisse Research Institute report.
The company, which is based in India's tech capital of Bengaluru, has recently been seeing one crisis after another as it missed deadlines to file financial accounts, defaulted on a loan's interest payment and also fired its employees in large numbers as part of cost-cutting measures.
The company reportedly has not fully finalized its financial accounts for the last three years. The "long-delayed" results prompted the company's auditor, Deloitte Haskins & Sells, to resign last week.
Three of the company's board members, G V Ravishankar of Sequoia Capital (now Peak XV Partners), Vivian Wu of Chan Zuckerberg Initiative and Russell Dreisenstock of Prosus, also stepped down last week.
Moreover, the edtech startup did not pay $40 million in interest on a $1.2 billion loan and filed a complaint about the loan to the New York Supreme Court.
Former and current employees also accused the company of subjecting staff members to harsh work cultures. Even parents are also losing faith in Byju's services.
During the pandemic, the surge in demand for online tutoring paved the way for Byju's meteoric growth. However, their own success might be the reason for their debt distress.
The company bought a number of firms in the U.S., sponsored India's national cricket team and even became the first Indian company to sponsor a FIFA World Cup. Some experts now see this as the company's effort to grow too big too fast.
"When you reach a certain stage as a company, you start ignoring key facts and do not remain grounded," Vivek Bhojwani, founder of StartUp Consulting India, told International Business Times " ... That's when things start to go wrong."
Bhojwani believes "the celebrity endorsements in cricket, football started the downfall."
The company became "larger than you can imagine" and possibly did not know what to do with its success or how to properly allocate funds, he added.
Byju's had more than doubled its operating expenses for the financial year of 2020-21. By the end of the same financial year, they saw a 3% drop in revenue and a net loss of 45.6 billion rupees ($573 million), Forbes reported.
The company lost 120 million every day as per their FY21 results, reported Indian Express.
The story of Byju's might serve as a cautionary tale for other startups and also for investors, who might now seek more "compliance" from the companies they are investing in.
"StartUps in India need to work stronger on their compliance and tracking of dues, especially government dues," Bhojwani told IBT. "Unfortunately, while the startup founder is pushing the startup in marketing and for funds, these get neglected. The problem is compounded further when the Investors give funds and ignore key points in the due diligence."
Bhojwani believes this is becoming a "larger issue" as the startup world is currently seeing a "funding winter," where "money has become a very precious commodity."
"The warning signs are important, and obviously investors cannot fund growth at companies that are not compliant," he continued. "So compliance to me will become an overriding theme. [It's] better than resigning en masse once things are truly out of hand."
© Copyright IBTimes 2023. All rights reserved.