CES Vegas: Care To Buy A 4K TV? Electronics Industry Hopes Consumers Scratch 7-Year Upgrade Itch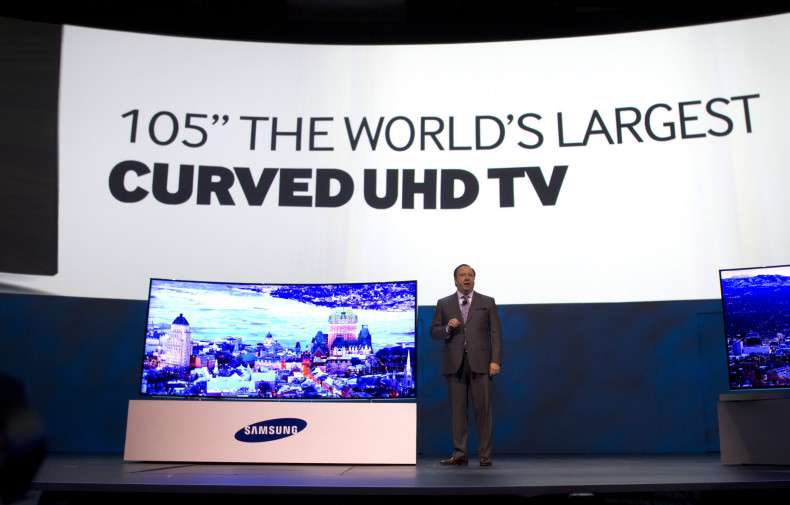 LAS VEGAS -- The floor of the Consumer Electronics Show in Las Vegas is filled with incredibly vibrant, ridiculously big and impossibly thin TVs boasting the latest 4K ultra high-definition technology with futuristic names like Samsung's JS9500 with Quantum-dot technology. If only the manufacturers could find some buyers.
The consumer tech industry is very good at getting consumers to replace their PCs, laptops and mobile phones every two to three years. But after years of trying apps, 3D, curved screens and now ultra high-definition, TVs have stubbornly stuck to a seven-year upgrade cycle. The last great replacement cycle was the step from standard definition to high definition, but that happened nearly a decade ago. The industry's seven-year itch is now in overtime, and it desperately needs scratching.
"The industry continually needs to give people a reason to upgrade their TVs other than they're broken and they need to buy a new one," said James Willcox, senior editor of Electronics at Consumer Reports. "Then, even if you need to get a new one, do you need one better than the lowest-priced one on the market?"
This year, the great powers in TVs -- Samsung, LG, Sony and Chinese manufacturers Seiki and Hisense -- are once again rolling out the big guns in hope of convincing consumers they need to upgrade. LG is betting big on its OLED technology and says 60 percent of its TVs will be 4K in 2015. Samsung rolled out its top-of-the-line SUHD technology, which adds an "S" to regular old "ultra" high definition. What does the "S" stand for? Samsung suggested "special," "striking," "sensational" and "seductive."
The reality is no amount of marketing will convince consumers to upgrade as long as 4K TVs are so expensive that standard 1080p HD TV still looks great. "The CE industry keeps wanting to introduce $2,000 TVs. Well, I don't want a $2,000 TV; I want a $1,000 TV. If the pricing is more than 20 percent more than a comparable HD TV, it's going to be a tough sell," said Norm Bogen, research director at SNL Kagan.
While Samsung, LG and others have not announced pricing for their latest 4K models, the average selling price of a 4K TV in the past year was $2,400 compared with $450 for a flat-panel LCD, NPD Group said.
The reason HD TV was so successful is there was a striking difference in resolution with an old standard-definition CRT TV. There is no such great revelation going from HD TV to 4K. The resolution is four-times as sharp but the difference is imperceptible on TVs smaller than 55 inches, which represent 84 percent of the market, NPD Group said. OLED and ultra high-definition technologies do render black better than regular LCDs which leads to richer color, but it's an incremental improvement at best.
The other problem is content. Broadcasters are just getting accustomed to the technical challenges of 1080p and there is very little 4K content available. Netflix, Amazon and Roku are trying to fix that, pledging to stream in 4K in 2015, and Samsung has been pushing Hollywood to adopt 4K technology. "We've worked with content providers to produce 500 titles [in 4K]," said Tim Baxter, head of Samsung Electronics America. "This is what market leaders do."
Yet the reality is there's so little 4K content today, it's hardly an argument to upgrade. "Why do it other than to future-proof your purchase?" Bogen said.
It's one thing to sell a lot of 4K TVs and quite another to make money doing it. LG said it is investing $600 million in facilities to manufacture OLED TVs around the world. But as Chinese manufacturers, led by Hisense and Seiki, ramp up 4K TV production, prices and margins are set to fall.
That said, the consumer electronics industry is declaring 2015 the year of 4K. "4K UHD is our future, and the future is now," Consumer Electronics Association President and CEO Gary Shapiro said. The industry said that last year, but this time the claims are more modest. LG said it expects to sell a million 4K sets in the U.S. in 2015; CEA said Monday it expects 4 million 4K sets to be sold in the U.S. in 2015, a 208 percent increase from last year.
If those goals are met, the industry will declare 4K a success even if it doesn't represent the surge it was hoping for. Ultimately, most consumers will one day replace their TVs, and when they do, it will be 4K. "We are well entrenched in a normal replacement cycle," Gartner analyst Paul O'Donovan said. "I don't think anything will push consumers to upgrade sooner rather than later."
© Copyright IBTimes 2022. All rights reserved.