Chad Johnson And Evelyn Lozada Move Back In Together And Are Spotted Out For First Time Post-Divorce [PHOTO]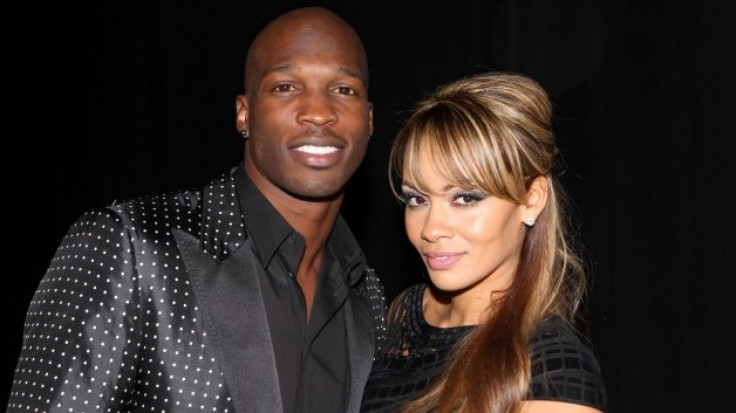 Chad Johnson and Evelyn Lozada are back together, and were most recently spotted at Southstreet Restaurant in Miami.
(View photo here.)
On Christmas Day, Johnson confirmed that the two had reconciled, after a Twitter user @JenniferBrown asked him, "are u and Evelyn talking again? [sic]." Johnson replied, "We live together no choice but to talk."
The reunion comes after Lozada filed for divorce in August, following an argument over a receipt for condoms found in the trunk of their car. According to a police report obtained by TMZ, Johnson grabbed Lozada, head-butted her, and screamed: "I don't give a [expletive]! I don't give a [expletive] about my career!" Lozada then "fled on foot to a neighbor's house to get away from Johnson."
Several days later, Lozada gave an interview to Amy Robach on ABC's "Nightline" about the couple's tumultous relationship.
"I would like for him to tell me that he got help and that he is working on himself, whenever I talk to my sister or my girlfriend, I always say I want the best for him. I really do! And he is a good guy who made a bad choice," Lozada said.
"All I can say is, 'I'm sorry. I'm human," Johnson then said on the season finale of the HBO show "Hard Knocks."
"How did I even get to this point?" he went on to say. "Somewhere along the way I lost focus. I lost something that I love. I lost two things I love because of my immature actions. I'm going to get both of those things back, one step at a time."
It seems Johnson was right about getting Lozada back, though it remains to be seen whether he will return to the football field.
© Copyright IBTimes 2023. All rights reserved.