Chaffetz Town Hall: Pro-Trump Congressman Booed At Rowdy Salt Lake City Event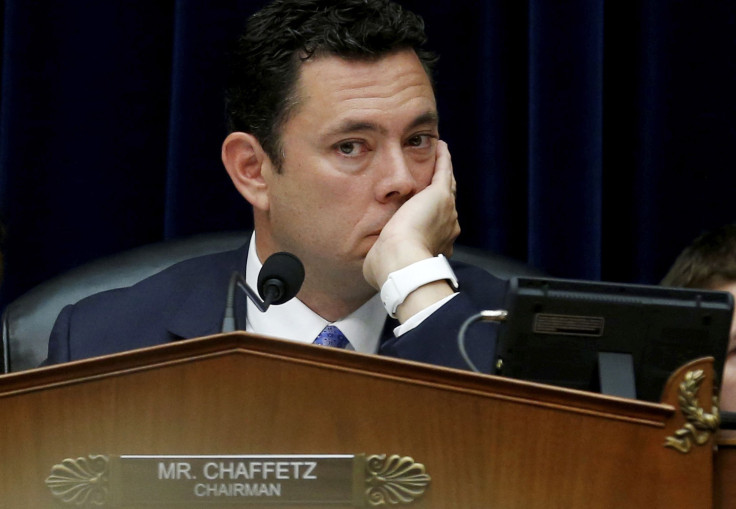 Thursday night, U.S. Rep Jason Chaffetz (R-Utah), probably got more civic engagement than he was bargaining for. He showed up to a high school auditorium in the suburbs of Salt Lake City for a town hall and was met with more than 1,000 angry voters from his district, booing, interrupting his answers, decrying his actions in Washington and chanting "Vote him out!" and "Do your job!"
Chaffetz received questions about everything from vaccines and his efforts to defund Planned Parenthood. But perhaps the issue with the most raucous pushback from the crowd was about ethical concerns surrounding President Donald Trump. Chaffetz is the head of the House Oversight and Government Reform Committee, and his constituents wanted to know why the committee was not investigating Trump's business interests.
"Once in awhile at the beginning of the year, after just two or three weeks, I could look at the kid and think, 'you're going to be a problem,'" said a retired teacher in the crowd. "It's been two or three weeks," she added, in reference to Trump, and loud applause followed.
"Where do you draw a line in the sand?" the teacher then asked about Trump's conflict of interests.
"You're really not going to like this part," Chaffetz said. "The president, under the law, is exempt from the conflict-of-interest laws."
This is true under U.S. Code, but it operates under the assumption that the president would do the right thing.
Audience members also asked about his controversial public lands bill, the Bears Ears National Monument in southern Utah, sexual assault and Trump's immigration ban, which was struck down by the courts for a second time Thursday.
The congressman's answers didn't seem to satisfy the indignant crowd, which continued to jeer, and he left the town hall early.
After the meeting Americans are encouraging others on social medial to attend their town halls too. In fact, volunteers have crowdsourced to put together a spreadsheet called "Town Hall Project 2018," — 2018 referencing next year's midterm elections — listing dates and times of town halls across the country.
© Copyright IBTimes 2023. All rights reserved.