How To Report Trump Ethics Violations: Office Of Government Ethics Site Goes Down But We've Got The Form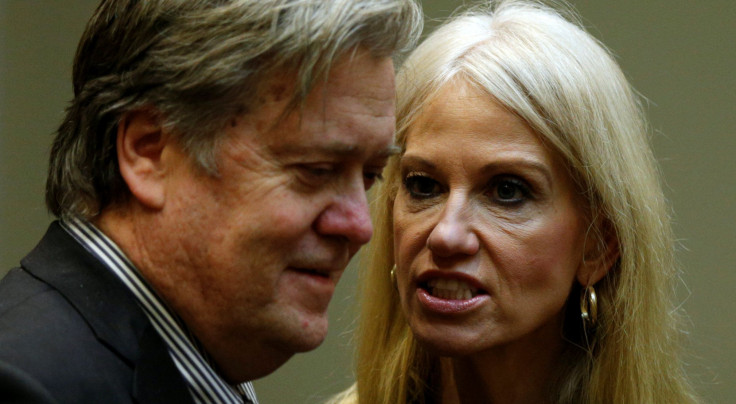 The homepage for the nonpartisan Office of Government Ethics went down Thursday as ethics questions involving the Trump administration swirled in the wake of senior White House adviser Kellyanne Conway's suggestion that Americans "buy Ivanka's stuff."
However, individual pages linked to the site appeared to be available, including the form for reporting an ethics violation.
Federal ethics rules prohibit executive branch employees from using public office "for his own private gain, for the endorsement of any product, service or enterprise or for the private gain of friends, relatives or persons with whom the employee is affiliated in a nongovernmental capacity."
Enforcement, however, is left to the agency for which the offender works, in this case the White House.
White House spokesman Sean Spicer said Conway had been "counseled, and that's all we're going to say," the Associated Press reported.
Conway, who has suggested demonstrably false statements issued by the president and his minions are merely "alternative facts," may have committed an ethics violation by promoting Ivanka Trump's fashion line.
Conway said in a Fox News interview from the White House briefing room she would tell people to go "buy Ivanka's stuff" after Nordstrom, Neiman Marcus, Belk, Jet, ShopStyle, Home Shopping Network, T.J. Maxx and Marshall's said they would drop the merchandise because it was not selling.
"I'm going to give a free commercial here: Go buy it today everybody, you can find it online," Conway said.
Rep. Adam Schiff took exception to Conway's comments.
Laurence Tribe, a professor of constitutional law at Harvard told the New York Times, Conway's statement couldn't be a more clear-cut case of violating the ban.
"She is attempting quite crudely to enrich Ivanka and therefore the president's family," Tribe said.
President Donald Trump weighed in Wednesday, complaining his daughter had been treated unfairly.
A national Grab Your Wallet boycott of stores carrying Trump products began in October. Nordstrom said it dropped the Ivanka Trump line because of poor sales.
"Conway's encouragement to buy Ivanka's stuff would seem to be a clear violation of rules prohibiting misuse of public office for anyone's private gain," Don W. Fox, former general counsel for the ethics office, told the Los Angeles Times.
Kathleen Clark, a member of the District of Columbia Bar committee on professional ethics, agreed Conway "broke the law" but noted it's not a criminal law, just a regulation.
Ethics questions have been swirling around the president and his family since before his inauguration, and though he said he would put his assets in a trust and allow his sons to run his businesses, Walter Shaub, director of the ethics office, criticized the plan, calling it inadequate to ensure against conflicts of interest.
Earlier this week, first lady Melania Trump filed a libel suit against the Daily Mail, alleging a story falsely stating she had worked as a prostitute when she first came to the United States had cost her "brand" millions of dollars. Her representatives said a day later she had no plans to profit from her stint as first lady.
Trump and his White House political strategist Stephen K. Bannon were critical of the Clintons during the campaign for amassing a multimillion-dollar fortune in the years since they vacated the White House.
Peter Schweizer, who wrote "Clinton Cash," which was critical of donations to the Clinton Foundation, told the LA Times the Trump administration had "crossed a very, very important bright line."
"Clearly, the Trumps feel some of this is related to politics. But whether that's true or not, these marketing battles need to be fought by Ivanka and her company. They cannot and should not be fought by government employees and the White House," Schweizer said. "It's time to move beyond the mind-set and the role of a businessman and assume the mantle of commander of chief."
© Copyright IBTimes 2022. All rights reserved.
FOLLOW MORE IBT NEWS ON THE BELOW CHANNELS