Charlie Sheen?s 'Anger Management' Celebrates Self-Destructive Behavior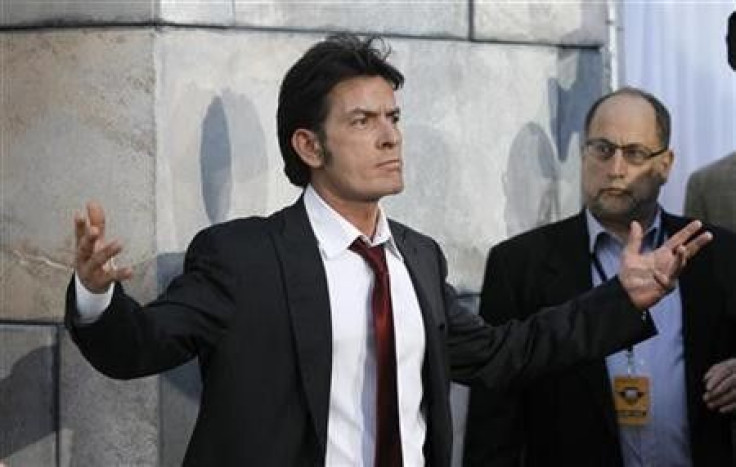 A little over a year ago, Charlie Sheen was fired from the hit CBS sitcom Two and a Half Men. The decision came after Sheen's battle with drugs halted production of the series. At the time, Sheen was making a whopping $1.2 million per episode. The show's producer, Chuck Lorre, stood by the decision even though it put the network at financial risk, and despite Sheen's efforts to shame publicly humiliate him.
Sheen's ousting sent a powerful message to the entertainment industry that even one of the most bankable actors on television can be held accountable for bad behavior. Sheen's termination should have set an example for other actors who have routinely gotten away with obnoxious conduct. But instead it granted Sheen a platform to share seemingly every thought in his head. As a recent New York Times profile recalls, this included his musings on tiger blood (which he claimed flowed through him) and winning. Now, just over a year later, Sheen is being granted yet another shot on network T.V.
The trailer for the new FX show, Anger Management, features Sheen emerging from a literal train wreck: Come on. Everyone deserves a twenty fourth chance, he quips. The big-budget sequence is an over the top disaster...kind of like Sheen himself. The teaser -- which has been heavily promoted by the network -- is rather unfunny, as are the clips that have been released.
Anger is an ugly mistress, proclaims the actor in one scene to which a supporting character replies, Maybe you should stop banging her.
The dull dialogue recalls the lackluster standup comedy effort that was Sheen's Violent Torpedo of Death Tour.
So just what is Anger Management about? According to the show's official site, Sheen plays a therapist named --you guessed it -- Charlie, who runs a successful anger management practice. Clearly the concept is supposed to be clever and ironic, but do audiences really want to see one of the most exasperating celebrities make a mockery of himself and his never-ending personal issues? The answer is...probably.
Hollywood is known for its unwavering tolerance policy when it comes to total screw-ups, and fans are even more forgiving of erratic behavior when a celebrity is willing to make fun of themselves. Some celebrities, like Robert Downey, Jr., have managed to clean up their act in spite of the indulgences that have been afforded them. But for the most part, the routine enabling is a license for high profile individuals to continue down a self-destructive path and receive generous sums of money to do so.
Alarmingly, Anger Management turns serious, life-threatening issues into a weekly 30-minute joke. Sheen's battle with addiction, domestic abuse (he was accused of assaulting ex-wife Brooke Mueller), and disturbing tirades against the very people responsible for his success (Lorre and CBS included) are nothing to brush aside as farce.
But let's not forget why Sheen is doing this. It's because he can. We are in an age where an actor can abuse his wife and then star in a heavily prompted series that pokes fun at anger issues. In fact, the actor feels no need to reassure the creators of his latest TV effort that he deserves another chance.
Then they shouldn't have hired me, Sheen told the NY Times of the risk FX and the producers of his new show took in hiring him. They knew what they were getting. And they know it's not always going to be smooth sailing.
In the same NY Times article, Sheen defends his decision not to attend Alcoholics Anonymous after Lorre pleaded with him to do so. Furthermore, in a profile complied by the Daily Beast, Sheen makes an appallingly unprofessional statement about his young female assistant.
She's gorgeous, right? Told her I wanted to f--k her, and she said no. No, right, he told the Daily Beast.
At least someone is telling Sheen no these days.
© Copyright IBTimes 2023. All rights reserved.