'Chasing Liberty' 15th Anniversary: 19 Revelations From Mandy Moore, Matthew Goode's DVD Commentary
Near the end of her reign as a teen romance movie queen, Mandy Moore starred in 2004's "Chasing Liberty." Today, the iconic Andy Cadiff-directed film celebrates its 15th anniversary.
Not to be confused with Katie Holmes' "First Daughter," which came out later the same year and had a very similar storyline, "Chasing Liberty" followed Moore as Anna Foster, President James Foster's (Mark Harmon) 18-year-old daughter, as she tried to gain a sense of freedom from constant security supervision by running away while in Europe.
She wasn't alone, though. She found a random, good-looking guy named Ben (Matthew Goode) — who happened to be undercover as a security agent — to help her on her adventure, of course. And, just like in Moore's "How to Deal" and "A Walk to Remember" before it, this acquaintance-level relationship soon turned into so much more. We're talking an epic romance, people.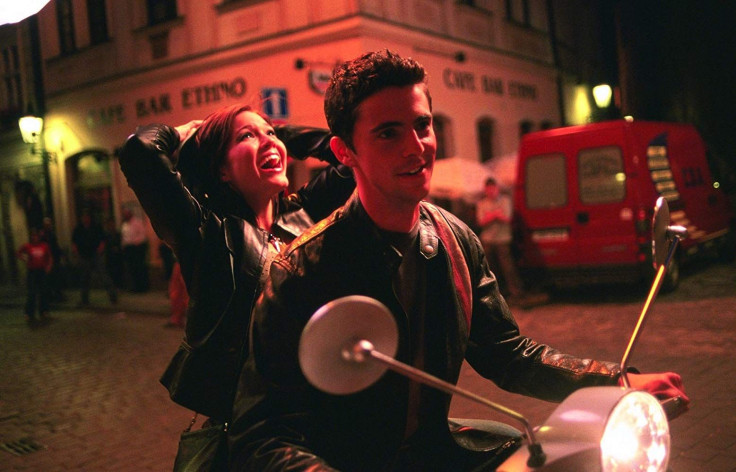 Well, instead of us talking about it, let's let the stars themselves share with you what they loved about the movie and its cast, as well as some behind-the-scenes secrets.
The movie released in theaters on Jan. 9, 2004, and on DVD a few months later, which means now — 15 years later — is the perfect time to go back and remind ourselves of Moore and Goode's revealing DVD commentary. Here are the 19 best tidbits from the DVD special feature:
1. The stars were just as in love with Harmon as everyone else.
Moore: Mark Harmon, possibly...
Goode: The most devilishly handsome 50-year-old there is in the country?
Moore: Well, just possibly one of the greatest people ever.
Moore: I wish I had more stuff to do with Mark in this film.
Goode: Me too because there was some scenes for us to do, originally.
Moore: He's definitely part of the TFC — Tremendous Fellas Club.
Goode: Oh yeah, he's the manager.
Moore: He's the president.
Moore: I would vote for Mark Harmon for president.
Goode: I'd vote for Mark Harmon.
Moore: He has my vote. Forget Oprah, I think Mark should run.
Goode: I think Tom Hanks.
2. They also mentioned how great they thought Jeremy Piven was.
Goode: What are you saying about Jeremy [Piven]?
Moore: He's a wonderful, wonderful guy. Very talented actor. And a charming man, as well. Very charming.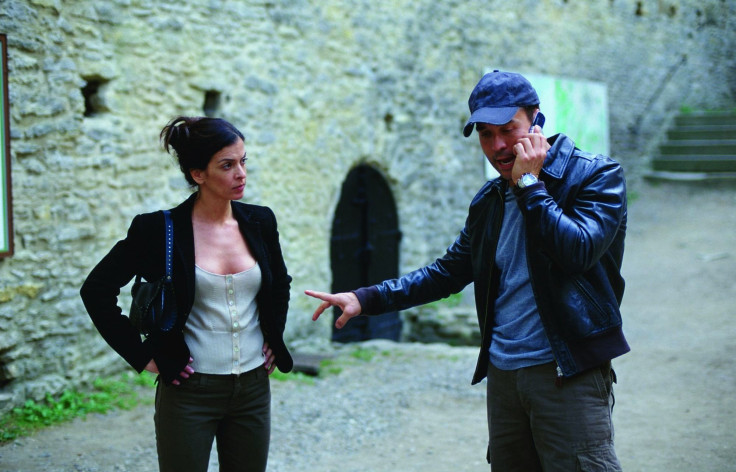 3. When Moore's character was on a dinner date and a fan asked to take a photo with her (without her date in it), she felt like it was real life.
Moore: Not to be weird, but this sort of felt like life mirroring work a little bit…Yeah, one of the only parts of the film where I kind of felt like, 'Ooh, wow. This is a tinge of reality in a sense.'
4. The "This Is Us" actress thought Anna should've ended up with Stark Sands' Grant.
Moore: See, I think Anna should've stayed with him for the film. Maybe that would've been…
Goode: With this character?
Moore: With this character, yeah. With Grant.
Goode: Would've been an interesting film. Maybe they could've gone to art school together.
5. The co-stars had cute nicknames for each other.
Moore: You are so random, Goodey, I love it.
Goode: God bless you, Mooreski.
6. Gabrielle's (Beatrice Rosen) tongue piercing wasn't real, and it didn't stay very well.
Moore: That was one of those silver balls that you can use, like, in cooking, and they actually tried to somehow glue it on her tongue. It kept falling off, so I think that was the only usable take. 'Cause it just kept falling out of her mouth every time she opened it to stick her tongue out.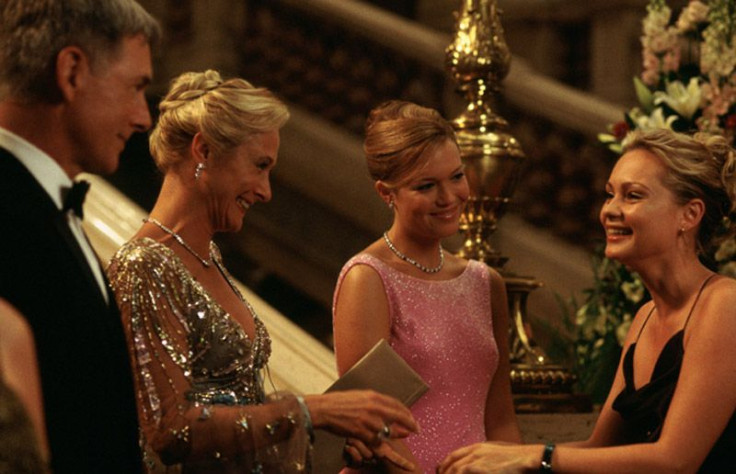 7. The Roots performing in "Chasing Liberty" was a big deal for everyone involved.
Moore: This is one of the best scenes in the movie. And I think the crowd was all fired up, too, because The Roots were actually on a European tour at that point but they weren't actually stopping in Prague, so the crowd was really fired up to have them there. Even though they kept just playing the same song.
Moore: I had a crush on Martin Luther [McCoy] from The Roots.
8. Moore used a butt double for when she skinny-dipped in the river, and she picked the double out herself.
Goode: This was butt double night.
Moore: When every male crew member showed up about two hours earlier than they were called to be on set…I picked my own butt double. I think everyone at this point knows that.
Goode: She had 10 polaroids.
Moore: No, I think I had less than that, by the way. I had like six, seven, maybe…To be quite honest, I'm a modest girl. I didn't want to show the bum, but that river was so disgusting and so unhygienic, I was afraid something was gonna swim into my body that wasn't meant to be there.
9. The "Walk Me Home" singer had a bit of a wardrobe malfunction when her character climbed a roof to watch a movie with Ben.
Goode: You actually ripped your trousers in this, darling.
Moore: I ripped my trousers.
Goode: Where did you rip them? On your knee or the bottom, I can't remember?
Moore: Actually, yeah, right below my bottom. Just on the back of my thigh. Ripped my jeans.
10. Moore wasn't about to kiss Goode if he had smoker's breath.
Moore: Goodey's actually a smoker, and a tremendous fellow, by the way, but a smoker nonetheless, and I'm not a big fan of smoking at all, so I made sure that there were Altoids, any sort of breath fresheners, available at any point on set.
11. The scene where Anna pretends to get a tattoo actually had a big effect on the actress.
Moore: This solidified the fact that I wanted to get a real tattoo. Not on my arm, [though].
12. Moore's toe, which she'd named, was injured when she had to run away from the waiters after not being able to pay.
Moore: Oh, this was actually, I had dropped a suitcase on my toe.
Goode: Yup, on Bonnie.
Moore: On Bonnie. I affectionately called my big toe Bonnie. My toenail was — my toe rather, was swollen and infected, but yet I still had to squeeze myself into those cute, little Prada flats.
13. The actors took their first-ever gondola rides for this film…unfortunately.
More: This is one of my favorite scenes. Very romantic. I was a little bummed out, my first gondola ride, no offense, but…
Goode: Had to be with me.
Moore: Not that it was a bad thing, but you kind of want to take your first gondola ride in Venice on a beautiful evening, [with] someone you truly love.
14. The "Crush" singer didn't care what anyone thought of this DVD commentary.
Moore: I think our commentary's gonna get bashed, Matthew. They're gonna say that we were really boring to listen to. So, you know what, for all those reviewing the commentary right now, we don't care. It can't be any worse than, you know, some of the film reviews that I got. Apparently, I'm a very bad lip actor. I was told that I lip act a lot. In this scene [of me in the room in a towel with my 'husband' Ben] actually. So, thanks to that reviewer.
15. They thought a still from the scene of her sleeping in the bed and him on the floor, both with their eyes open, would've been a good promo picture.
Moore: This should've been the movie poster.
Goode: Yeah, it would've been great.
Moore: I mean, it would've got the girls in with you with the shirt off.
16. The extras in the crowded Venice square scene with Piven and Annabella Sciorra's characters couldn't help looking at the camera…and now you won't be able stop looking at them when you do a rewatch.
Goode: Oh, this was great because I don't think you could have more people looking directly into the camera. It's just a nightmare with all these tourists, saying, 'Please, please do not look at the camera. You're screwing with our film.' And, as you can see, if you look at the background, everyone is looking.
17. It wasn't actually marshmallow on that s'more Anna wiped on Ben's cheek.
Moore: This was actually shaving cream.
18. They used real photos of Moore in Anna's White House room and in her dad's office.
Moore: Those are actually pictures of me when I was younger in the background. They kind of made it into the whole little Andy Warhol-esque situation.
Moore: That was my high school freshman yearbook picture. Right behind my right elbow there…Ugh, terrible. Such a geek. Still am, but, you know.
19. The teen rom-com movie queen's just as big of a fan of the genre as everyone (re)watching the movie.
Moore: The last scene of a movie is my favorite. I'm such a romantic, girly girl, and this melted my heart.
© Copyright IBTimes 2023. All rights reserved.
FOLLOW MORE IBT NEWS ON THE BELOW CHANNELS