Chevy Bolt vs. Tesla Model 3: Elon Musk And GM Duel For Top Electric Car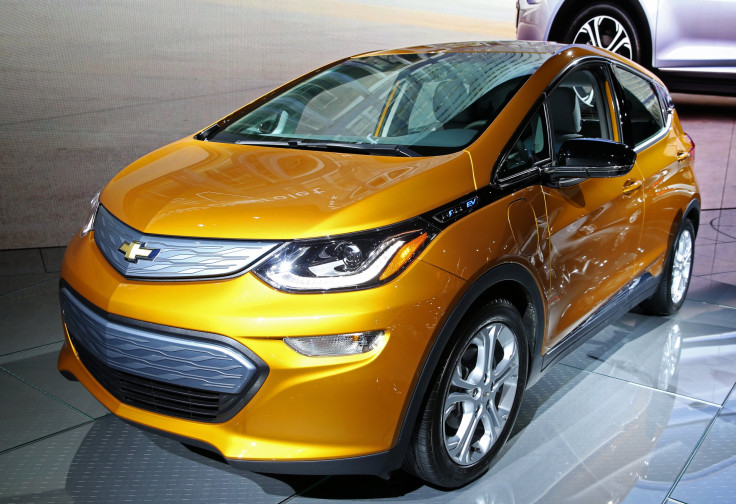 General Motors has launched the Chevrolet Bolt All-Electric Vehicle in Oregon and northern California, challenging rival electric automobile manufacturer Tesla Motors in the hometown of its assembly plant.
Three customers picked up their pre-ordered Chevy Bolt EVs at a dealership in the city of Fremont on Tuesday. The hatchback, which was named Motor Trends Car of the Year 2017, has been considered revolutionary in its field, being the first mid-market, all-electric car to hit more than 200 miles on a single charge. Company estimates have officially placed the range at 238 miles.
Its price has also been noteworthy. The $37,495 pre-tax cost falls to as low as around $29,000 after state and federal tax credits.
The Bolt's entry into the market could spell trouble for Tesla, which plans to release its first mid-price vehicle — the Model 3 — in July at an estimated starting price of $35,000 pre-tax. The company has stated that the average sales price would be closer to $42,000 before state and federal tax credits. Deliveries for the long-awaited Model 3 sedan for some buyers have already been pushed back to late 2017 or even 2018. Both the Chevy Bolt and Tesla Model 3 were seen as competitors, vying to provide cheaper alternatives to other electric vehicles.
"What has been missing from the electric vehicle conversation is a car that is priced around the average of all cars," said Michelle Krebs, a senior analyst at Autotrader told the Los Angeles Times. "The Bolt EV is intended to slot into that spot, as is the Tesla Model 3, though that remains some time away."
GM's other rivals such as Nissan, Volkswagen, Daimler and BMW have also expressed interest in developing mid-market, all-electric vehicles with similar capabilities to that of the Bolt. However, the auto industry has struggled to generate significant interest in electric vehicles. Falling fuel prices and the reduction of tax incentives in some states have hindered consumer support for electric vehicles, which reportedly made up less than 1 percent of the nearly 18 million cars and light trucks expected to be sold in 2016.
© Copyright IBTimes 2023. All rights reserved.