Chicago Mayor Rahm Emanuel On Laquan McDonald Police Shooting: 'I'm Sorry'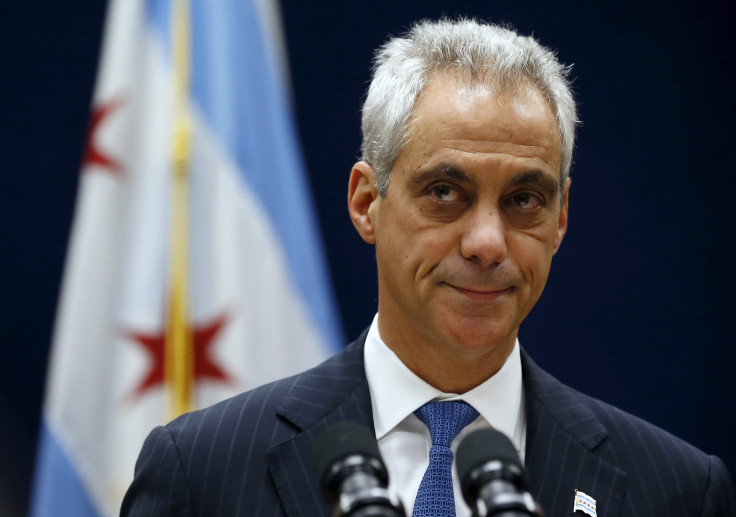 Chicago Mayor Rahm Emanuel apologized Wednesday for the 2014 police shooting of a black teenager, days after the U.S. Department of Justice launched an investigation into the city's police department and social justice activists called on him to resign. Emanuel, who forced out his police superintendent last week over the high-profile police shooting, said Laquan McDonald's death was "a defining moment on the issues of crime and policing -- and the even larger issues of truth, justice and race."
"That happened on my watch... If we're going to fix it, I want you to understand it's my responsibility with you," Emanuel said in a rare speech to the full City Council, the Chicago Tribune reported. "But if we're also going to begin the healing process, the first step in that journey is my step, and I'm sorry."
McDonald, 17, was shot 16 times by Police Officer Jason Van Dyke in October 2014. Van Dyke told investigators he feared for his safety. The officer faces charges of first-degree murder. City officials, including Emanuel, initially refused to release video of the incident then finally did just a few weeks ago.
Emanuel took a different approach this week, noting that too many Chicagoans don't trust police officers. He has appointed a five-person task force to recommend police department reforms by the end of March.
"Nothing, nothing can excuse what happened to Laquan McDonald," Emanuel said. "Our city has been down this road before. We have seen fatal police shootings and other forms of abuse and corruption. We took corrective measures, but those measures never measured up to the challenge."
Number of People Killed by Police by State in 2015 | Graphiq
Protests against Emanuel were planned for later Wednesday. Activists have said McDonald's death highlighted a long practice of excessive police force in Chicago. The Chicago police released footage Monday night showing Philip Coleman, 38, being shocked by a Taser and dragged by officers in 2012. He later died at a hospital.
Prosecutors also released footage Monday of a Chicago officer fatally shooting Ronald Johnson, who was 25 and black, in 2014. The officer involved was not charged with a crime, the New York Times reported. U.S. Attorney General Loretta Lynch announced Monday the Justice Department would review the police department's use of force and "constitutional violations."
Emanuel initially stood against activists who demanded greater police scrutiny. About a month before the McDonald video was released, he said the focus on police brutality had left law enforcement in a "fetal" position, making officers afraid to aggressively fight crime. During his administration, Chicago's police department has killed more civilians than any other police department in a large city in the U.S.
"We think that when citizens are involved in police actions, and they can question witnesses regarding police shootings, that it will be a better city and a better Chicago," said Rose Joshua, the president of the NAACP chapter on Chicago's South Side, the Chicago Tribune reported last week. "Our good mayor appoints the police chief. And our good mayor appoints the police board. Every one of those agencies has some say-so or some responsibility to answer to senseless crimes in our community. We are calling for reform because of the fact that in the city of Chicago, the mayor is the executive and has charge of this city."
© Copyright IBTimes 2023. All rights reserved.