Child COVID Shot Coming Soon? Pfizer Vaccine 100% Effective In Kids 12 To 15
Children may soon be able to get vaccinated against COVID-19 as Pfizer (PFE) and BioNTech (BNTX) claim their vaccine is 100% effective against the virus in children aged 12 to 15.
The companies made the announcement Wednesday, saying the shot's efficacy was demonstrated with the vaccine in its Phase 3 trial in adolescents 12 to 15 years old with or without prior evidence of coronavirus infection.
The vaccine also showed "robust antibody responses" in the 2,260-patient U.S. clinical trial, according to the companies, exceeding responses in participants in studies aged 16 to 25. The shot was also well-tolerated, they said.
Pfizer and BioNTech plan to submit the data to the Food and Drug Administration as an amendment to its current COVID vaccine Emergency Use Authorization in the coming weeks, as well as other global regulators, in hopes of vaccinating this age group before the start of the next school year.
"Across the globe, we are longing for a normal life," Ugur Sahin, CEO and co-founder of BioNTech, said in a statement. "This is especially true for our children.
"The initial results we have seen in the adolescent studies suggest that children are particularly well protected by vaccination, which is very encouraging given the trends we have seen in recent weeks regarding the spread of the B.1.1.7 UK variant."
Sahin continued by saying, "It is very important to enable them to get back to everyday school life and to meet friends and family while protecting them and their loved ones."
The companies will continue to monitor the child participants of the trial for safety and long-term protection for an additional two years after their second dose. Pfizer and BioNTech also plan to submit their data for scientific peer review for potential publication, as well as to other global regulators.
Along with news of the effectiveness of the COVID vaccine in children aged 12 to 15, the two pharmaceutical companies gave an update on their studies of the vaccine in children six months to 11 years old.
The study is using a two-dose schedule about 21 days apart in three age groups to determine its safety, tolerability, and immunogenicity. The first dosing of healthy children began last week, with additional dosing slated for age groups 2 to 5 and 5 to 11 next week.
The Pfizer-BioNTech COVID vaccine received Emergency Use Authorization from the FDA in December 2020, allowing its use in individuals 16 and older.
Pfizer and BioNTech are not the only drug-makers working to develop a vaccine for children to fight the coronavirus. Moderna said in March that it is also testing its shot for children under the age of 12 and has begun testing adolescents aged 12 to 17 in December, Reuters said.
Johnson & Johnson said it plans to test its COVID vaccine on infants and newborns after studies with older children, The New York Times reported.
Shares of Pfizer were trading at $36.33 as of premarket hours, up 22 cents or 0.61% while shares of BioNTech were trading at $107.60, up $3.16 or 3.03% at the same time.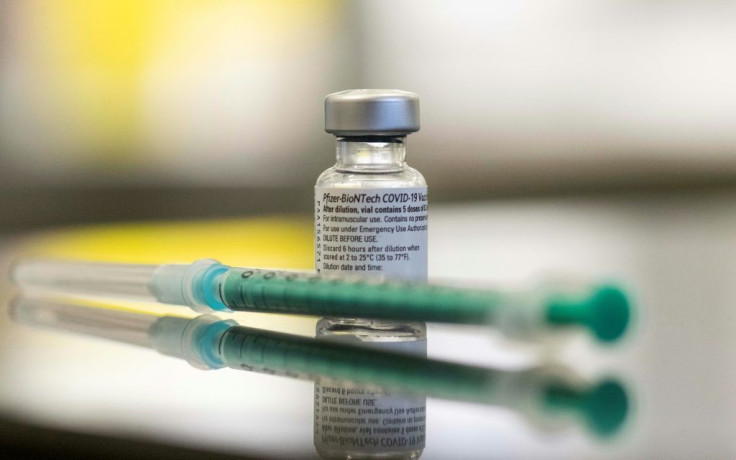 © Copyright IBTimes 2023. All rights reserved.
FOLLOW MORE IBT NEWS ON THE BELOW CHANNELS