China's Sinovac COVID-19 Vaccine Only 58% Effective Against COVID-19: Study
KEY POINTS
The study observed 8.6 million Chileans who received Sinovac between February and July
A health official said a reduction in effectiveness is expected
A separate study showed that a third dose of Sinovac could increase antibody levels by three-fold
China's Sinovac vaccine is only 58.5% effective against preventing symptomatic COVID-19, Chilean health authorities said this week.
The latest data from a "real world" study published by Chilean health officials found that Sinovac's CoronaVac vaccine is only 58.5% effective against preventing symptomatic cases of the novel coronavirus. The study examined a group of 8.6 million residents who received the vaccine between February and July, Reuters reported.
In comparison, data from the same study and published in April showed that the shot was 67% effective in preventing a symptomatic infection, according to Bloomberg.
The latest data also found that Sinovac has an 86% effectiveness in preventing hospitalizations, 89.7% in preventing admission to intensive care units and 86% in preventing COVID deaths. These show increase in April data figures, wherein the vaccine was only 85% effective in preventing hospitalizations, 89% effective in preventing ICU admission and 80% effective in preventing deaths.
Chilean health official Dr. Rafael Araos said a reduction in the vaccine's effectiveness was expected, especially with the emergence of new and more contagious variants.
"If Delta becomes more prevalent and the vaccine has a weaker response, we could observe a faster fall (in effectiveness)," he said during a press conference on Tuesday.
The data comes after a study published on medRxiv last week found that a third shot of the Sinovac COVID-19 vaccine given six to eight months after the second dose could generate a remarkable increase in antibody levels in recipients.
Among the 540 study participants who received the third dose, the levels of neutralizing antibody increased three-fold two weeks after the shot.
The study also found that giving a third dose 28 days after the second dose induced only a third of the antibody levels compared with a third dose given half a year after the second dose, Global Times noted.
The real-world data also comes after China's Shanghai Fosun Pharmaceutical, in late July, announced that it was partnering with BioNTech to develop a booster vaccine using mRNA technology, similar to that used in COVID-19 vaccines developed by Pfizer and Moderna.
The shot, which is expected to be called Comirnaty, will begin its domestic trial production by the end of the month. It is currently in the administrative review stage.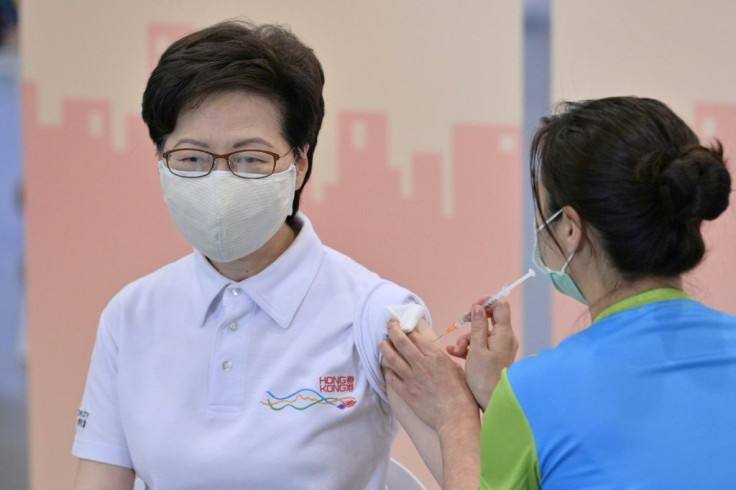 © Copyright IBTimes 2023. All rights reserved.