Chinese Firm's EHang 184 Autonomous Aerial Vehicle, World's First Single-Passenger Drone, To Be Tested In US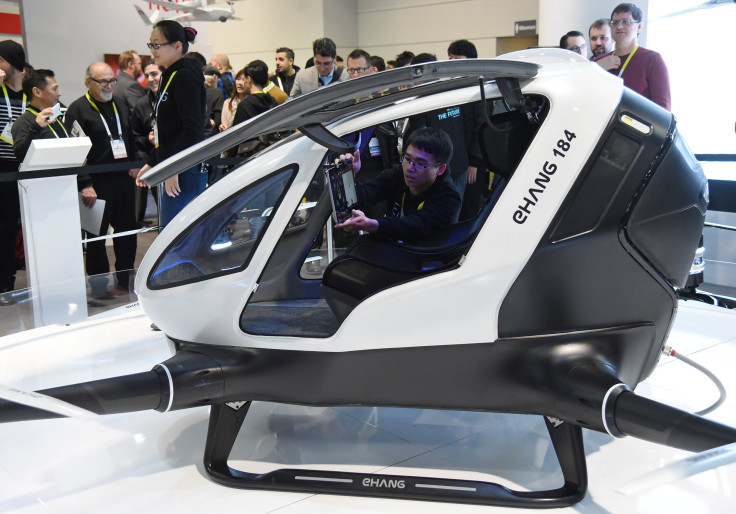 EHang 184, the world's first passenger drone, capable of autonomously carrying a person in the air for 23 minutes, has been cleared for testing. The approval was given out by the Nevada governor's office to develop and test the vehicle at the state's Federal Aviation Administration-approved drone test site.
The electric EHang 184 passenger drone by Chinese firm EHang was unveiled at CES in Las Vegas in January. The Chinese company said that the EHang 184 Autonomous Aerial Vehicle (AAV) is a 142-horsepower "personal flying vehicle" that can transport a single person at an altitude of more than 11,000 feet, China's People's Daily Online reported.
According to BBC, Macquarie consultancy senior analyst Douglas McNeill gave his opinion of the flying drone concept. He stressed the need for passengers to feel safe riding pilotless taxis.
"Drones will first have to prove their worth in less people-facing roles such as deliveries of small cargo. The other question is whether people will be willing to fly in a pilotless aircraft, and that seems like a big leap. People are sensitive to reduced journey times, and if drones could do that it would be a big plus – but I'm not sure that they can. Consumers are led by what regulators say are safe. And if they say these drones are safe, people might be more willing," he said.
The Nevada Institute for Autonomous Systems has reportedly offered to help the drone get approval from the FAA.
"I personally look forward to the day when drone taxis are part of Nevada's transportation system," Tom Wilczek, an aerospace and defense specialist from the Governor's Office of Economic Development in Nevada, reportedly said.
The Ehang 184 can carry a passenger weighing up to 264 pounds, and can reach a maximum flying altitude of 11,480 feet. The drone can reportedly be controlled entirely through a mobile app.
© Copyright IBTimes 2023. All rights reserved.
FOLLOW MORE IBT NEWS ON THE BELOW CHANNELS