Chinese New Year Celebrations In 2013 From New York To San Fran And LA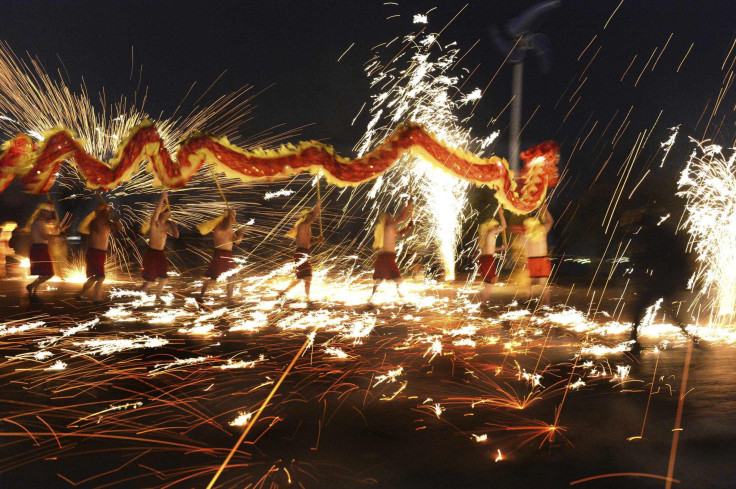 Hundreds of millions of Chinese will set off for home this week for the start of the 2013 Chinese New Year festivities honoring the Year of the Snake.
The snake occupies the 6th position in the Chinese Zodiac and symbolizes traits like intelligence, gracefulness and materialism. Snakes are said to be analytical and effective at getting what they want, enjoying luxurious things and seeking the peace they need to thrive in the world. In particular, 2013 is the year of the water snake, which is said to be highly motivated, insightful and influential.
The lunar new year is the most important and widely celebrated of the traditional Chinese holidays and is commonly known as the "Spring Festival." Millions of celebrants race home from the cities to the smaller villages in what is regarded as the world's largest mass migration.
The thought of getting caught up in that kind of traffic can easily put visitors off from visiting China in February, but you don't have to cross the Pacific to enjoy the customary lantern festivals, firecracker ceremonies and parades of lion dancers. Tightknit Chinese communities across the United States will host a variety of events throughout the month in honor of the Year of the Snake. Here's a look at some of the largest:
Chinese New Year 2013 In New York City
Manhattan will split its Chinese New Year celebrations across two weekends this year. The festivities will begin in Roosevelt Park on Feb. 10 at 11 a.m. for the Firecracker Ceremony & Cultural Festival. The ceremony is intended to ward off evil spirits and will feature traditional dancers, singers and folk artists. A dozen lion, unicorn and dragon dance troops will march down Chinatown's main streets throughout the celebration. The parade, however, does not take place until the following Sunday, Feb. 17, when marching bands, dancers and elaborate floats will promenade from the intersection of Mott and Hester down to East Broadway and back up by the Grand Street metro stop. The parade begins at 1 p.m. and lasts about three hours.
Less famous (but arguably more impressive) is Flushing, Queens, home to New York's largest Chinese and East Asian population. On Feb. 16 at 11 a.m Queens will host a Lunar New Year Parade, replete with dragon dancers, steel drums and a night of fireworks.
The China Institute in America, located on the Upper East Side, will also host several Chinese New Year celebrations, including the extremely popular Lion Dance.
Chinese New Year 2013 In San Francisco
San Francisco claims to have "the largest Chinatown outside of Asia," although though New York's total Chinese population spread across numerous "Chinatowns" is technically larger than San Francisco's. Regardless, San Francisco's Chinese population is much more organized than New York's and has numerous events planned around the Year of the Snake. Carrying on a tradition that began during the Gold Rush in the 1860s, San Fran's Chinese New Year Flower Fair and Chinatown Community Street Fair are, together, considered the largest Asian event in North America and the largest general market event in Northern California. While the Flower Fair finished on Feb. 3, the Street Fair will not begin until Feb. 23, to coincide with the annual parade. The Chinese New Year Parade, which will include more than 100 units, begins on Market Street at 5:15 p.m. and ends at the intersection of Kearny and Columbus around 8:00 p.m. Other events include the Miss Chinatown USA Pageant and the Chinese New Year 10K Run.
Chinese New Year 2013 In Los Angeles
Los Angeles' Chinatown typically draws more than 125,000 people for its 15-day Lunar New Year Festival. Festivities begin at 11:00 p.m. on Feb. 9 at Thien Hau Temple, where attendees can burn incense, make offerings, watch traditional dancers and witness 500,000 firecrackers in action. Celebrations continue the following weekend with the Chinese New Year Festival and 114th annual Golden Dragon Parade, boasting Grand Marshals like Mayor Antonio Villaraigosa and LAPD Chief Charlie Beck. Other events include the Great Chinatown Hunt, the Firecracker 10K and Disneyland's Lunar New Year.
Chinese New Year 2013 In Chicago
Chicago kicks off the Chinese New Year with a special showcase at the Chinese American Museum of Chicago on Feb. 9 and Chinese dance and folk music at Daley Plaza on Feb. 11. The main event is the Chinatown Lunar New Year Parade, which begins at 1:00 p.m. on Feb. 17 and runs down Wentworth Ave. from 24th to 22nd Streets. Other events include the Chinese New Year edition of Adler Planetarium's After Dark series on Feb. 21 and the Lantern Festival Celebration at Navy Pier on Feb. 24.
Chinese New Year 2013 In Seattle
Seattle will get into the spirit of the Lunar New Year on Feb. 9 starting at 11 a.m. with its annual festival in Hing Hay Park. This year, organizers boast a food walk with $2 tastings, a children's costume parade, and, because it's the year of the snake, a live reptile show. Seattle's celebration is notable for how multicultural it is, including performances by Filipino, Korean, Japanese and Chinese organizations.
Chinese New Year 2013 In Houston
Houston gets a taste of Chinese spirit beginning Feb. 16 with two days of free events at the Viet Hoa Center. Highlights include a tea ceremony, an outdoor multicultural expo and performances of the Monkey King Opera. Participants are encouraged to wear dark-colored clothing in recognition of 2013 as the Year of the Black Snake.
Chinese New Year 2013 In Washington, D.C.
Traditional Chinese dragon dancers, musicians and martial artists will loop through Washington's Chinatown from I St. back to H St. on Feb. 10 beginning at 1:00 p.m. for the 2013 Chinese New Year Parade. That same day, the Chinatown Community Cultural Center will host musical performances, dances and art, while offering face painting and crafts for children.
Chinese New Year 2013 In Philadelphia
The Philadelphia Chinatown Development Corp. will host a slew of activities in honor of the Year of the Snake beginning with the Chinatown Flower Market at 10th Street Plaza on Feb. 9. Late-night lion dances will commence at 11 p.m. at Race St. and 10th St. in anticipation of the Philadelphia Suns Lion Dance Parade the following morning in the same location at 11 a.m. Other events will take place at the International House of Philadelphia, the University of Pennsylvania and the Great Wall Chinese School.
Chinese New Year 2013 In Boston
Beantown hosts its annual Lion Dance Parade on Feb. 17 from 11 a.m. to 5 p.m. with local kung fu groups, dancers and musicians armed with enough cymbals, drums and gongs to make their presence known. To coincide with the festivities, the New England Chinese Professionals organization will host a Lunar New Year Gala and Community Enrichment Forum at the Boston Marriott Newton on Feb. 10. The event will feature cultural performances and dancing as well as social and professional networking opportunities.
© Copyright IBTimes 2022. All rights reserved.
FOLLOW MORE IBT NEWS ON THE BELOW CHANNELS