Chinese Teenager Apologizes After Being Exposed Online For Carving Name Into Egyptian Luxor Temple Wall [PHOTO]
Earlier this month, Chinese Vice Premier Wang Yang made comments about how poorly behaved Chinese tourists were tarnishing the country's international image, saying "they speak loudly in public [and] carve characters on tourist attractions," among other offenses. Following his remarks, one such offender has been fingered -- years after he defaced a 3,500-year-old piece of Egyptian artwork in the Temple of Luxor.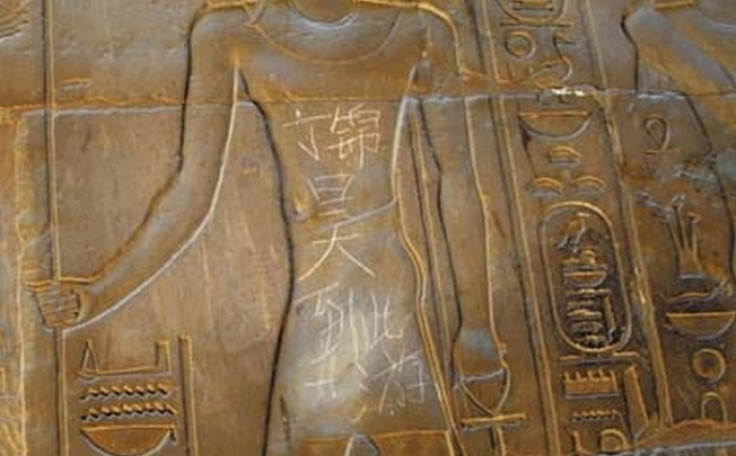 According to state-run Xinhua News Agency, a photo of the defaced relic with the words "Ding Minhao was here" carved on it made its way through Chinese social media, being shared on China's Twitter-like Weibo platform, and caused on online stir as a prime example of shameful tourist behavior.
Though the actual vandalism took place a few years ago, the graffiti resurfaced after Shen Yuwen, another visiting Chinese tourist, posted a picture of it on his Weibo profile. On the heels of Wang Yang's comments, the post picked up steam and received many comments and reposts condemning the act as deplorable and disrespectful. Others suggested that the vandal be tracked down and even did research to find Ding's personal information, including his age and his school.
Yesterday, the parents of the teenager confirmed it was their now 15-year-old son from Nanjing who was responsible for the damage to the cultural relic. In an interview with Nanjing newspaper Modern Express on Saturday, the parents apologetically said it was the lack of education and supervision that led to their son's mischievous behavior.
"We have taken him sightseeing since he was little, and we often saw such graffiti. But we didn't realize we should have told him this is wrong," the boy's mother said in the interview, adding that she hopes China's relentless Internet users stop tracking down her son, who had "cried all night." The boy's father said the boy had realized his mistake, and hopes that the public will give his young son a chance to fix his mistake and move on.
The Egyptian Ministry of State for Antiquities told Ahram Online, one of Egypt's largest news organizations, that they had assigned a special archaeological team to determine the extent of the damage and it found it to be superficial and should be easily removed. Minister Ahmed Eissa also said that in the future, tourist delegations will be escorted by archaeologists to prevent such incidents.
© Copyright IBTimes 2023. All rights reserved.