Chinese Tourists Given Guidelines For 'Civilized Behavior' After Egyptian Temple Incident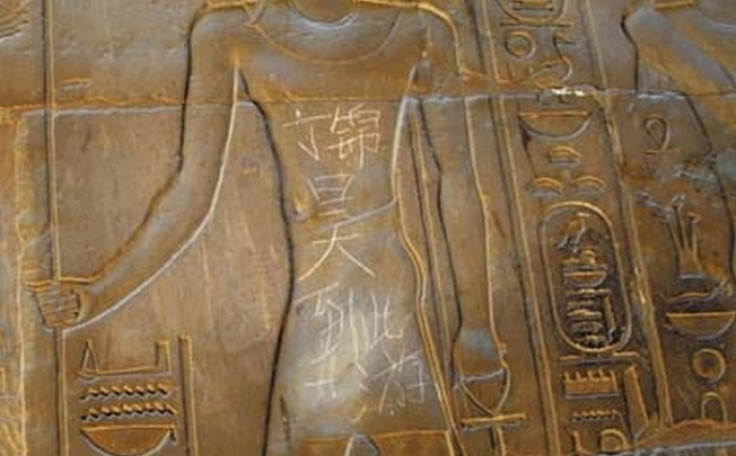 If you haven't followed the recent etiquette debate on the antics of Chinese tourists abroad, the fascinating chain of events goes something like this: Two weeks ago, Chinese Vice Premier Wang Yang urged any citizens of the People's Republic considering a trip outside of the homeland to please observe "polite tourist behavior." Yang stressed during a teleconference held by the State Council, China's Cabinet, that the "uncivilized behavior" of some Chinese tourists was harming the country's image.
Soon after, a woman named Shen Yuwen posted a photo on China's Twitter-like Sina Weibo platform depicting a defaced 3,500-year-old Egyptian bas-relief at the Temple of Luxor. The precious piece of art bared the etching "Ding Jinhao visited here" in Chinese characters, and more than a quarter of a million Chinese netizens commented on it, with most expressing outrage and embarrassment. Though the act of vandalism took place years earlier, the photo lead to an all-out witch-hunt for Mr. Jinhao. Officials located the now 15-year-old boy in Nanjing over the weekend, prompting his parents to issue a raft of apologies.
"We have taken him sightseeing since he was little, and we often saw such graffiti. But we didn't realize we should have told him this is wrong," the boy's mother said in an interview Sunday. In a nutshell, that answer didn't go over well with the netizens, nor the Chinese government.
On Tuesday, the National Tourism Administration posted a formal set of rules for tourists traveling abroad on the Chinese central government's website. "Being a civilized tourist is the obligation of each citizen," the official convention reads, according to the Chinese state news agency Xinhua. It also singles out "protecting cultural relics" as one of the norms tourists must abide by, and explicitly rejects behaviors like carving or drawing on ancient cultural relics.
The convention also promotes seven other norms to be followed by Chinese tourists, including complying with public orders, maintaining a clean environment, protecting ecology, protecting public infrastructure and utilities, respecting other people's rights, showing courtesy with others, and seeking appropriate entertainment, according to Xinhua. Actions such as littering, spitting, jaywalking and cutting queues are all singled out as improper behavior.
Domestic travel habits carried into the greater world have become an embarrassment for the Chinese in recent years. Balinese have complained about Chinese tourists making too much noise on the island, Thai Buddhists in Chiang Mai have lamented their immodesty at temples and Hong Kongers were aghast in February when a Chinese mother encouraged her son to urinate into a bottle in the middle of a restaurant.
The U.N. World Tourism Organization estimates that by 2015, 100 million Chinese citizens will travel outside of the country. What that means is that within two years, China will become the single-largest source of international tourism while simultaneously possessing the largest domestic tourism market in the world.
As international (and domestic) travel booms, officials regularly issue advice to the newly-rich citizens on the practices of "civilized tourism" to encourage them to become ambassadors for the nation. This week's declaration, however, was the largest to date.
© Copyright IBTimes 2023. All rights reserved.
FOLLOW MORE IBT NEWS ON THE BELOW CHANNELS