Chloe Lukasiak Looks To Play Love Interest In Boyfriend Ricky Garcia's Christmas Music Video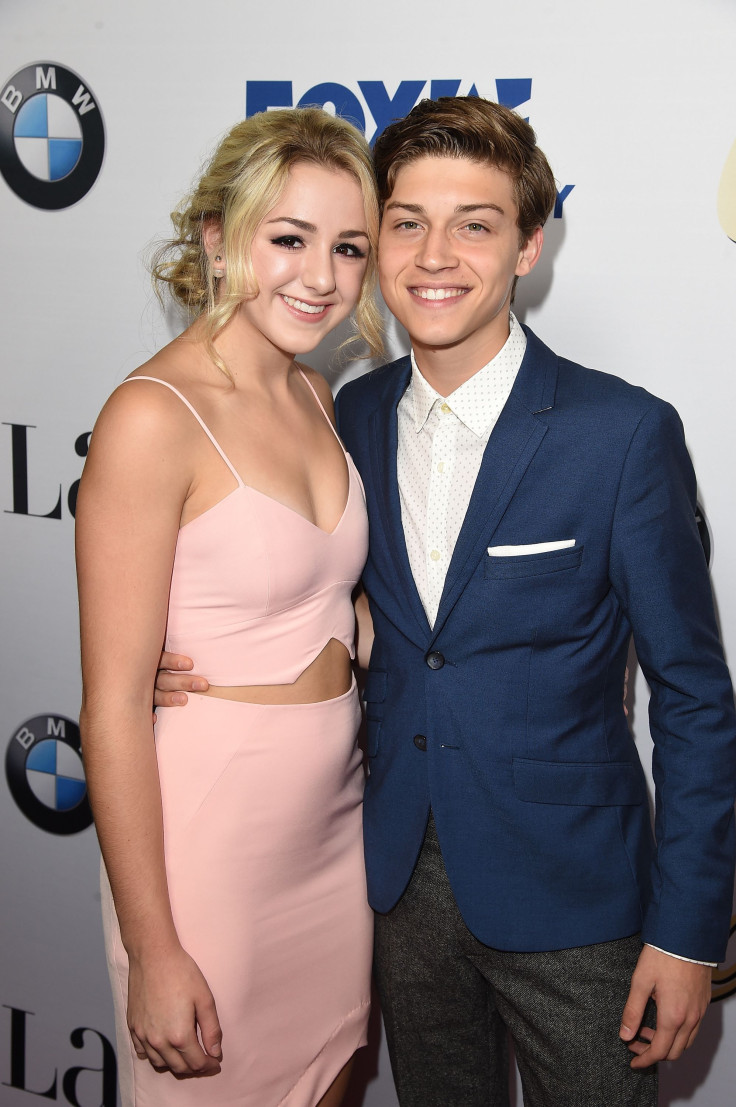 If you happen to catch the Forever In Your Mind's holiday music video next month, you may notice a very special cameo. Former "Dance Moms" star Chloe Lukasiak has revealed that she will be starring alongside her boyfriend Ricky Garcia and his bandmates in their new music video "Wrapped Up For Christmas."
Chloe, 14, took to Instagram Sunday to gush about her upcoming cameo, saying she had "so a fun day" on set. "Can't wait to see it," she captioned a shot of her sitting on Ricky's lap. In the snap Ricky's bandmates Emery Kelly and Liam Attridge can be seen joined by their own female companions, Liana Ramirez and Brookelynn Elizabeth. The group of onscreen friends appear to be in a holiday setting, with a Christmas tree, presents and a lit fire staged behind them.
Chloe isn't the only one excited about the project's upcoming release. Chloe's mom and former "Dance Moms" co-star Christi Lukasiak also shared her excitement about the video online. "The video is super cute!" she told fans on Instagram Sunday, sharing a shot of Ricky and Chloe getting close on set. "Can't wait for you guys to see!"
While fans of the boy band will have to wait until Friday, Dec. 4, when the music video premieres to see the final project, the cast has released several behind-the-scenes photos from the shoot.
Liana, a dancer and actress, shared a snap of her cuddling up to Brookelynn and Chloe on Instagram. She also shared a photo of the trio posing in their holiday best in an outdoor locale, a photo which was originally posted by the music video's director, Nayi Pramos. "Can't forget about my 3 talented young actresses who were so great to work with!" Pramos captioned the shot. "Made directing so easy."
Pramos later posted that the shoot was a success and teased Chloe's cameo by sharing a photo of the dancer walking up a snowy path and holding presents. "Who is @chloelukasiak bringing presents to?" he asked fans.
While the music video's storyline hasn't been revealed, Brookelynn revealed that "mini me's" will be involved. The print model shared an Instagram post of the project's stars standing next to younger, similar-looking versions of themselves. "The video will be full of snow, mini me's and tons of fun!" she wrote. "Make sure you check it out December 4!!"
The Forever In Your Mind music video is just one of several projects Chloe has been working on in recent weeks. This month, she revealed she had teamed up with Lifetime to star in the TV movie "Center Stage: Dance Camp." Her return to the network comes just over a year after she parted ways with "Dance Moms" following a four-season run on the hit reality show.
© Copyright IBTimes 2023. All rights reserved.