Chris Brown-Drake Bar Fight: 7 New Developments In Alleged Brawl Over Rihanna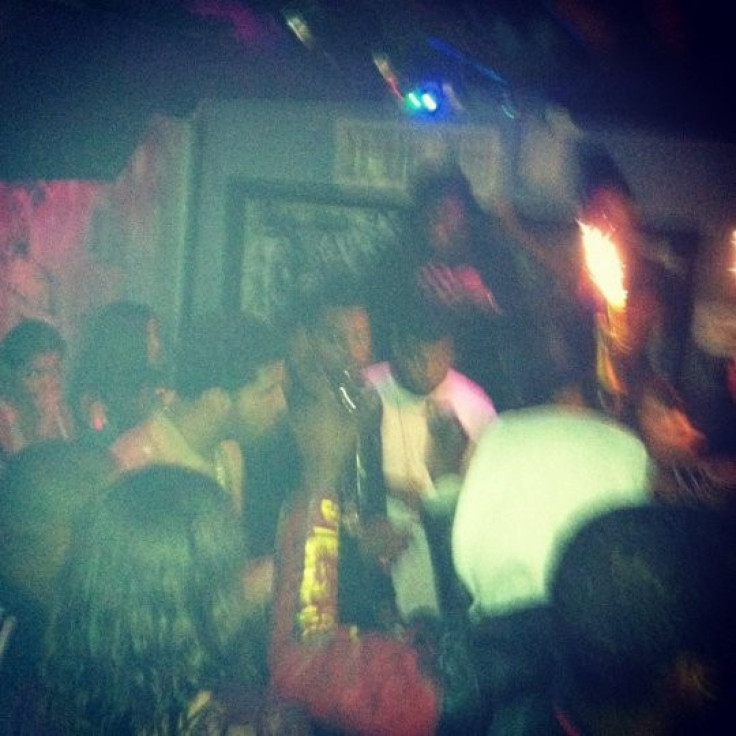 Chris Brown and Drake got into a violent brawl in a New York City nightclub on Thursday night that left multiple people injured, and authorities still unclear of the timeline of events. The woman at the center of the storm is allegedly none other than R&B superstar Rihanna, who has been romantically linked to both men.
On Thursday night, Drake's entourage reportedly rebuffed Brown's gesture of a bottle of champagne at W.i.P. nightclub. Ice chips were thrown at Brown and then a bottle was reportedly thrown from Brown's table into the crowd, according to the New York Times. Then four bottles were thrown from Drake's table, one aimed straight for Brown.
At approximately 4 a.m. Friday, Brown took to Twitter to share a photo of his injuries with his fans. The photo, which showed a deep gash in the 22-year-old's chin, was accompanied by the messages: How u party wit rich n**** that hate? Lol... Throwing bottles like girls? #shameonya! and Ok! N****s stand behind security! Ok! U don't pay them enough. The tweets have since been deleted.
Drake denies any wrongdoing.
Drake did not participate in any wrongdoing of any kind last night at W.i.P. He was on his way out of the club when the altercation began. (Drake) did not engage in any activity which resulted in injury to person or damage to property, read a statement from the singer.
Here are seven new developments in the Chris Brown and Drake bar fight case:
Drake Hints at Nightclub Fight During Concert
Drake hinted at the nightclub fight between him and Brown during his concert at Jones Beach, N.Y., on Saturday night. When I woke up this morning, I had to think about a lot of things, Drake said onstage, according to the New York Daily News. But the only thing I gave a f--- about was that I was in New York City tonight.
After performing a few songs, he made, what seemed to be yet another reference to the fight: It's last call and you're really too drunk to give a f---. A n---- in the corner is standing there looking at you funny. You bump elbows with him on the way to the bathroom, but really there's only one n---- that you got to think about.
Brown Continues to Deny Guilt
Brown, who is infamous for domestic violence against Rihanna in February 2009, continues to deny guilt in the nightclub fight. His lawyer, Mark Gergaros, gave the NYPD physical evidence that reportedly proves Drake instigated the brawl. According to TMZ, Brown is being labeled as a witness and a victim by detectives. Drake's entourage refuses to speak with the police, according to TMZ.
Fingers Pointed at Drake
Despite the fact that Drake continues to deny wrongdoing, a witness at the club said Drake started the fight. They were all so nice, 21-year-old model Ingrid Gutierrez told the New York Post. We were having such a good time. I was talking to my girlfriends, and I talked to Chris a little bit. I also talked to his bodyguard, Big Pat.
She said everyone was enjoying the evening until just before 4 a.m. Brown asked a waitress to send a bottle of champagne over to Drake, according to Gutierrez, and she came back with a piece of paper that Brown read and then threw on the floor. The Post reports that this note might be the Rihanna-referencing note that reportedly read, I am f--king the love of your life.
They got up in his face and were giving him the middle finger. Chris told Drake to f--k off, and the next thing I heard was smashed glass and the bottles started flying at us, Gutierrez said. She saw someone attempt to punch Brown, a punch that was blocked by his bodyguard.
I didn't see Chris act violently towards anyone, she said. Chris said, 'Let's go,' but there were bottles flying and I saw him get hit in the face, so I hunkered down where I was.
I think Drake's entourage are cowards for throwing bottles at girls, she said. I've lost all respect for Drake. Chris Brown acted like a gentleman to all the girls there. Chris tried to protect me and my friend.
More Injured Victims Come Forward
Ingrid Gutierrez suffered an injury to her head on the night of the Drake and Brown fight, reportedly started over Rihanna. She was rushed to NYU Medical Center, according to the Post, and needed five staples to close the wound. The Brooklyn native's lawyer told E! News that she is aggressively investigating all aspects of the fight.
Eva Longoria's ex-husband and NBA player, Tony Parker, was also in the club that night and got shards of glass in his left eye. I was there with a bunch of friends when a fight broke out. They started to throw bottles about ... I got it all, Parker said in a news conference. The cornea has been touched. I can't do anything for seven days ... But I was lucky. The injury won't prevent me from competing [in] the Olympics in any way.
Chris Brown's bodyguard, Big Pat, who reportedly attempted to shield the singer, suffered a head wound during the fight.
The Daily Mail has photos of two other victims, known as Hollie C. and Veronica, who both suffered bloody gashes in the brawl.
W.i.P. Club Manager Arrested
The club manager of the W.i.P. nightclub, Jonathan Cantor, was arrested at 2 a.m. on Friday on a violation unrelated to the fight, according to The Hollywood Reporter. Police had responded to a noise complaint at the SoHo hotspot and conducted a business inspection of the venue. Cantor, who already has two outstanding arrest warrants against him, was given a summons for alcohol beverage control and for violation of fire code, according to THR.
City Council Intervenes Over Bottle Service
On Friday afternoon, City Council Speaker Christine Quinn called a meeting with the NYPD and those in the New York City nightlife industry to discuss bottle service in the city. The purpose of this meeting is to send a clear message to all nightclub patrons that bottles cannot be used as weapons and to determine if the guidelines surrounding bottle service need to be updated or reworked, Quinn said in a statement, according to THR.
Nightclub Closed
The W.i.P. nightclub was officially closed by the NYPD on Saturday night. The NYPD Civil Enforcement Unit padlocked the door to the club and put closed stickers on the entrances, according to NBC New York. The popular neighboring club Greenhouse, which is affiliated with W.i.P., was also shuttered by authorities.
© Copyright IBTimes 2023. All rights reserved.
FOLLOW MORE IBT NEWS ON THE BELOW CHANNELS