Chris Christie Gets Luxury Box Seats After NJ Gave NFL Big Subsidies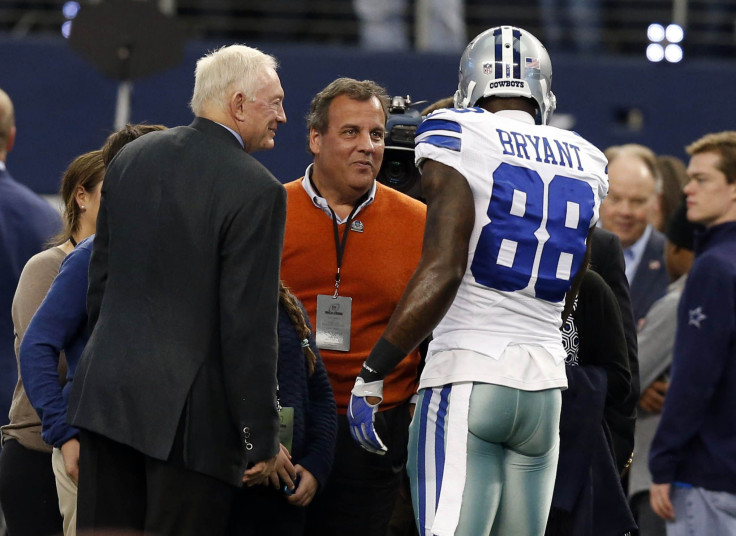 As Gov. Chris Christie has appeared at professional football games to cheer on his beloved Dallas Cowboys, he has faced questions about why his favorite team isn't a New Jersey local like the Jets, Giants or Eagles. But Christie's bromance with Dallas Cowboys owner Jerry Jones also raises an even thornier question: In accepting owners' box seats, is the governor complying with New Jersey's tough ethics rules banning gifts and favors to public officials?
New Jersey's executive branch ethics rules warns state officials that there's "a zero tolerance policy for acceptance of gifts offered to you ... that are related in any way to your official duties." The ethics rules specifically prohibits public officials from accepting access to entertainment events from any person or entity that public officials "deal with, contact, or regulate in the course of official business." The rules define one form of restricted gift as "admission to an event for which a member of the general public would be charged."
In his role as governor, Christie has had myriad high-profile dealings with the National Football League - many of which have proven highly profitable to the league (and, by extension, Jones). Under Christie's watch, New Jersey officials delivered almost $18 million of taxpayer money to the league to offset costs associated with the 2014 Super Bowl. That included $8 million worth of sales tax breaks, plus millions more in security costs the state picked up for the league. All that was on top of New Jersey property tax breaks that benefit the league.
Christie has already said he's interested in having New Jersey host another Super Bowl. The league also has a deep interest in the state's policy governing sports gambling. Meanwhile, with Christie potentially running for the White House in 2016, the NFL also has an interest in shaping the next president's thinking on its antitrust exemptions and tax-exempt status.
Christie's office hasn't yet responded to a request for comment from International Business Times about his repeated appearances in the NFL owner's box after his state gave the league millions of public dollars. It's not clear if the governor is reimbursing the league for the cost of the luxury box seats. If he is, says Craig Holman of the ethics watchdog group Public Citizen, he may be relying on the part of New Jersey's ethics rules that allows politicians to accept gifts as long as they pay back the cost of such gifts.
Holman, though, says that reimbursement for access to owners' boxes is rare. He said the situation "smacks of the Jack Abramoff-style of gift" -- a reference to the convicted lobbyist whose influence-peddling operation involved giving lawmakers access to his FedEx Field skybox for professional football games.
"We have seen a shift since the Abramoff scandal, as many high-profile lawmakers are now far more cautious about accepting gifts like tickets," Holman said. "But when you are talking about a sitting governor who is potentially running for president, this is something unusual. If these seats were given to him by the NFL or anyone else who is trying to influence his policies, that would constitute a gift and would clearly be in violation of his state's ethics code."
In 2010, Christie cited the New Jersey ethics code in revoking public officials' special access to tickets at the arenas owned by New Jersey. However, he retained the perk for himself. A year later, under political pressure, Christie reversed himself and reimbursed the state for costs associated with using a state helicopter to attend his son's baseball games.
As for who is paying the bill for Christie to travel to Cowboys' games, that remains a mystery for now. However, in 2013, records surfaced showing more than $15,000 charged to a state credit card for Christie's trip to that year's Super Bowl in New Orleans.
© Copyright IBTimes 2022. All rights reserved.
FOLLOW MORE IBT NEWS ON THE BELOW CHANNELS