New Jersey Paid Fees To Mary Pat Christie's Firm After State Investment Was Terminated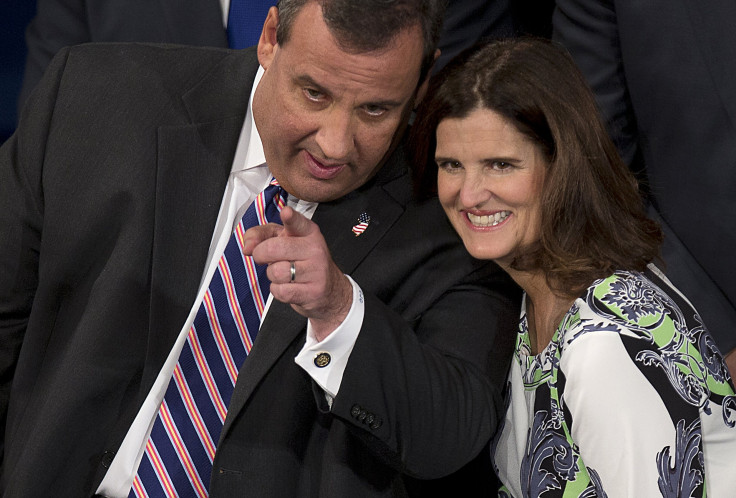 When the New Jersey pension system terminated a $150 million investment in a fund called Angelo, Gordon & Co. in 2011, that did not close the books on the deal. In the three years since state officials ordered the withdrawal of that state money, New Jersey taxpayers have forked over hundreds of thousands of dollars in fees to the firm. As those fees kept flowing, Angelo Gordon made a prominent hire: Mary Pat Christie, wife of Gov. Chris Christie, who joined the company in 2012 as a managing director and now earns $475,000 annually, according to the governor's most recent tax return.
The disclosure that New Jersey taxpayers have been paying substantial fees to a firm that employs the governor's spouse -- years after state officials said the investment was terminated -- emerged in documents released by the Christie administration to International Business Times through a public records request.
A spokesman for the New Jersey Treasury Department, Christopher Santarelli, said via email that while New Jersey "ended its investment" with Angelo Gordon in 2011, the payments were legitimate because the state continues to hold an "illiquid" investment in the firm. Christie officials declined to disclose details of what exactly that illiquid investment is and the justification for continuing to pay fees to Angelo Gordon. The governor, Mary Pat Christie and executives at Angelo Gordon all declined to comment.
Pension overseers and financial experts characterized the appearance of the arrangement as deeply troubling. They saw it as symptomatic of a lack of transparency plaguing the management of public pension funds at a time when states and municipalities are entrusting increasingly hefty sums (and paying substantial fees) to Wall Street managers.
"This is extremely problematic," Tom Bruno, the chairman of the board of trustees of one of New Jersey's three major pension funds, said. "This governor talks about what he is supposedly doing to help the pension system, but the possibility of him and his family deriving any kind of personal benefit from a deal like this raises some truly serious ethical red flags."
South Carolina Treasurer Curtis Loftis Jr., a Republican official who has criticized high pension fees -- and whose endorsement is prized in the early presidential primary state -- said of the situation: "It smells to high heaven."
"When dealing with retiree money, the appearance of a conflict of interest is damning and must be avoided at all cost," he told IBTimes. "If the state of New Jersey has a previous existing relationship with the fund, [the first lady] needs to look for a job elsewhere. The public employees of New Jersey shouldn't have to worry about whether politically connected financial executives have an effect on their pensions. They've worked too hard for those pensions. They deserve these pensions without being concerned about political meddling."
Loftis added: "Governor Christie was smart enough to get himself elected governor, and his wife was smart enough to get herself appointed to a significant job at a high performing fund on Wall Street. People that smart ought to know better than to put themselves in this kind of position."
Under Christie, fees paid by New Jersey to financial firms have more than tripled to almost $400 million a year, including the fees paid to Mary Pat Christie's firm. The Christie administration has awarded pension management contracts to financial firms whose executives made campaign contributions to Christie-linked political organizations. Firm executives at Angelo Gordon have made more than a quarter-million dollars worth of donations to Republican candidates and groups since 2009.
Christie's pension investment chief, Robert Grady, resigned after the recent disclosures about campaign contributions. The state's investments in politically connected Wall Street firms are now the subject of an ethics complaint filed by the New Jersey AFL-CIO, which in a statement said of the Angelo Gordon fees: "We are as concerned as ever that these are terrible deals for taxpayers and pensioners."
New Jersey's original $150 million investment in Angelo Gordon was initiated in 2006, under Gov. Jon Corzine, a Democrat. By October 2011, state records show, the investment -- which was in a multi-strategy hedge fund called AG Garden Partners -- had generated just a 5.5 percent return in six years. That month, New Jersey investment officials sent a letter telling the firm to "withdraw, as of December 31, 2011, one hundred percent of the [state's] capital account." Yet the state subsequently paid Angelo Gordon management fees of more than $255,000 in 2012, more than $132,000 in 2013 and more than $82,000 for the first three quarters of 2014.
Spokesman Santarelli told IBTimes that while "New Jersey redeemed its interest in the AG fund and ended its investment [in 2011] we still have a remaining market value of $6.6 million invested related to illiquid investments, which have been winding down slowly over the last few years."
That explanation "does not pass the smell test," financial analyst Susan Webber, who covers alternative investments at the website Naked Capitalism, said.
"Either they don't want to accept a market price and recognize a big loss, or the investment is something so complex and exotic they can't sell it at all," she told IBTimes.
In all since 2006, state documents show New Jersey has paid more than $11.8 million in fees to Angelo Gordon -- more than the amount the state currently says it is projected to make on its investment in the firm. Former hedge fund manager Marshall Auerback told IBTimes that the outstanding illiquid investment is unusual.
"The obvious question here is, why is the Christie administration allowing fees to be paid to a financial firm for three years after the state terminated its investment?" Auerback, who is now an executive at the economic policy group Institute for New Economic Thinking, said. "This seems like a very one-sided deal for the manager. After three years, there doesn't seem to be a time frame for selling the illiquid parts of the investment, and yet the manager gets to keep collecting fees. It's a great deal for Mary Pat Christie's firm, but a terrible deal for taxpayers and for the public employees whose pension money is being used to pay the fees."
Thomas Byrne, the Christie-appointed acting chairman of the New Jersey State Investment Council, countered that argument. "This is standard; we are not doing something different here that is outside the norms of the financial industry and the world of private partnerships," he said.
"We are paying fees on whatever money is left in there, so it could be an asset that could be increasing in value," Byrne said. "So why should the manager work for free if they are hamstrung in the short term but they have made an investment that makes sense? A contract is a contract and presumably both sides are working in good faith to get out of it, and a deal is a deal."
In a letter responding to IBTimes' open records request, the Christie administration said that details of New Jersey's remaining investments in Angelo Gordon are exempt from the state's open records laws because they represent "trade secrets." The administration also rejected IBTimes' request for correspondence between Christie officials and Angelo Gordon.
Herb Meiberger, a San Francisco pension trustee and professor of finance at San Francisco State University, told IBTimes that pension overseers in New Jersey should be concerned about the lack of transparency.
"It would seem to me that this hedge fund is liquid enough to satisfy New Jersey's request for complete liquidation," Meiberger said. "A timely response is owed to the board of trustees about why it is taking so long to liquidate. This is another example of the opacity and illiquidity of hedge funds and the difficulty of getting critical information in a timely way."
© Copyright IBTimes 2023. All rights reserved.
FOLLOW MORE IBT NEWS ON THE BELOW CHANNELS